ADAS calibrations are becoming a routine part of mechanical vehicle service and maintenance.
Advanced Driver Assistance Systems (ADAS) have been a game changer for the automotive industry in more ways than one. There's the safety aspect, alerting drivers to potential hazards and helping reduce the risk of collisions. There is also the complexity aspect, meaning that when a late-model vehicle equipped with ADAS technology needs repairs, and whether those repairs are collision or mechanically related, technicians need to be able to correctly calibrate ADAS systems and sensors.
This requires significant investment and training. On the mechanical side, resetting steering angle sensors and properly calibrating ride height on the vehicle are now common service tasks. 
Thorough understanding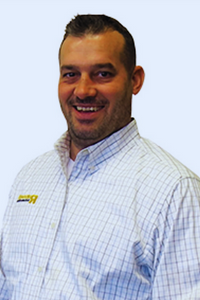 Jason Russell, who owns and operates Russell Automotive Repair and Service NAPA AUTOPRO in Hamilton, Ont., has made significant investments in ADAS calibration and training at his facility. He notes a key thing to tackling work like this properly is ensuring your technicians have a thorough understanding of how ADAS systems work. "As an industry, we need to make sure we are educated and trained on how these systems operate, because you can't properly repair something if you don't truly understand how it works."
At AIA Canada, the national trade association representing the auto care sector, support and training for technicians is a key priority. AIA Canada Senior Director, Collision, Stuart Klein explains that even for regular maintenance work like wheel alignments, sensor resets or ADAS calibrations may be required and the same goes for any suspension work, from replacing tie rod ends, to spindles, strut and spring replacement. Additionally, he notes that vehicles requiring more complex radar or camera recalibrations, need to have wheel alignments within factory tolerances even prior to conducting the actual ADAS calibrations.
Impact of worn parts
It's also important to understand just how much of an impact a worn or faulty part can have on vehicle safety and handling from an ADAS perspective. "With all the integration between different systems, you need to understand how they communicate with the vehicle," says Brock Hossack, owner/operator, Speedy Auto Service, Fredericton, N.B. Worn or damaged parts can easily alter the vehicle's steering angle or alignment, causing driveability issues and increasing wear on tires and suspension components. ADAS further complicates matters, since if the alignment or steering angle is off, "the system will think that the vehicle is turning and will try to counteract the action." In other words, it will try and push the car off its intended path, creating a potentially difficult and dangerous scenario for both the motorist in that vehicle and other drivers.
Hossack also says that when it comes to ADAS, vehicles that feature lowered or raised suspension not only change the geometry of those components but also the trajectory of ADAS cameras, including forward collision and emergency braking systems.
Space and layout
Yet performing ADAS calibrations in a mechanical shop environment isn't always as straightforward as it might seem. For one, there are space and shop layout considerations. Victor Moreira, Manager, Technical Training and Support for Mevotech [which provides quality chassis driveline and suspension components], explains that space requirements will vary depending on the type of equipment being used, though a key consideration is ensuring you have access to a wide-open space with a clean, level floor that can easily integrate with your testing equipment.
Moreira also notes that the type of lighting also impacts the ability to perform ADAS calibrations. "Lighting also plays a big role in the accuracy of the equipment," he says. "Inadequate lighting that causes dim spots or shadows can lead to inaccurate calibration, so a good lighting system is critical."
Critical factor
Back at Russell Automotive Repair and Service, shop owner Jason Russell concurs, noting that space to do the work is a critical factor. "Most shops aren't built to have that kind of space and even if they do," he says, "there's often the temptation to fill it with more service lifts because they feel they are going to make more money with more vehicles on hoists."
Yet such an approach is often short-sighted since ADAS isn't going away. If anything, it is going to become an increasingly important part of overall vehicle service, especially as OEMs continue to electrify their products and provide features such as four-wheel electronic steering, a good example being the new Hummer EV from General Motors. "While we aren't likely to see these types of vehicles in our bays for another five years, we need to start thinking about that and we needed to be prepared," Russell explains. In his case, being part of a banner network like NAPA AUTOPRO provides him and his team with the resources to train his staff to perform ADAS calibrations, though ultimately it comes down to mindset. After all, equipment and training are only as good as those willing to put the time and effort into making the most use of it.