A look at some of the products on the market for today's light-duty vehicles 
When it comes to vehicle operation, springs, along with shocks and struts, play a key role in providing stability as well as cushioning both occupants and loads from the road surface. A critical element in maintaining original equipment performance concerns vehicle ride height. If it deviates from factory specs, either due to excessive wear or as a result of performance modifications (lowering or lifting) this can negatively impact vehicle handling, ride, and safety. "Spring wear is directly related to the curb height of a vehicle, which the suspension system geometry is based on," explains Victor Moreira, Technical Services Manager, Mevotech. 
Improper angle
Additionally—as Bob Bean, Sales & Marketing Consultant for QBAutomotive notes—worn springs on their own present significant problems. "Sagging springs reduce the travel of the pistons inside the strut or shock which reduces dampening capabilities." As a result, because the vehicle now bottoms out, the impact is "an improper angle of the upper and/or lower control arms which puts added stress on the bushings, as well as reducing movement on the ball joints and steering components." This creates more visible tire wear, while handling deteriorates and stopping distances tend to increase due to greater suspension travel and less road/tire contact.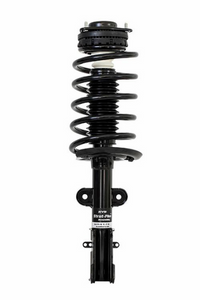 Therefore, if the vehicle's ride height is adjusted, either through natural wear or due to style or performance upgrades, correcting the ride height with new springs and ensuring other suspension components are up to specifications is critical. On most light-duty vehicles today, which use MacPherson strut-type suspension, it is often far more effective to replace the entire system with a pre-assembled strut (including the spring) instead of trying to replace just the damper itself. When selecting replacement spring components whether they are strut assemblies, coil springs, leaf springs, or torsion bars, it always pays to use a premium quality product that minimally meets or exceeds original OE specifications. Not only does this serve to restore the vehicle's dynamic capabilities to as-new condition, but as Andy Castleman, Brand Manager, KYB Americas notes, "it can act as a strong tool in retaining a customer's satisfaction with your service centre."
KYB Strut Plus
KYB's Strut Plus units are designed as an optimum solution to restore a vehicle's ride and handling capability. Application specific, these OE-replacement units restore the correct vehicle ride height and help prolong tire life. A thicker strut body outer shell and stronger brackets help minimize flex and metal fatigue to maintain correct wheel alignment. The heat-treated, high-carbon steel coil springs, used on these struts are stress relieved, thoroughly cycle-tested, and salt spray tested for sustained performance and durability.
Mevotech Supreme SMS205V Coil Springs
Sold in pairs, these progressive-rate coil springs from Mevotech's Supreme product line are manufactured from high-grade alloy steel that's been annealed and heat-treated to maximize durability and strength. They also come painted to improve corrosion resistance (an important consideration, given the harsh winter climate experienced throughout much of Canada) helping ensure longevity and reliability.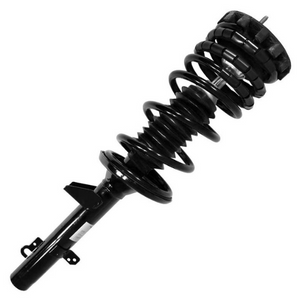 QBAutomotive Assembled Strut Units
QBAutomotive offers these Assembled Strut Units that are designed to reduce installation time and restore a vehicle's handling and ride characteristics. QBAutomotive re-engineers the valving on these strut units to specifically match the individual vehicle application and each unit is manufactured to match or exceed OE requirements. These units do not require the use of a spring compressor for installation, are gas-pressurized to reduce foam and heat buildup, and also come with rust protected finish to extend operating life and shield against harsh winter weather road conditions, including snow, salt, sand, and brine.