Reliability and ease of installation are of prime consideration with today's offerings.
Like many other components on a vehicle, wheel bearings have a critical job–in this case, allowing the wheels to rotate smoothly on the spindle or axle while minimizing friction. Like any moving part, they often wear out, typically due to improper installation, not using the proper tools or techniques, or other factors including damage as a result of vibration or contamination by road debris and moisture. Traditionally, many light vehicles employed press-in bearings that needed to be periodically inspected and repacked with grease. Today, the vast majority of new cars and trucks come with hub assemblies that are complete, pre-assembled, and sealed units. 
Popular option
These have gained popularity due to their greater reliability and ease of installation and replacement. Nevertheless, they can still fail for a variety of reasons. Vibrations can develop as a result of an out-of-balance wheel that causes the bearing inside the hub assembly to wear out prematurely. Additionally, even though they come as sealed units, those seals can fail, causing moisture and dirt to seep in, adding friction, and leading to overheating and bearing damage. Dragging brakes can also cause heat and friction to build up inside the hub assembly, causing the grease to degrade and the bearing to seize. Because they are safety items, when it comes time to replace wheel bearings and hub assemblies, quality replacements that minimally meet or preferably exceed original OEM requirements are preferable. Here are some options available through the automotive aftermarket.
FAG WheelSets
Available from Schaeffler under the FAG brand, these OEM grade wheel bearing sets feature everything needed for a fast and precise installation. Features include innovative circlips enabling the bearing to be securely fastened to the axle carrier; a rolling rivet collar to minimize improper installation, as well as a Low Friction Torque (LTF) seal designed to prevent moisture and dirt penetration which reduces friction by 50%. Patented spun gearing also results in greater transmittable torque, improving both vehicle driving dynamics and ease of installation in the service bay. Each kit comes with all the required nuts and bolts to ensure a fast, efficient, complete, and reliable fitment.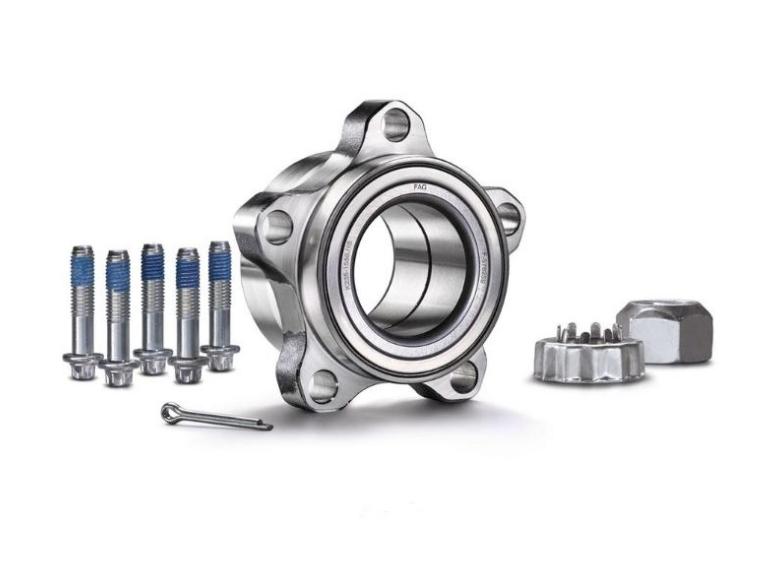 Mevotech TTX Hub Assemblies
Mevotech offers wheel hub assemblies in three different categories—Original Grade, Supreme, and TTX. Its top-of-the-line, TTX hubs enhance every aspect of OE grade assemblies while minimizing rolling resistance and enhancing load handling. Moulded, abrasion-resistant wheel speed sensor cables with strain reliefs are designed to ensure faultless wheel speed sensor operation. The entire hub assembly, including the hardware, features Mevotech's Repel-TEK anticorrosion coating to extend operating life, while the TTX hubs also boast a Nano-Ceramic lubricant that retains its viscosity under extreme temperatures and pressures. Low friction, severe-duty Advanced Quantum Sealing System features a multi-lip profile on the seals to keep the grease in and contamination out. The TTX hubs also feature hub-to-knuckle mounting bolts and precise torque specifications, to ensure a safe, fast, and easy installation. 
SKF Wheel Bearing Kits
As a result of SKF's deep ties to automotive vehicle manufacturers, SKF bearings are Original Equipment on most new cars and trucks. As a result, the company's aftermarket offerings benefit greatly in quality, fit, and performance and cover more than 98% of European light vehicle applications. SKF's aftermarket product range encompasses more than 1000 different applications, including three generations of wheel bearing design. All are sealed for life units with high performance, application-specific grease. All bolts, nuts, and screws are included in these kits to enable a fast, complete, and trouble-free installation. Fitting instructions, as well as replacement videos and technical bulletins, are also available to help technicians ensure a correct installation, every time. SKF also offers OE quality ABS impulse rings and sensors to ensure maximum braking safety and reliability.