Speedy Auto Service Edmonton Millwoods has been owned and operated by Biju Abraham since 2010.
The business boasts top-tier customer service, and low staff turnover and has proved consistently profitable. Abraham, who is a mechanical engineer by profession and journeyman technician by trade, has over 35 years of experience in the automotive technical business and worked at both a dealership and an aftermarket chain repair shop before deciding to take the plunge and operate his own business.
Big turnaround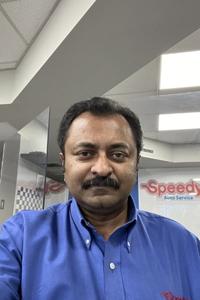 "This location was originally opened in 1994," says Abraham and when he acquired it, the business had been shut down, due to the owner at the time falling ill. Once he was able to purchase the shop, Abraham quickly got things back up and running again. Not only that, but Biju and his team were able to significantly grow the shop's revenue, from $400,000 annually to approximately $1.6 million in just a year and a half.
Achieving such a boost in revenue in a relatively short timeframe required considerable hard work and commitment. "There were many 14-16-hour days," says Abraham, who acknowledges it was the strength of the team at the shop that made this success possible. "I'm very proud of the staff we have here," he says. 
Currently, Speedy Edmonton Millwoods boasts 11 staff, consisting of four fully licensed technicians, including Biju himself, four apprentices, as well as three front office staff including service advisors and administrators.
Given how successful the business has become, with a strong emphasis on teamwork and collaboration, training and personal development, are, understandably a big part of the culture at Speedy Edmonton Millwoods. Abraham says, that since he acquired the business, approximately 20 apprentices have gone through training to receive their licences. Many come back to the shop and Abraham says that over more than a decade of operations, staff turnover has been comparatively lower. 
Going hand in hand with staff training and development are investments in tools and equipment, especially considering how rapidly automotive technology has changed in the past 10-15 years. Visit the shop and you will witness state-of-the-art equipment, including a Hunter Hawkeye wheel aligner, Hunter Smart Weight wheel balancers, and tire changing equipment, plus advanced diagnostic scanners and tools, designed to ensure the shop can handle just about any make or model of vehicle.
Yet in order to maximize ROI and provide top-tier service, highly trained staff need to be able to fully leverage the capability of the equipment at their disposal. That's one reason why Abraham places such a strong emphasis on education, training, and development. Technicians will often be booked in for 2-3 days of solid training to ensure they get the best learning experience. "Not many service centres I know do that," explains Biju.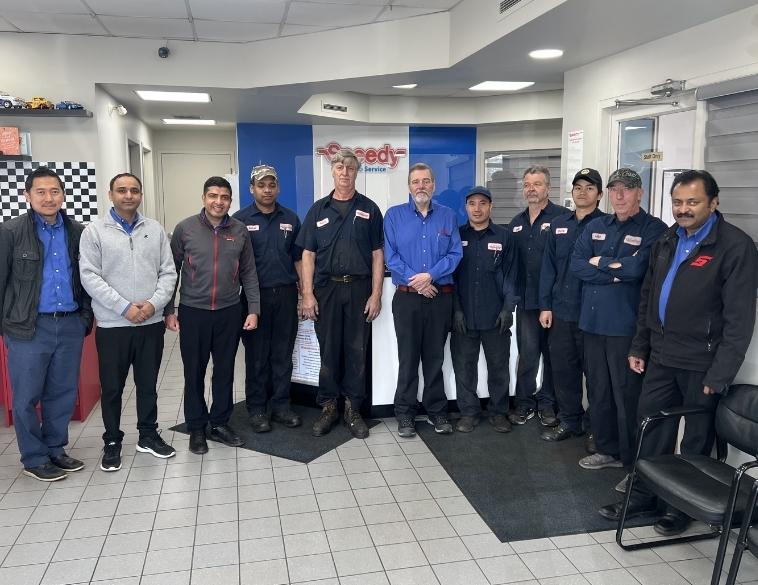 Commitment and collaboration
As mentioned, many technicians continue at the shop, transitioning from apprentice to Certified and then Journeyman technicians. Even those that eventually go off to open their own business tend to stay in touch and there's good rapport among everyone. "They know they can always call for help and vice versa. We all work together—whether that's in the same building, or they have their own—we don't see it as competition," Abraham explains.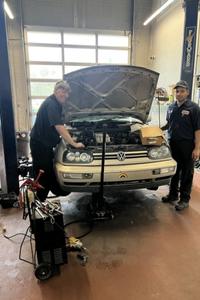 Speedy Edmonton Millwoods currently encompasses a 5,200 square foot facility, with eight service bays—four at the front and four at the rear. There are also approximately 1,000 square feet for office/reception. The recently renovated front reception area offers a welcoming ambience, and customers can access the complimentary Wi-Fi service if they choose to wait while their vehicle is being worked on. 
During the pandemic, Abraham says that customer drop-off and pickup proved extremely popular, though as restrictions have eased, in-person visits are increasing again. That said, being able to offer clients the flexibility they need when it comes to servicing their vehicle is key to successful loyalty and retention.
Like any successful automotive service business, Speedy Edmonton Millwoods continues to refine its process while keeping an eye on the future. Given the current interest surrounding electric vehicles, Abraham understandably is taking steps to ensure his team is fully prepared to service these kinds of cars and trucks. He predicts that within a decade, we will see a lot more of these vehicles coming into service bays, and if aftermarket shops are to remain competitive, they need to invest in training, equipment, and resources now. "We need to ensure our technicians are willing to invest the time today in learning about these vehicles, both during the day and also after hours." Wise words indeed.