ISN Canada Group Announces Its Expansion in Western Canada.
ISN Canada Group (Integrated Supply Network) is thrilled to announce the third phase of its national expansion now offering a one-stop shop for professional mechanics and enthusiasts across Canada. Our team has worked diligently to launch our tool program in our recently expanded Calgary, Alberta facilities. This expansion has been a gradual deployment so far as we ramp up our operation as we have plans to further expand our infrastructure in the West during the latter half of 2022.
With the addition of tools in our Alberta warehouse, we are now positioned to deliver a one-stop shop solution of the widest assortment of tools within the Canadian marketplace, combined with the market-leading Atlas brand of automotive lifts, tire machines and shop equipment. ISN West is positioned to serve the Western Canadian professional mechanic and auto repair enthusiasts. This is a step forward in our execution of providing our channel partners with a complete and reliable supplier solution across Canada.
Direct ship from ISN USA warehouses
This is only a start as we will continue to expand with additional investments in our future growth. As an example, in spring 2022, we will be offering our Canadian customers, through our toolweb.ca platform, or from one of our fifteen customer service agents across Canada, the option of purchasing directly from our ISN USA warehouse inventories, having this vast product offering delivered directly to their doors within only a few days. This will open over 50,000+ different products to our ISN Canadian customers.
Just think of all imaginable products now being made available across Canada—ISN's own premium line of KTOOL, Around the Wheel service lines TMR, a full assortment of hand tools, diagnostic, scanners and cameras, air conditioning, shop equipment, air tools, battery maintenance and service, electrical systems, storage lifts, ALI Certified 2-post, 4-post & alignment lifts, tire changers & wheel balancers, accessory tire equipment, toolboxes, oil & fluid service equipment, plus many other tools and supplies.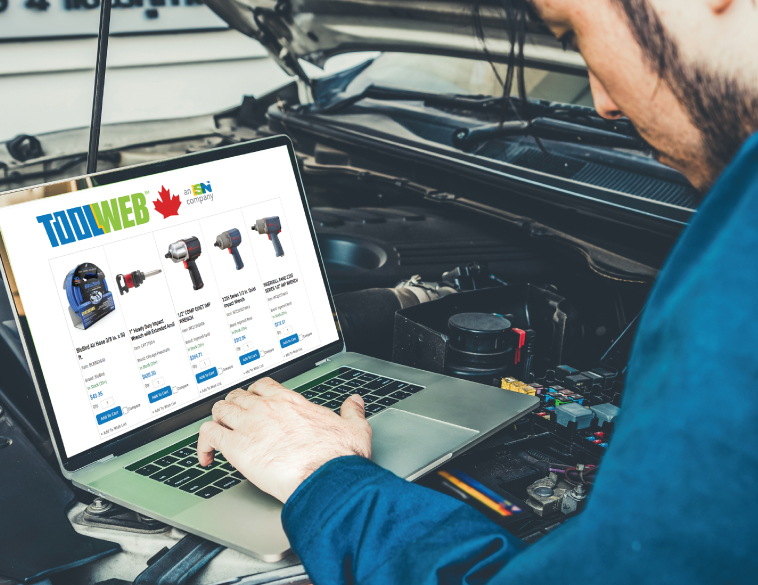 ToolWEB 2.0 online catalogue
Our electronic catalogue has been modernized and makes quotation and consultation easier and faster. The site also offers several features that are cutting edge in today's e-commerce—Lightning speed, easy search, optimized for mobile devices, saved cart, favorites, wish list and quick order functionality.
This is an exciting time for ISN Canada with the entire ISN Canadian team ready to embark on the task to be the only true one-stop shop within our industry.
About ISN—Integrated Supply Network (ISN) was established in 1985 and has since grown to thousands of employees worldwide. ISN is dedicated to creating an environment where our teams, partners, and customers can grow and thrive through product and distribution excellence. ISN currently holds fifteen strategically located distribution centers worldwide: four in Canada, nine in the United States and two in the United Kingdom. ISN is the nation's largest independent automotive tool and equipment provider, serving wholesalers, distributors and resellers throughout North America and Europe. With a leading-edge simplified go-to-market processes for auto tool manufacturers that empower professionals and resellers with the right tools & equipment at the right time. We work alongside you to offer distributor pricing, flexible payment terms and preferred freight options. Connect with ISN today to find professional-grade tools and equipment from more than 500+ top industry leading brands and suppliers.
Become a reseller
If you wish to become a customer of ISN Canada and use the best catalogue in the industry, we invite you to fill out the form https://www.toolweb.ca/reseller/register/ or to communicate with Sarah Stoner, Western Region Tools and Equipment sales representative [email protected], phone: 1-403-461-7850 or Rob Tribe, VP Strategic Accounts [email protected], phone: 1-604-679-8699.
---
Sponsored Content by ISN Canada