This month we talked to Rod Pickering of R.P. Automotive in Weyburn, Saskatchewan.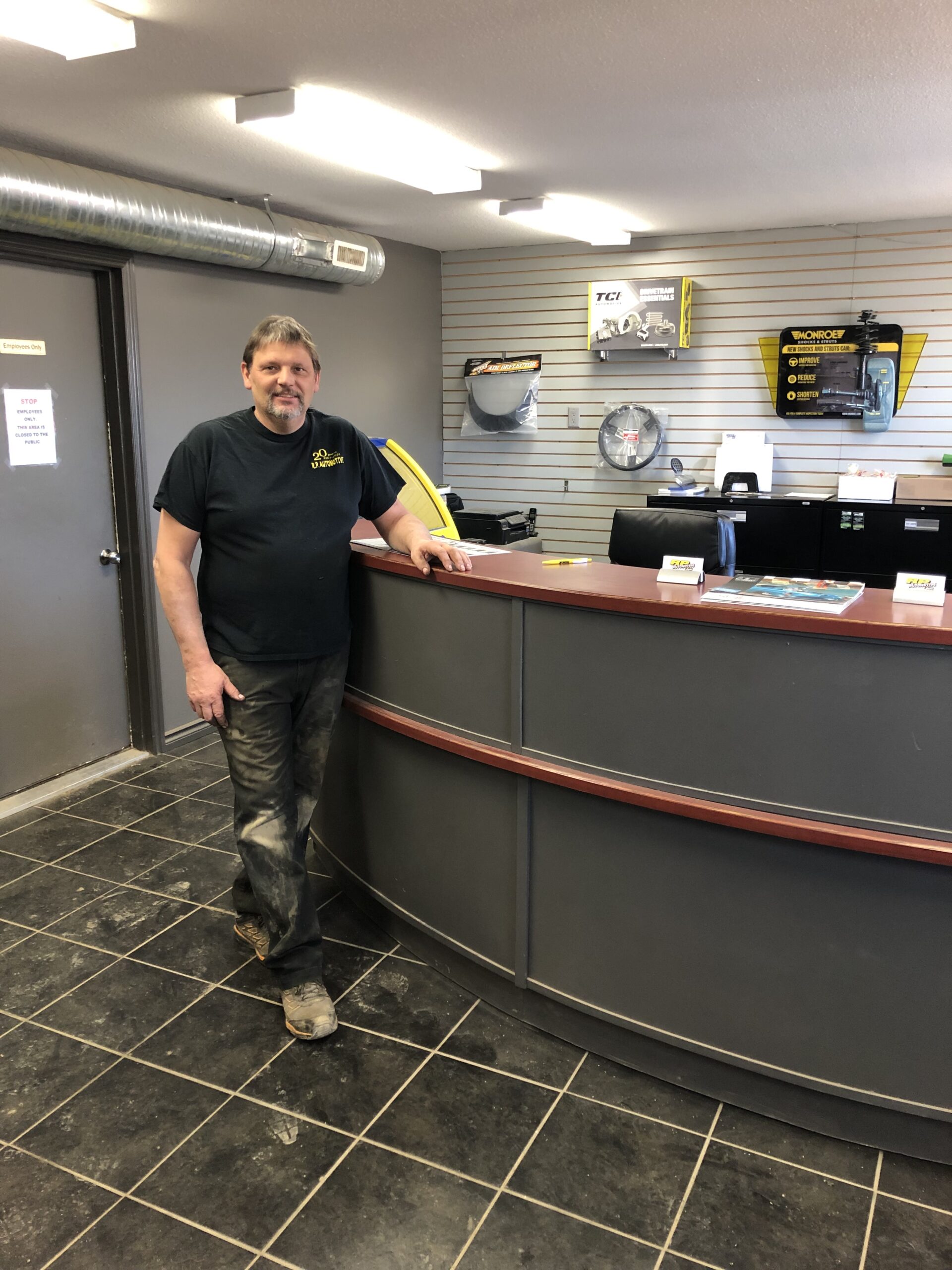 When asked for some business background, Rod stated, "In June 2001, I left a local dealership to open R.P. Automotive renting a two-bay facility that was a former service station.
The only equipment included was an older tire changer, balancer and hoist. I purchased additional equipment to get started and worked by myself for approximately six months.
As my business grew, also I added two technicians.
I had been in business for approximately ten months when I was approached about buying a building—a four-bay shop that was a former truck shop.
I took possession in August 2001, completed a few renovations and in September 2001, we moved in.
Over the last 19 years, there have been a few more renovations and additions, including a customer waiting area and a tool/equipment room. The facility is approximately 5,000 sq. ft."
Rod continues, "Safety and reliability are the main goals for our client's vehicles. We always try to keep our clients informed of necessary repairs as well as any maintenance items that need to be performed. With the garage management software we use, we always compare the vehicle's mileage to the manufacturer's recommended service intervals and advise our clients.
"Currently we have a staff of four, including two journeyman technicians. The other two employees include a part-time bookkeeper and a customer service rep,"
Makes, models and technology 
Pickering explains that his shop performs repairs on a number of vehicle types—domestic and foreign cars and trucks including medium-duty trucks, but the truck market is primarily the bigger scope of their business.
Rod goes on to say he has seen several changes in vehicle technology over the last 36 years in the industry.
"I believe it is important to keep up-to-date with equipment/diagnostic software so the technicians can perform their tasks in the most efficient manner. When the technician has the proper tools to do his job correctly, this makes the job easier; it also makes them more productive. Besides the physical tools required, it is imperative to keep training up to date. Over the years, we have participated in various categories of training. Our suppliers offer several different types of classes, including ADAS, Hybrid, diesel diagnostics, vehicle restraint systems, drivability, in addition to new vehicle information."
The challenges
"Currently, I believe, there are couple of areas in the industry that are a challenge. The first is access to information. The Right to Repair act has definitely helped—but there are still some areas with limited information available. We see a few foreign brands that have very little information available, so that makes diagnosing/repairing a little more challenging. Another area with several limitations is programming. We see some domestic manufacturers that do not allow us to program certain modules—it's getting more complex all the time. We see them continuously changing the software required to perform programming, which adds to time required to perform the repair," he states emphatically.
Rod believes an area that is starting to be a challenge is Technicians.
"Over the last few years, I have seen a decline in the number of interested individuals entering this profession. People working in this industry are no longer "mechanics". The industry has grown/changed over several years. The technicians in this industry are very well trained. I believe it is extremely important that repair facilities invest in their technicians with the most up-to-date training available. It is also essential that the shop owner invests in the required equipment for their technicians plus the shop owners should invest in themselves. Taking Shop Management classes helps you run your business more efficiently but also helps you to understand the needs of your technicians."
Main supplier
"Over the years, I have used numerous suppliers, but Auto Value is my main supplier; I've been a member of their program for the past 19-½ years. Being on a banner program is beneficial to any shop. Typically, they have a nationwide or North American warranty program. This is not just beneficial to my repair facility but also to my clientele."
"My main vendor is Auto Electric Service and they have been supportive of my business plus offering management training, vendor training, and technical training. With the current pandemic situation, they have switched to more online or webinar training."
"They are always willing to listen to suggestions/ideas I may have and also nominated me to become a member of the Advisory Council for the Auto Value program. This has been a great experience—I have met a group of individuals is the industry from across North America. I have also been able to meet with manufacturers of products we use and give them feedback on quality, fitment and new areas to explore," Rod acknowledges.
As a last reflection about the Aftermarket, Pickering had this to say: "My thought is that the Aftermarket industry is going to become more challenging and complex in the near future. The advancement in vehicle technology will possibly make it harder for the smaller shops to keep up. Investing in the proper equipment and training will become even more important to be sustainable, however, it will be rewarding!"