Due to the pandemic, Groupe Del Vasto held its convention this year in a virtual mode!
Thus, meetings with Auto Value Parts Stores, as well as the repair shops specific to each banner, i.e. Auto Value Certified Service Center, Auto Mécano, OCTO Auto Service Plus and the Mister Muffler franchise, were held over a period of six days in February and March.
In total, more than 350 repair shops, parts stores and employees of Groupe Del Vasto met from the comfort of their homes or businesses to participate in the various presentations and to discuss current topics as well as promising projects for the network.
The presence of Jean-François Champagne, President of AIA Canada, at each meeting was greatly appreciated. This opportunity allowed all participants to learn about the stakes and issues related to the monopolization of data generated by consumers' vehicles, which are currently transmitted directly to car manufacturers.
Even without an evening gala, Groupe Del Vasto did not fail to honour the nominees and winners in various categories.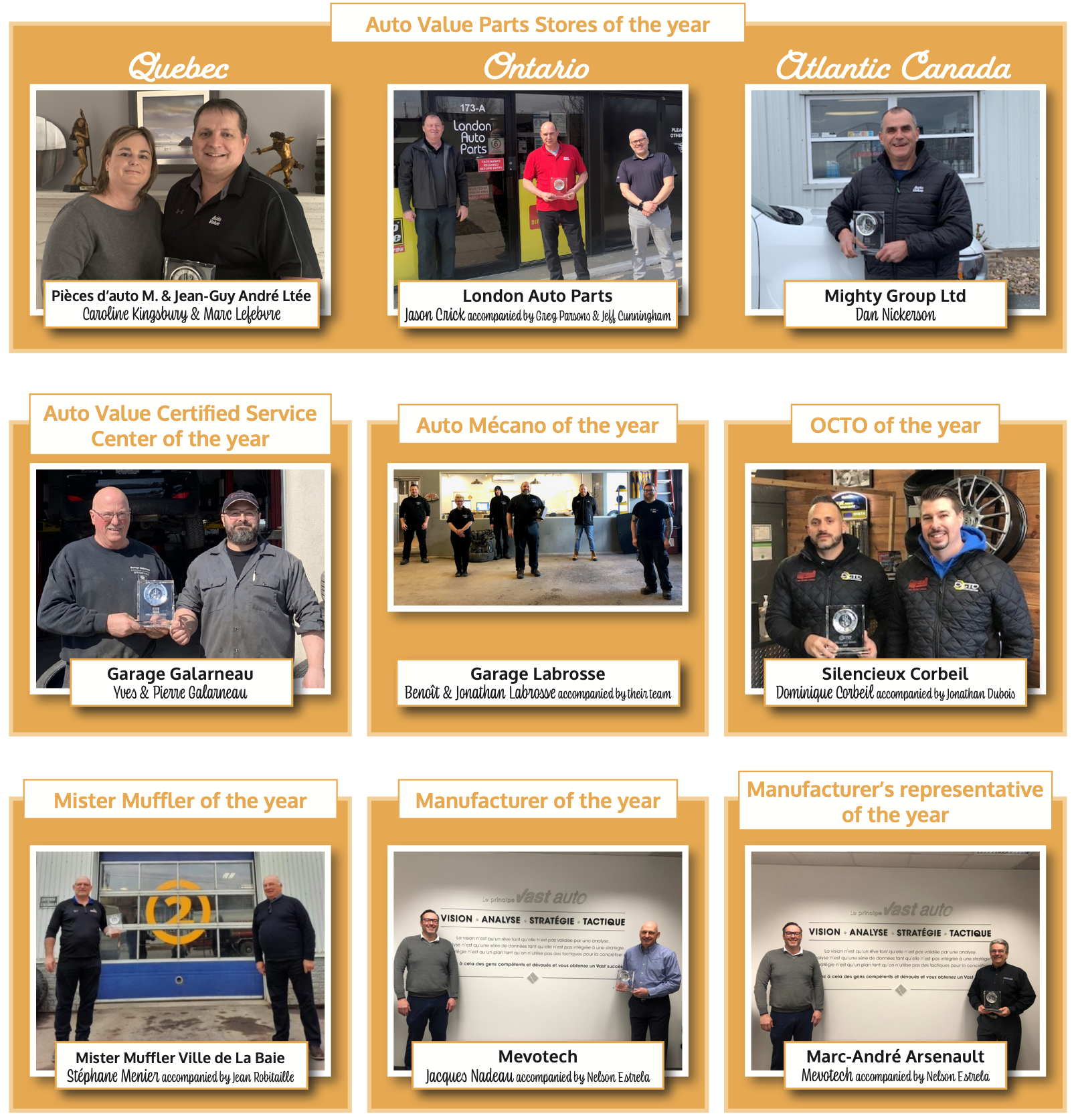 About Groupe Del Vasto
Founded in 1986, Groupe Del Vasto is a privately held company headquartered in Montreal, Quebec, and a leader in the distribution and marketing of automotive parts for vehicle repair.
The company currently serves Eastern Canada through its seven distribution centres located in the provinces of Quebec, Ontario and Nova Scotia, doing business under the name Vast-Auto Distribution.
Operating the Auto Value, Auto Mecano, Mister Muffler, Monsieur Transmission, and OCTO Auto Service Plus banners, Groupe Del Vasto offers its customers a complete business solution, including a wide range of quality parts, innovative marketing programs, training and business management systems.
Groupe Del Vasto is a shareholder of the Aftermarket Auto Parts Alliance, one of the world's leading automotive parts distribution and marketing organizations, with more than 5,000 Auto Value Parts Stores and Auto Value Certified Service Center repair shops.