Both challenges and opportunities lie ahead for this important sector of the economy.
AIA Canada recently released its Outlook 2020 Study, prepared by Ernst & Young (EY). The report was designed to provide an overview of the automotive aftermarket sector in Canada, including its economic impact, specific segments, product and service offerings as well as the workforce employed in the sector.
Based on these findings, there's no question that the aftermarket sector plays a pivotal role in the Canadian economy. In 2019, data points to approximately 491, 800 Canadians being employed in the aftermarket, representing almost 2.9% of total employees nationwide.
To give you an idea of the scope, this approximately represents the number of employees in the mining, quarrying, oil and gas extraction sectors, as well as real estate, rental and leasing sectors combined.
Yet while the aftermarket is clearly an important economic engine to Canada's overall economy, the report also looked at a range of factors that are influencing the overall economic health of the industry and could lead to significant disruptions in the future.
At present, one of the biggest is the ongoing COVID-19 pandemic. Since March, COVID-19 has caused a major disruption to the Canadian economy and while government actions in March and April to restrict the spread of the novel coronavirus that causes COVID-19 were well-intentioned, the resulting provincial lockdowns caused widespread disruption in economic activity.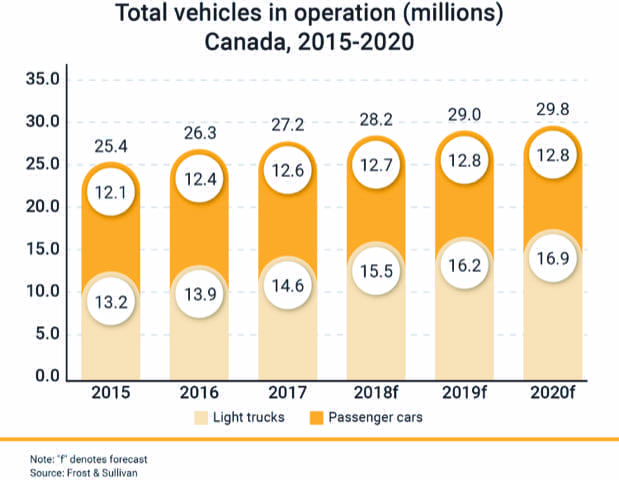 For the automotive aftermarket, one of the biggest was a significant drop in the number of kilometres driven as people were urged to stay at home as much as possible and many businesses had to close their physical doors to help reduce community spread.
According to analysis from EY, the number of kilometres driven plunged by approximately 30% in 2020; down to 240 billion.
Significant impact
At a high level, the impact on the automotive aftermarket sector which comprises auto parts research and development, manufacturing and distribution, as well as vehicle maintenance and repair as well as collision repairs, appears significant.
Fewer vehicles in regular use mean fewer opportunities for wear and tear vehicle maintenance and repair (as well as the parts required) plus the risk of fewer vehicle collisions, also negatively impacting the number of vehicle body repairs.
While the report acknowledges that the Canadian economy has begun to recover, vehicle usage still remains significantly lower than previous years and ongoing uncertainty, including spikes in COVID-19 cases in certain areas and the return of lockdown restrictions, are only adding fuel to the fire.
Positive outcomes
Yet on the flip side, the pandemic has resulted in several trends that could positively impact the automotive aftermarket over the short and possibly medium term. Curtailed economic activity and the devastating impact wrought by COVID-19 on the hospitality, travel and entertainment sectors have resulted in significant job losses and reduced earnings among many Canadians.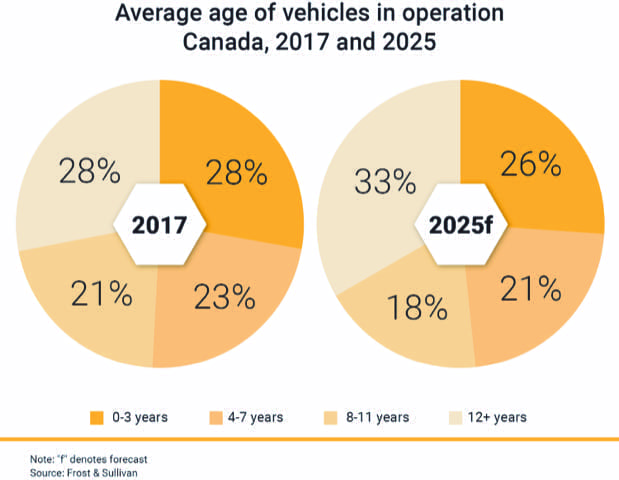 As a result, many have and are continuing to delay big-ticket purchases, including new vehicles. This means they are expected to hold onto their existing cars for longer and as these vehicles age, they will require greater levels of maintenance and repair, representing a significant opportunity for aftermarket businesses.
Other COVID-19 influenced trends also include a drastic reduction in public transit and rideshare use. In fact, according to AutoTRADER.ca, the pandemic has resulted in a swell of first-time buyers researching vehicles on its website, with a visitor's survey on the site demonstrating that these new buyers were three more times likely to purchase a vehicle as a result of the COVID-19 pandemic than more experienced buyers.
Additionally, current low-interest rates, when combined with incentives from dealers such as cashback offers and fee waivers, could spur additional interest in vehicle purchases over the coming months.
Although it is currently very difficult to predict, some sources, such as TD Economics and LMC Automotive see an increase in new vehicle sales during 2021, with forecasts ranging from 1.65 million units for the year (a 17% increase over 2020)  all the way to 2.05 million units (a 45% boost relative to 2020 estimates).
How this will ultimately play out depends on several factors, including consumer confidence and the ability for households to service debt and allocate funds for personal mobility needs.
Post COVID-19
Although data analysis of retail sales, GDP and financial performance shows that typically, the automotive aftermarket, as a sector remains fairly resilient during economic downturns, the COVID-19 pandemic has brought with it a unique set of challenges.
If work at home measures continue for the foreseeable future, this is likely to have a lasting impact on both the parts manufacture and distribution side of the business and service providers, since with fewer kilometres driven, there could be less revenue due to a reduced need of wear and tear and hence repair and service opportunities.
That being said, with the majority of vehicle maintenance and repair work seen as non-discretionary spending, demand for these types of services will likely stabilize as the economy reopens and more people get back to work and need to rely on their vehicles
Other trends
Beyond COVID-19, there are several other trends the 2020 Outlook Study identified as having an influence on the future of the automotive aftermarket in both the medium and long term.
The first is electric vehicles (EVs). While they currently remain a small percentage of the overall vehicle fleet, demand for them is growing.
That being said, there are still challenges to widespread EV adoption, namely relative low fuel prices and a heavy reliance on government incentives to move EVs off the lot as well as poor resale values and infrastructure challenges. Additionally, as more OEMs try to introduce EVs in the popular SUV and pickup segments, demand could also pick up due to broader market appeal, in fact; data modeling from LMC Automotive and EY predicts that light truck EVs could outsell their passenger car counterparts by as early as 2021.
More EVs in the marketplace could negatively impact the automotive aftermarket for certain parts and servicing work, notably oil changes and sparkplugs, exhaust and fuel system work, thereby reducing the routine maintenance business that many aftermarket shops rely on.
On the plus side, because EVs still rely on conventional wheels, tires and suspension components, service and maintenance of these, including lucrative alignment work will continue to be a significant part of aftermarket business in the coming years.
Further, on the horizon, autonomous vehicle (AV) technology could also have its own implications for the aftermarket. While some models already offer various levels of driver assistance technology, up to Level 3 autonomy as categorized by the Society of Automotive Engineers (notably the Audi A8 and Tesla Model X), it is likely that true Level 5 autonomous vehicles are still some years, if not decades away.
While increasing vehicle autonomy could reduce collisions and hence work for collision repair centres, higher vehicle utilization, particularly by fleets could mean that AVs wear out faster, requiring greater support from aftermarket businesses including parts suppliers and service centres. Advance equipment such as radar, Lidar, sensors and precise GPS systems will all require calibration and updates meaning considerable service opportunities for savvy aftermarket operators able to capitalize on these emerging trends.
Additionally, if more kilometres are driven by AVs, it would also mean traditional components such as tires, brakes, chassis and service components wear out faster.
And, if shared mobility and fleet operations are a prime factor in AV deployment, minimizing downtime will be essential, providing opportunities for aftermarket parts suppliers, distributors and service centres to ensure these vehicles are fixed as soon as possible to get them back on the road.
Summary
While the 2020 AIA Canada Outlook Study delved into a number of different findings, overall it highlights the importance of the automotive aftermarket to Canada's economy, how the COVID-19 pandemic is providing not only challenges (reduction in kilometres driven and reduced consumer spending) but also opportunities as consumers hold onto existing vehicles for longer and new motorists enter the market. And while the EV and AV trends are set to continue, they also provide significant opportunities for the entire automotive aftermarket, provided a forward-thinking approach is taken.
To access the full report click here