This is the story of one man's foray into the world of automotive and how he has carried on in the same direction for many years. Ernie McClintock is a person who likes to help people and is very happy at his job as counterperson for Auto Electric Service in Regina, Saskatchewan.
As his employer, Brent Kulcsar tells us, "Ernie has developed a very loyal following of customers over his years in the industry and many clients will only deal with him. His knowledge of engine parts, small engine parts, and especially parts for vintage vehicles is extremely helpful. Along with having a wealth of knowledge regarding the automotive industry, Ernie is an all-around great asset to our company. He is a team player who is always willing to help fellow staff members. He is always willing to stay late, he comes in early, and is always willing to pick up a shift if someone can't make it in. He loves to joke around with fellow staff and also doesn't mind when he's the one on the receiving end of the joke."
And now Ernie tells us about his history in the industry, "I began work as a shipper/receiver in a machine shop when I was 23. I was also running motors and preparing them for purchase, essentially what's known today as quality control. Sixty years have passed since I started my career and some people might ask why I continue to work at my age. The short answer is when I'm at home, I find myself missing the industry. I love looking up old parts in catalogues and truly miss the interaction with people each day when not at work.
Aiding the Customer
"Most of my career has been spent at the counter and order desk. I have always looked after the needs of the valuable customer. I recall 'back in the early days' at Motor Rebuilders, I would start work at 7:00 a.m. until 6:00 p.m. I'd head home for a quick supper break and return to the shop to put away orders until about 10:00 p.m. Today my workday looks slightly different—I arrive about 10:00 a.m., home by 2:00 p.m."
McClintock went on to relate how he works to aid the customer. "When I compare the systems in place today working as a parts person compared to when I first started in the industry, the main difference is that years ago when looking for a part, everything was found in a catalogue. Back then, I could memorize the catalogues, numbers and pricing… today I use the computer for that information! Over the years, there have been many changes… parts and engines have changed drastically. My knowledge has consistently grown while at the same time, I'm still learning. Today it's easier to find parts faster and more efficiently through the computer… however, it's still important to have the ability and knowledge to dig back into the old catalogues for those older, hard to locate parts.
Coaching and Mentoring
"Over the years I have taught/mentored new counter people on how to be successful in their position. I like to refer back to my days of coaching hockey for the style of teaching I use. When coaching, I would explain to the athlete that each goalie moves in a different way because we're all different. I'd tell them to do what felt most comfortable to them, then ask questions and get feedback from me as the coach. A similar method would be utilized when helping new counter people. I'd tell them to read the catalogue, learn how to read it and then practice reading the working on it as much as they could alone. After that I'd be there to guide them, answer questions. In both scenarios, I wanted that person to develop their own style of learning rather than copy mine.
"I've reached significant milestones through the years or experienced events that were important both professionally and personally. Working for 34 years for Motor Rebuilders was a huge accomplishment professionally… I believe it showed my commitment to my work and to the company. Now having been honoured with five and 10 year service awards from Auto Electric, especially at an age where I never imagined I'd still be working! I'm up to 13 years now and striving to receive the 15-year award!"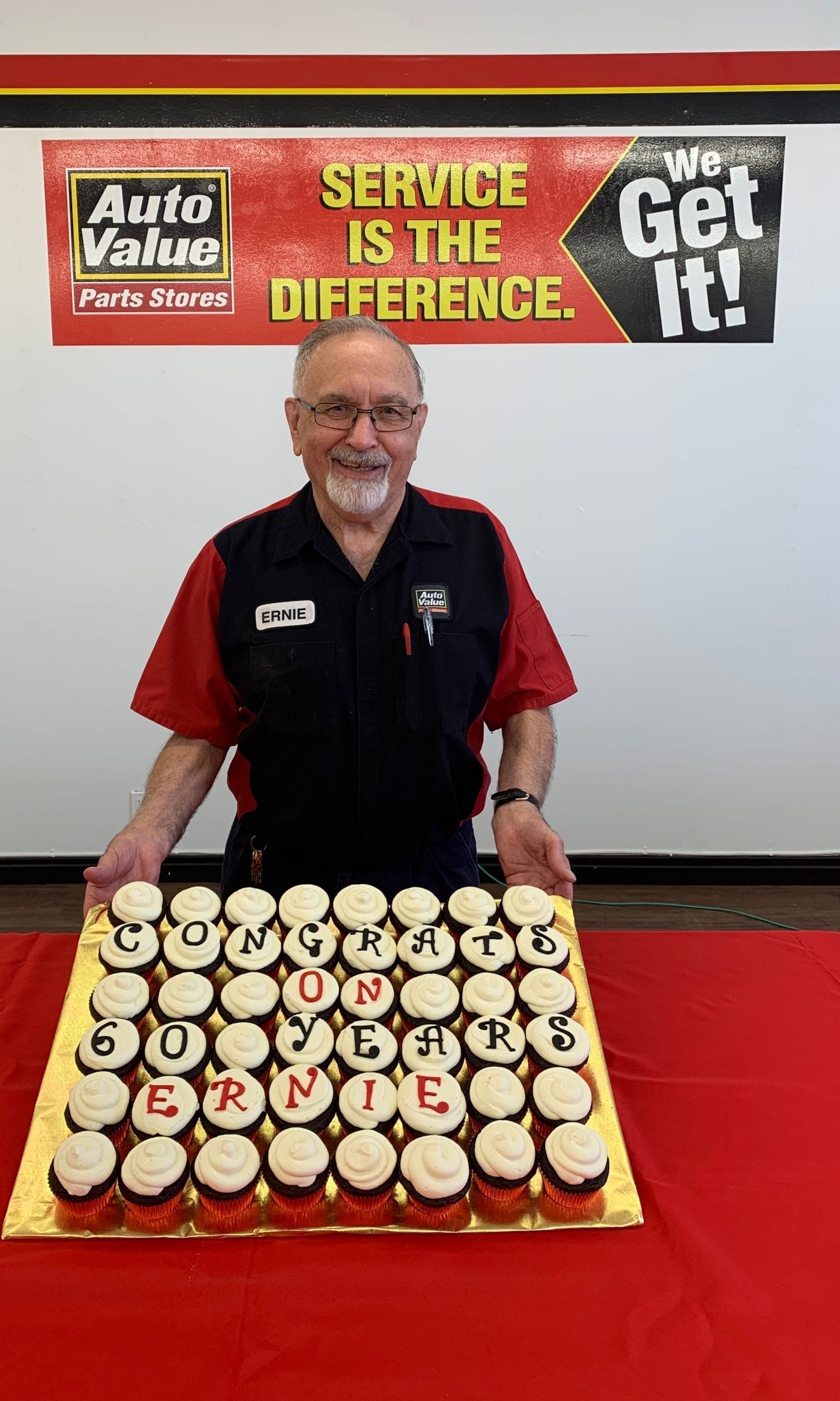 Outside the Industry
Ernie is also proud of his 'careers' outside the automotive industry… he's been a football referee in minor football, junior football and as a sideline referee in the CFL for 42 years. He also volunteered as a manager and secretary for 16 years of the Optimist Midget Baseball League. And he says, "On the lighter side, I was the last goalie in Regina to play in goal without a mask—and at that time I was 50 years old!" Topping all this off, Ernie and his wife, Carol have raised five successful children and will celebrate 60 years of marriage this year!
McClintock goes on to say, "I believe my lengthy career, success and milestones relate directly back to building a strong, loyal customer base. Several important factors help to achieve this: the main one is honesty! It's imperative to be upfront and honest with the customer and never give them excuses. It's important to be personable, efficient, to take pride in your work and to be dedicated to finding what they are looking for. Above all—Customer Service is the difference!
Challenges and Opportunities
"In today's industry there are challenges and opportunities. There is such complexity in the new vehicles and service and parts are rapidly changing. New products are constantly arriving because of the huge range of vehicle makes and models compared to years ago. The amount of inventory to keep on hand is massive today compared to what it used to be. There are many opportunities to be successful in the automotive aftermarket, however, individuals must commit to learning and keeping up with all the new developments.
"From my years of service in the automotive industry, I have learned the importance of always developing a good rapport with my fellow co-workers, whether it be the other counter people or pickers and also with your customers. It is extremely important to be respectful and friendly with them all. It has been a privilege to finish my career with Auto Electric Service, a big company with small town values!"
Wise words from a very experienced counter person who knows what he's talking about… he's had many years of on the job knowledge and great understanding of the customer. It's said that age is only a number… Ernie McClintock's 'number' is 83!! And yes, his career in the automotive industry began 60 years ago.