OBC Automotive Ltd (OBC) has been in Vernon, B.C. since 1975 and was originally named Okanagan Brake Centre.
Peter and Marilyn VanderDeen (along with Peter's sister and brother-in-law) purchased the paper-only business in 1995. Within one year it was upgraded to a computer system. "That was the start of our commitment to continually staying on the leading edge for computerization and all aftermarket systems and procedures," Peter states.
Sole ownership
In 2008, Marilyn and Peter bought out their partners, becoming the sole owners. "We changed our name to OBC Automotive, because many customers would comment, 'I didn't know you did more than brakes," Peter tells us.
"We teamed up with Uni-Select to receive competitive parts prices and provide a nation-wide warranty for customers. It's valuable to have one main supplier," says Peter. "They're more willing to help you—they value your loyalty. Our supplier can almost always provide us with parts warranty and we're happy to pass that along to our customers. We always recommend our customers purchase top brands. It's more costly to do things twice! Loyalty to a supplier also gives the added bonus of perks such as rebates or points."
Peter goes on, "Taking over a small business is a big challenge! Being a technician/owner you need to learn a whole new set of skills. Fortunately, there are lots of great invaluable management courses to attend. We also do lots of reading of industry magazines; those ideas sink in and you try a change. Eventually you find how to make your business a well-oiled machine."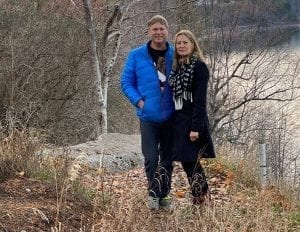 Employees are key
One of the keys to a well-oiled machine are the employees, Peter tells us. They're the heart of your business. A very important person—the Service Manager— needs to clearly communicate the good, the bad, and the ugly to a customer in a way that's understandable. They have to show that customer the value they're getting for the amount they're investing in their vehicle!
VanderDeen began his apprenticeship at 16 and completed his Red Seal training becoming a licenced technician by age 20. "When I worked at dealerships, I did general repair, so with my own business I continued to do general repairs. Being a one-stop shop is a real benefit. Clients can bring us any vehicle issue, and this helps us keep our clients. It's ideal to see them at least three or four times a year. This provides a relationship with them as you do the oil changes, tires, other breakdowns/maintenance they need."
OBC is a four-bay shop currently with two apprentices (Peter always has at least one apprentice on staff), one technician, a Service Manager, plus himself. He manages the business and helps in the shop when needed. He loves tackling a "problem child" requiring extra diagnosis. "I always enjoy finding the 'Fix' for a complex problem that other shops or a dealer didn't discover!"
The right information
Peter says one of the keys to solving a complex problem is getting all the client's information, which comes down to good communication, but also internally between the Techs and the Service Manager. To aid communication, OBC has gone paperless with the techs using the shop's computer terminals to find the reason for the visit. Protractor is their garage management software. It does everything from banking to CRM. Protractor also shows declined work from a previous visit so when booking the client in, OBC can ask if they'd like them to fix the deferred work on this visit. "We also have AutoServe1 seamlessly integrated, allowing the techs to make condition reports on a phone or tablet and take pictures of the issues found. This creates a huge trust factor with our shop, and you're trustworthy.
"We also have three free loaner cars—a big plus—which allows our technicians time to do thorough inspections and gives our Service Advisor the necessary time to properly quote both today's and any possible future recommended work the inspection may have revealed. OBC commits to never proceeding with work without customer authorization."
"We say: 'Your vehicle, Your budget, Your choice.' With the availability of courtesy cars, we can wait for customers to respond. When parts don't show or are incorrect, we're not leaving people without wheels. When doing an engine job which can take multiple days, they don't have to find alternative means of transportation."
Sounds like OBC is doing things the correct way!