On September 14, at the ICAR Complex in Mirabel, QC, a number of fleet managers were able to test drive electric, hybrid and plug-in hybrid vehicles as part of this specialist event.
The fleet managers came from a variety of sectors, including construction, government and public services, and commercial delivery companies.
For the managers, it was an opportunity not only to try out several models, but also to get all the information they wanted on the manufacturers' range by talking to specialists.
The Ford team presented the Lightning, ETransit and MachE.
From GM, attendees could test-drive the Brightdrop truck and the Cadillac Lyriq, and learn more about the Silverado EV and Blazer EV on display.
Stellantis presented four models: Jeep Wrangler PHEV,

Pacifica PHEV, Grand Cherokee PHEV and Grand Cherokee PHEV.

At Kia, Sportage Hybrid, EV6 and Niro EV were available for test drives, while the EV6 GT was on show.
Volkswagen offered to take the wheel of the ID4 and Polestar for version 2.
Toyota was not to be outdone, with access to the Prius Prime plug-in hybrid, the Crown hybrid and the all-electric bZ4X.
Nissan presented two models, the Ariya and the famous Leaf.
Mitsubishi presented the Outlander PHEV and let visitors try it out.
Service provider Simpli-city Leasing was offering the chance to get behind the wheel of the Tesla Model Y.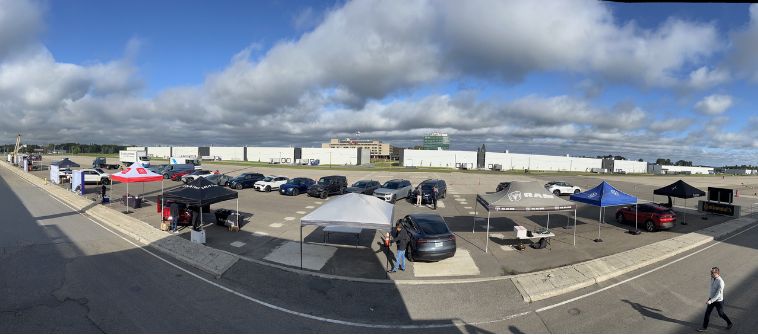 Commercial trucks
Commercial trucks also had a strong presence, with the eMV Series presented by Réseau Dynamique Camion International and the Lion 6 from Lion Électrique.
Protek and RH Équipement aérien were presenting hybrid versions of the F550 and Sprinter.
As well as being able to talk to specialists and colleagues and put these new technologies to the test on a closed circuit, participants were able to accessall information needed on solutions for electrifying fleets at various kiosks. Kiosks were available from Cléo par Hydro-Québec, Geothentic and 7Gen.
Location Jim Pattison took part in the event by sponsoring the food offered to participants.
Given the success of these events, which aim to help fleet managers go green, a new edition of the NAFA Quebec Division's Ride & Drive is planned for next year.