The latest Outlander and Outlander PHEV vehicles are packed with advanced safety systems that are a must for today's fleets.
Safety is paramount for fleet professionals. Assuring that drivers and their passengers get home every night to their families and loved ones is the reason why many organizations invest in vehicles and equipment that can prevent collisions from happening in the first place, and that can mitigate the consequences of an impact if a collision is unavoidable.
One of the manufacturers making safety a priority is Mitsubishi Motors. Their recently-redesigned 2023 Outlander and Outlander PHEV models come equipped with an impressive suite of advanced safety technologies, engineered to assure the safety of the driver, the passengers, as well as other vehicles and even pedestrians.
In the United States, the Outlander has been recognized as a Top Safety Pick+ by the Insurance Institute for Highway Safety (IIHS), and earlier this year, the Automobile Journalists Association of Canada (AJAC) named the Mitsubishi Outlander the "Best Mid-Size Utility Vehicle in Canada for 2023." Accepting the award, Steve Carter, Director of Marketing at Mitsubishi Motor Sales of Canada said in part, "Mitsubishi continues to offer value for consumers by providing its long list of safety and comfort features plus remarkable reliability throughout its trim levels."
That last part about "trim levels" is key, because every Outlander and Outlander PHEV model, regardless of the price tag and trim level, comes with an extensive list of safety features, which demonstrates just how seriously Mitsubishi takes safety when engineering their vehicles.
Passive & active safety
For 2023, all Outlander and Outlander PHEV models come with a long list of safety systems. These include passive safety features like dual front airbags, front and rear side airbags, side-impact curtain airbags for first and second row passengers, a front centre airbag, and driver and passenger knee airbags.
"Most of today's vehicles come with about seven airbags as standard," says Don Ulmer, Senior Manager, Corporate & Product Strategy, Mitsubishi  Motor Sales of Canada. "But we go way beyond that, with a total of 11."
To help prevent an accident in the first place, all models come with advanced technologies that help the driver maintain control of the vehicle, especially when facing unexpected dangers on the road.
These include safety staples like anti-lock brakes, traction control and active stability control, as well as features like electronic brake-force distribution, which ensures each wheel gets just the right amount of braking power in an emergency.
Another key feature is the Brake Assist System (BAS), which is designed to apply the optimum braking pressure in emergency situations. It helps drivers who, for whatever reason, can't or don't depress the brake pedal firmly and fully in emergency stop situations. When the brake pedal is depressed suddenly, the brake assist system kicks in, providing the necessary force needed to stop the vehicle in the shortest distance possible.
All models also come equipped with a Brake Override System (BOS), which kicks into action in situations where both the accelerator and the brake pedal are accidentally depressed at the same time. The system overrides, or cancels out the accelerator, allowing the vehicle to come to a safe stop.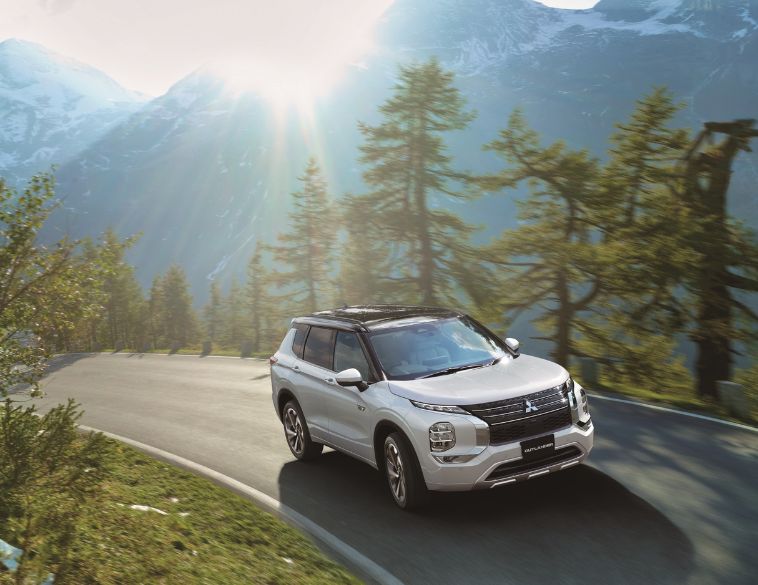 Advanced driver assistance systems
Every Outlander and Outlander PHEV model also comes with a full roster of advanced driver assistance systems (ADAS). These include Lane Departure Warning (LDW), which alerts the driver if they start wandering out of their lane; and a Blind Spot Warning (BSW) system, which alerts the driver to the presence of another vehicle in their blind spot.
The Rear Cross Traffic Alert (RCTA) is another invaluable feature, standard on all models. Whenever the vehicle is backing up, perhaps out of a driveway or a parking spot, this system provides visual and sound alerts if it detects another vehicle or a pedestrian approaching from either side. The vehicle or pedestrian may not be visible to the driver, even with the help of the backup camera, but this feature will detect them.
If the driver continues backing up, and the system determines that a collision is imminent, then the rear Automatic Emergency Braking (AEB) system (also standard) kicks in, applying the brakes on its own.
When travelling on city and highway streets, the Forward Collision Mitigation (FCM) system (also standard) keeps an eye on the road ahead. If sensors detect a vehicle ahead, and determine that the gap between the two vehicles is too short, it will issue a warning. If it determines that a collision is imminent, it will apply the brakes automatically to avoid an accident completely, or mitigate the effects of an impact if a collision is unavoidable.
All new Outlander and Outlander PHEV models also keep an eye on the driver. With the driver attention alert system, if the driver shows signs of lack of attention or drowsiness, a warning will alert them to pay more attention or pull over to rest.
Available systems
While all Outlander and Outlander PHEV models benefit from the full menu of safety systems mentioned above, even more advanced systems are available on LE and SEL trims, including Adaptive Cruise Control, (ACC) which can automatically speed up and slow down the vehicle to keep up with traffic on the highway.
Top-of-the-line GT trims get an Active Blind Spot Assist (ABSA) system (after sounding a warning, it will actively prevent the driver from changing lanes into another vehicle), along with front parking sensors, and a Lane Departure Prevention (LDP) system (brings the vehicle back into the driving lane, if the vehicle is wandering out of the lane).
GT models also come with the Mitsubishi's MI-PILOT Assist system. "This is a semi-autonomous driving system," Ulmer adds. It includes advanced technologies like Lane Keep Assist (LKA) (provides steering assistance to keep the vehicle in the centre of the lane), Adaptive Cruise Control (ACC) with stop and go, and Traffic Sign Recognition (TSR) (monitors speed limit signs and keeps the driver up-to-date when speed limits change).
Mitsubishi is serious about safety. The reason why is nicely summed up by Ulmer: "Mitsubishi Motors believes that safety is standard. It's not something customers should have to pay for."