Lion Electric, which specialises in the manufacture of all-electric medium- and heavy-duty urban vehicles, officially opened its 900,000-square-foot plant in Joliet, Illinois, on July 21st.

Located about an hour from Chicago, the plant—the largest in the U.S. dedicated to the production of all-electric medium- and heavy-duty commercial vehicles—is expected to have a production capacity of 2,500 all-electric school buses by the end of 2023.
At full capacity, the plant will have an estimated production capacity of 20,000 vehicles a year, combining both buses and trucks, which the company expects will require around 1,400 skilled workers.
Lion Electric chose Illinois for its resources, proximity to customers and national supply base, as well as a vision that aligns with the state's shared goals for a more sustainable future.
"Together with Governor J.B. Pritzker and his team, industry players and EV advocates, we are creating the next era of transportation in the Midwest, with a critical need to reduce carbon emissions, strengthen the region's economic vitality and support sustainable development," said Marc Bédard, President and Founder of Lion Electric.
Dignitaries, customers, media, financial analysts, partners and employees attended the opening, which was celebrated throughout the day on July 21 at an event that began with a press conference and an inspiring ceremony where a diesel fuel pipe was cut as a ribbon.
Representatives of the U.S. and Illinois governments attending the event included Joliet Mayor Terry D'Arcy, Illinois Governor J.B. Pritzker, US Senator Richard Durbin and U.S. Senator Tammy Duckworth.
A unifying event
Nearly 150 students from the Boys & Girls Club of Chicago and ComEd's youth ambassador programme also attended the event to learn about future job opportunities in a green economy.
The students toured the plant, talked to technicians, assembly workers and Lion staff about the electric vehicle industry and experienced driving a LionC zero-emission school bus.
"Lion Electric has been a strong partner in the development of the electric vehicle manufacturing industry in Illinois, a leader nationally, creating a sustainable network of well-paying jobs that support our communities, while making our state cleaner and greener," said Governor JB Pritzker. "This new facility is a shining example of what smart investment and public-private partnerships can create and I congratulate Lion Electric and its partners on this official opening."
"Thanks to Lion Electric's cutting-edge technology and innovative spirit, we are helping to transform the transport sector towards zero-emission solutions," said U.S. Senator Dick Durbin (D-IL). "This plant will not only create job opportunities, it will also strengthen America's position as a world leader in the manufacture of electric vehicles. I congratulate Lion Electric on its commitment to decarbonising the transport sector and look forward to seeing the positive impact this plant will have on the transport sector."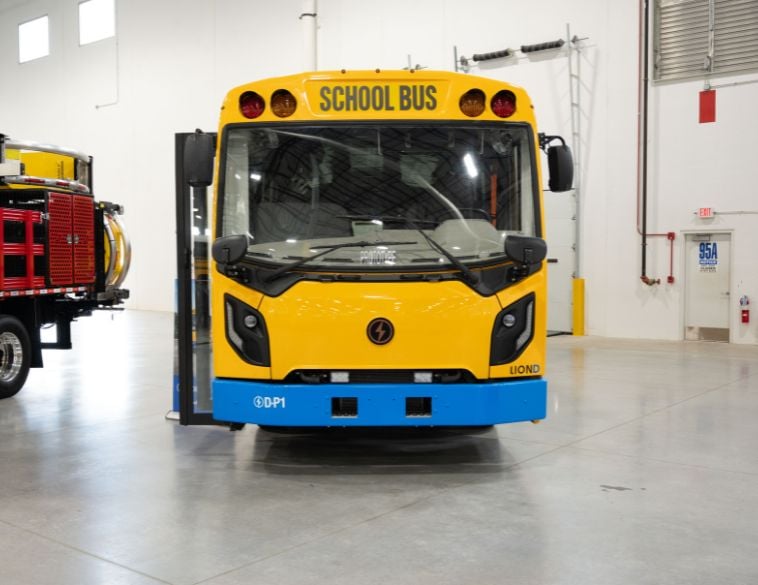 A shift in manufacturing
"Lion Electric is a good example of the future of manufacturing," said U.S. Senator Tammy Duckworth. "It's fitting that they chose Illinois as the home for this manufacturing plant, because Illinois is the place of the future for all things manufacturing. Supporting green manufacturing and green energy benefits us all in so many ways—we create jobs, save money and develop a more sustainable, safer and healthier world, not just for ourselves, but for our children and generations to come."
At the inauguration, guests were able to tour the facilities of Lion's new school bus production line, take a tour of electric trucks and buses, and discover the various innovative applications possible with Lion's electric trucks.
The Argonne National Laboratory and Joliet Junior College, which work in partnership with Lion on research, training and workforce development programmes, were also present at the event. Guests were also given an exclusive look at the LionD, the Company's prototype D-type school bus, which should be available later in 2023.
A welcome arrival
"Today's event is exciting for Illinois because Lion Electric is the first company to manufacture electric buses in our state," said Mark Denzler, President and CEO of the Illinois Manufacturers' Association. "The manufacturing industry is the most important part of our economy and Lion Electric will contribute to the development of a rich and historic manufacturing heritage."
"ComEd is pleased to power Lion Electric's first-ever plant in the United States, where the new locally manufactured electric vehicles will play a critical role in helping our customers reduce emissions and make the future cleaner," said Gil C. Quiniones, CEO of ComEd. "As a partner from day one in their Joliet growth project, ComEd shares Lion's commitment to expanding access to electric transportation options that will help reduce pollution, improve air quality, create new jobs and spur economic growth for Illinois communities."