In an April 13 webinar presented by Sustainable fleet technology, U.S. fleet managers discussed going electric but also planning for charging stations.
Rick Harland, transportation manager for the city of Austin, Texas, explained that the city's fleet currently has 316 electric vehicles and that number is expected to reach 385 this year.
Selon ses calculs, ce virage pourrait représenter des économies de 3.5 millions de dollars d'ici 2026 en frais de carburant.
He explains that 86% of the 25 municipal departments have adopted at least one electric vehicle in their fleet.
The state of Texas has initiated a public charging station installation program that stipulates that charging stations should be no further than 50 miles away.
The City of Austin is taking advantage of the grants associated with this program to accelerate its own bollard installation program.
Designated kiosks are only accessible to municipal users.
However, the program also includes shared charging stations with the public, in an effort to boost the adoption of electric vehicles in this state that was built on oil.
"Where technology allows, we also want to install Level 3 fast charging stations," Harland says. The closer the charging time gets to the time it takes to fill up with gas, the more people will embrace the technology."
Electric buses
In the city of Charlotte, North Carolina, Chris Ingram is responsible for the municipal transit system's bus fleet.
Since April 2022, its department has been testing 18 100% electric buses offered by two manufacturers.
These buses are part of a fleet that includes 222 diesel buses and 66 hybrids.
Two types of charging stations are also being tested.
"Since our buses run 20 hours a day, the introduction of electric buses with a more limited range has made the experience more complicated," says Ingram. "We have notified our customers and survey them regularly about their experience. The response has been very positive."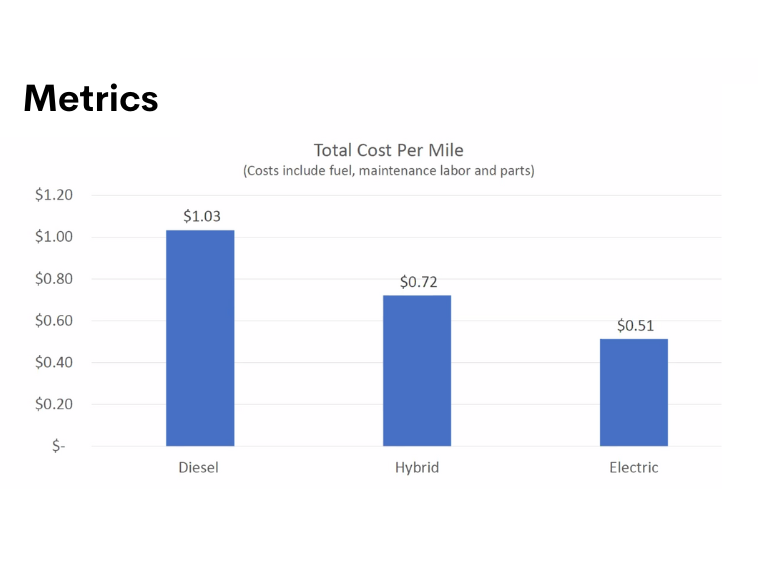 Other challenges identified by the manager are the availability of electric buses, the compatibility of charging stations and their location.
He also explained that a charging schedule had to be built from scratch to ensure consistent service.
On another note, both drivers and mechanics had to be trained in this new technology.
Initial benchmarking results indicate that the transition to electric buses results in significant savings in both fuel and maintenance costs.
In fact, the city has authorized an order for 20 additional 100% electric buses.
"The transition will be gradual," says Ingram, "since our conventional and hybrid buses have a life expectancy of at least 15 years." This will give us time to strategically plan the location of our charging stations.
The pilot project also makes it possible to validate the true autonomy of these buses.
New York at 84% electric
Keith Kerman and his team have the difficult task of managing the New York City fleet, the largest in North America.
At the outset, Kerman says his analysis shows that 84 percent of the Big Apple's gasoline and diesel vehicles could be replaced by their electric counterparts.
Currently, 2035 of the 28,700 vehicles in the municipal fleet are 100% electric.
These are mainly cars and light trucks that are easier to find on the market.
The city operates more than 1,500 charging stations to power municipal vehicles, 1,000 of which are Level 2.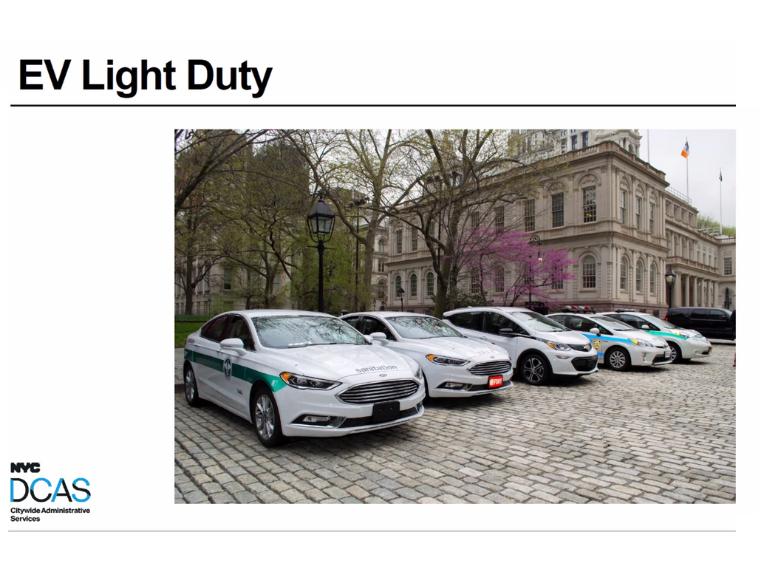 Since most municipal electric vehicles, whether it's highway vans, street sweepers, or permit inspectors' cars, return to their starting point at the end of the day to be recharged overnight, Level 2 charging stations are still appropriate and less expensive than fast charging stations.
Level 3 hydrants are installed for police and fire department emergency vehicles.
"New York City must always have a backup," says the manager. "We can't afford to have utility vehicles inoperable in the event of a long-term power outage."
Some hydrants are connected to generators in municipal buildings.
Another solution put forward is the installation of charging stations powered by solar panels.
The city currently has 160 of them and their effectiveness in charging vehicles that are only used on one shift surprises even the manager.
Other such facilities are being considered, primarily where the city owns the land, as each square metre of land in this municipality is worth a fortune.