Three days on a single charge.
Sometimes a fleet vehicle needs to be more than just transportation—it needs to be a mobile office on wheels.
That's why the City of Brantford chose to equip its building inspectors with seven 2021 Hyundai Kona electric vehicles.
"The environment inside the cabin works well for use as a mobile office," says Andy McMahon, Chief Building Official, Director Building Services, City of Brantford.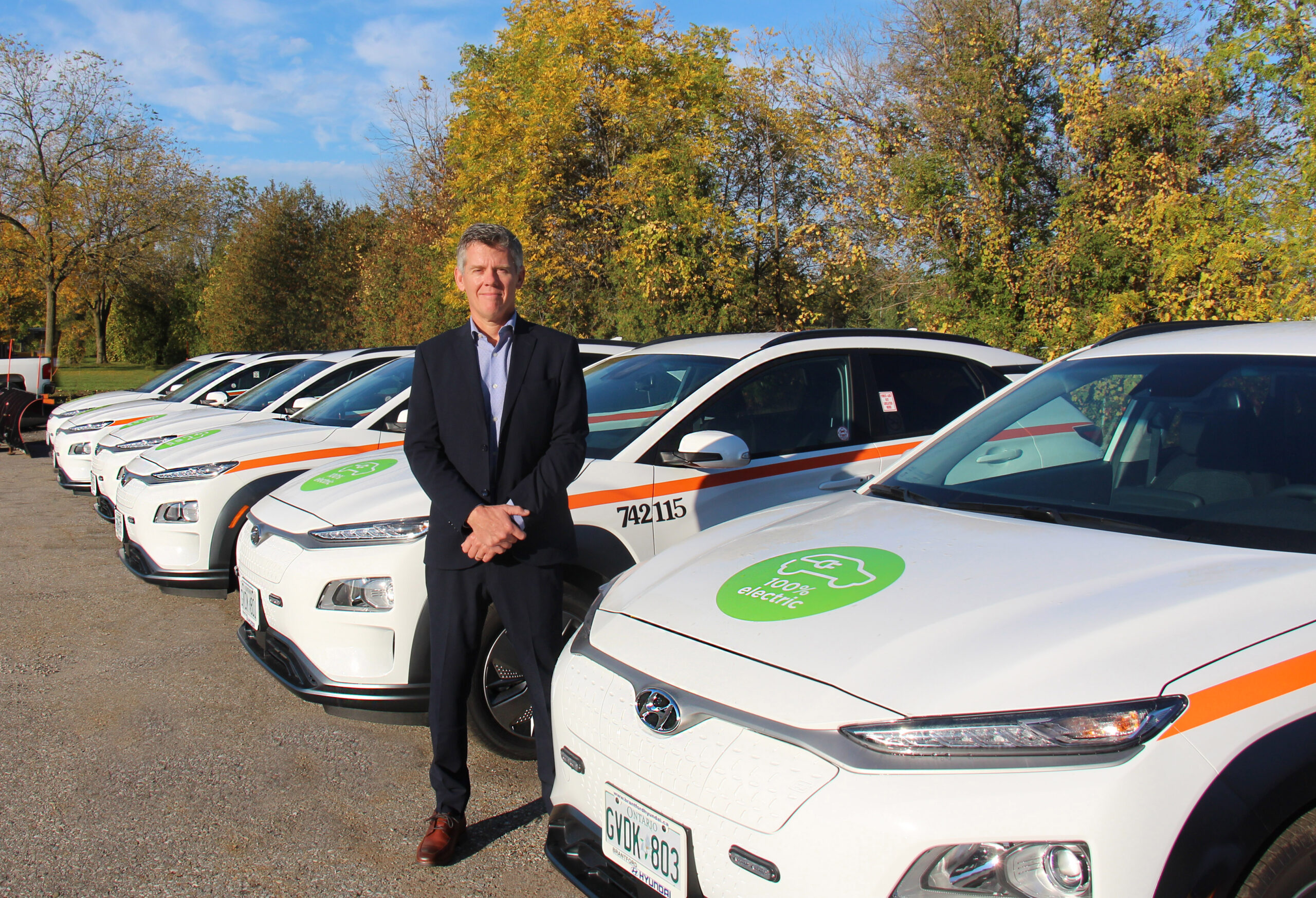 The 2021 Kona has ports for phones and laptops, as well as a large centre console.
"We knew it would be more than adequate for our use."
After staff complete a building inspection, they return to their vehicle and work on their computers for up to 15 minutes at a time.
"If it's hot outside, they'll want the air conditioning running, or if it's cold, they'll want heat," says McMahon.
With an EV, the vehicles can idle without creating any emissions, unlike a gas-powered vehicle. "It saves money and is better for the environment."
Low mileage
McMahon estimates fuel and maintenance costs will be reduced substantially, going from $4,000 annually for a gas-powered vehicle to only $600 annually for the EVs.
And last year, the city of Brantford unanimously approved a corporate climate change action plan and emission reduction target, with the goal of reaching net-zero greenhouse gas emissions by 2050.
"The building department was lucky enough to be the first ones on board," says McMahon.
"The timing worked out with our need for fleet vehicles."
Previously, inspectors had used their own personal vehicles.
With fleet vehicles, the inspectors are more visible in the community, with a more professional appearance.
Building inspectors only travel 8,000 or 9,000 kilometres a year, or 40 kilometres a day.
That's ideal for the Kona, which gets 400 kilometres on a full charge.
Four Level 2 charging stations have been installed in the underground parking at the new Brantford city hall, where the Kona fleet is on a charging schedule.
"They don't need to charge every day," says McMahon.
"We've only been operating a week, but we're easily getting more than three days out of a single charge."
The city of Brantford will be installing 11 more chargers, hopefully, by 2022.
Training
Regular service and repairs are completed by city fleet technicians.
The battery and electric drive system have a five-year warranty, which will be serviced by Hyundai dealer technicians.
"Currently the training on electric vehicle drive systems is only available to vehicle manufacturers," says McMahon.
"As more electric vehicles become available and our fleet expands, we'll look at more training opportunities for fleet staff to do more service work."
All the new EV drivers also received training, as this was their first fleet vehicle.
"They received training on our policies and procedures for operating a fleet vehicle, such as doing circle checks, logbooks, those types of things," says McMahon.
They also had specific EV training, on how to plug the vehicle in, as well as drive it.
"They're different in the way they brake, as it takes a little getting used to the regenerative braking."
It's a big change for the staff, who have been accustomed to driving their own personal vehicles.
"We've only had them for a week, but everything is very positive, and they're excited about having these new electric vehicles," says McMahon.
Initially, there was some concern about how the EVs would operate in harsh winter weather, and how the battery would function.
"We borrowed an EV from another department which is already a couple of years old," says McMahon.
"Two of our building inspectors spent a week test driving it, and we told them to be as hard as they could. Keep the air conditioning or heat running, wipers, have the radio on, use the battery as much as they could."
Launch party
Even with an older EV, the inspectors found they could go a couple of days before the EV needed a charge.
"Once we went through the test with that vehicle, it alleviated everyone's concerns," says McMahon.
A basic fleet management program that tracks vehicles to report on speed, length of time stopped, where the vehicle stops, has been incorporated into the EVs.
Once the Konas had been equipped with graphics, first aid kits, flashing lights and GPS, they were ready to hit the road.
A launch party was held to celebrate the city's first electric vehicle fleet, with fanfare and photos.
McMahon hopes to expand the EV program, as more building inspectors come on board.
"The first time we budgeted for the seven staff we have, but since then, we've increased our staff complement," he says.
"Hopefully, we'll get approval through capital funding, and we can purchase a couple more next year."