Due to a shortage of new commercial vehicles brought on by the pandemic, fleet managers are extending the life cycles of their existing vehicles.
In a July Autosphere article Stretched Utilization on Fleet Lifecycles, Chris Hill, wrote, "Fleet managers are responding to the lack of new vehicles by extending the lives of those they currently have in service."
He added, "The usual caution against extending vehicle life cycles is that maintenance and repair expenses will increase. This can be mitigated by keeping to a strict preventive maintenance schedule."
Tires on the road
A strict maintenance schedule includes regularly checking tires for wear and tear.
In our Get More Life Out of Your Tires article, we talked about the supply difficulties and simple routines you as a fleet could perform to extend the life of your tires.
But the time comes when even well-maintained tires need to be replaced. A strict (and intelligent) maintenance schedule means getting new tires that will deliver excellent performance.
Availability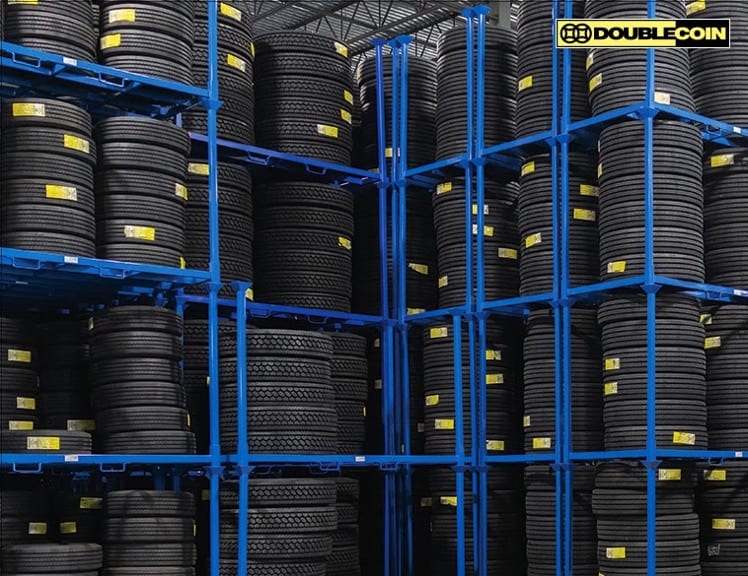 It's important to note that some of the challenges faced in acquiring new vehicles hold true for commercial tires as well.
According to a recent blog post, our challenges at Double Coin were not related to manufacturing, but to port issues. Our advanced manufacturing facility in the Thailand plant is running at full capacity to ensure that our dealer and fleet customers have ongoing access to one of the industry's most comprehensive selection of SKUs.
Replacing worn tires is an ongoing part and a significant expense of any strict preventive maintenance plan. As fleet managers extend the life cycles of their vehicles, what should they look for in a replacement tire?
Even if the plan is to minimize the lifetime of vehicle use, it is obvious there should continue to be no compromise on quality or safety.
Therefore, besides availability, look for commercial tires that offer tremendous product quality, value, and support. Many fleets have made Double Coin their top choice as a first replacement tire, choosing us over big brand names.
This speaks volumes about the quality of our tires, and our value as a second, third, and ongoing replacement tire. Our 4-Belt quality makes our commercial tires an ideal replacement for vehicles whose life cycles are being extended.
Featured TBR tires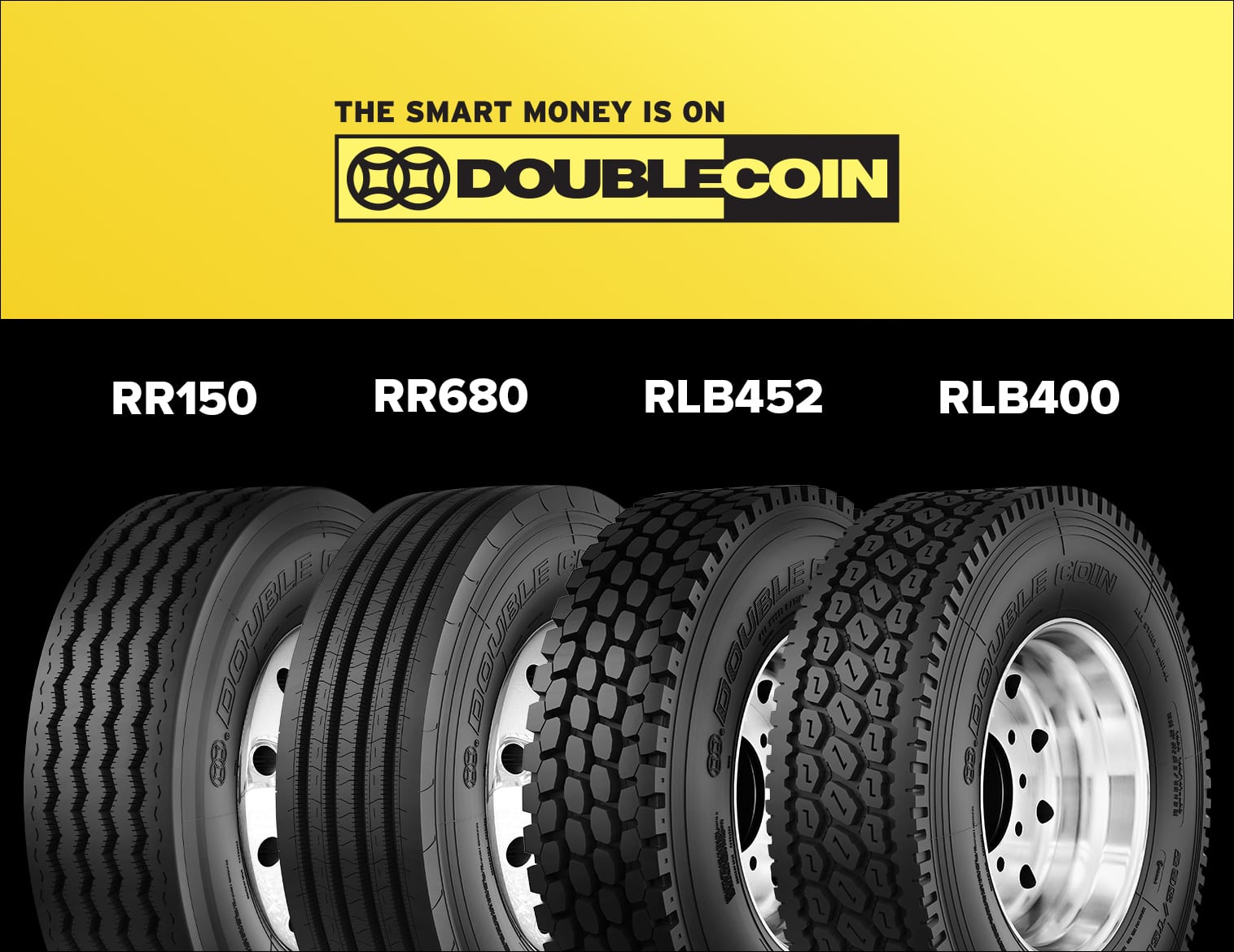 At Double Coin, we don't cut corners.
We manufacture a diverse line of Steer, Drive and Trailer-position tires for a wide range of applications in which your fleet operates. If you require a replacement steer tire, Double Coin has several options to meet your needs.
For example, the RR150 is a 5-rib steer-position tire with a wide groove design built for precise handling, great lateral stability and superior traction in various weather conditions. Its wide groove design and channel siping cuts through water.
RSD3 Winter tires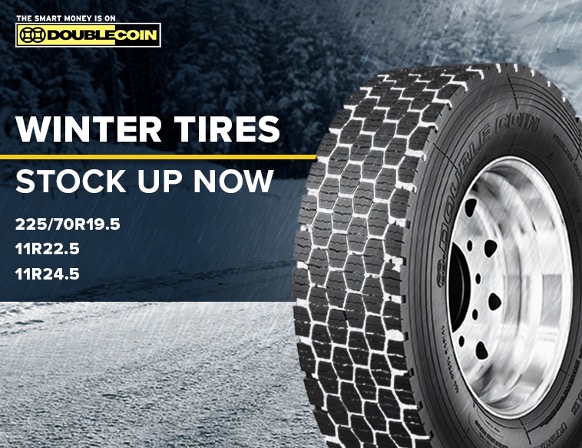 With winter approaching, it may be time to consider tires for this season.
Double Coin offers our ultra-premium severe winter drive-position tire. Engineered for harsh environments, the RSD3 features a dynamic tread design for excellent traction on all road surfaces and conditions.
Its zigzag siping and tread block design enhance tire performance and deliver superior durability. As you extend the life cycle of your tractors, this rugged tire delivers long-lasting performance.
If trailers are part of the extended life cycle plan, Double Coin has you covered. They have a line of trailer-position tires that deliver long life and low rolling resistance.
Our TR100 is a shallow tread trailer position tire that's designed for all types of trailer applications. It is built to provide superior tread life and features multiple siping and wide shoulders to prevent irregular wear that occurs in free-rolling positions.
Competitive advantage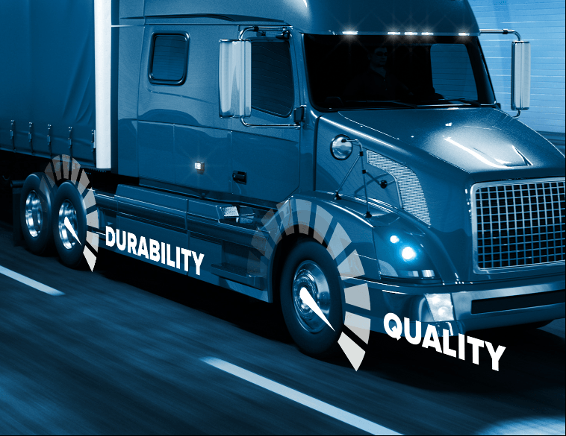 Double Coin is a company that delivers tremendous value.
By any measurement, our TBR tires are competitively priced and deliver higher quality and more durability for less. This leads to an ongoing low total cost of ownership.
Double Coin is committed to delivering a superior ownership experience. Part of that involves providing you with the assurance that there is no problem that won't be handled quickly and with integrity. We stand by each TBR tire with our strong, no-hassle 7 year-3 retread warranty.
We have a knowledgeable team that is ready to solve any problem and provide intelligent solutions for fleets, dealers, and their customers.
4 Steel belt tires
Every Double Coin TBR tire is built with 4 steel belts, and this contributes to extending tire casing life, promoting retreadability, and contributing to a lower cost per kilometre.
Every Double Coin tire is engineered with advanced tire compounds to optimize durability and minimize rolling resistance.
Whatever your business requires, Double Coin most likely has the tires that will excel in your unique application.
Contact a Double Coin dealer or HTC and they'll help you find the perfect tires to operate on as you extend the life cycles of your tractors and trailers.
---
Sponsored content by Double Coin