Business is booming for Driverseat in this pandemic, thanks to their community commitment.
When Driverseat CEO Brian Bazely was starting the business with his brother Luke in 2012, they decided to do something commerce based that would benefit the community and businesses. "It wasn't about the industry," says Bazely. "We wanted to have some level of purpose, and work with bright franchisees."
First, they created a list of governance and core values, and realized that there was a need for transportation for the elderly, the vulnerable, children with anxiety issues. "We developed a model of chauffeuring and shuttling people outside the taxi-type model," says Bazely. "Nobody was doing this on this scale, with this suite of services."
Award-winning franchise
Now, there are 70 locations across North America, include six new franchises that were launched during the pandemic. The award-winning franchise uses three types of vehicles and a number of variations within them. The core vehicle is a 10 to 15 seater,  mid to high roof Ford Transit. All franchisees have a smaller Kia Sedona minivan, which allows for more cost effective use. And there are a variety of 24 seat mini-buses. "We use the mini-buses for very specific contracts only," notes Bazely.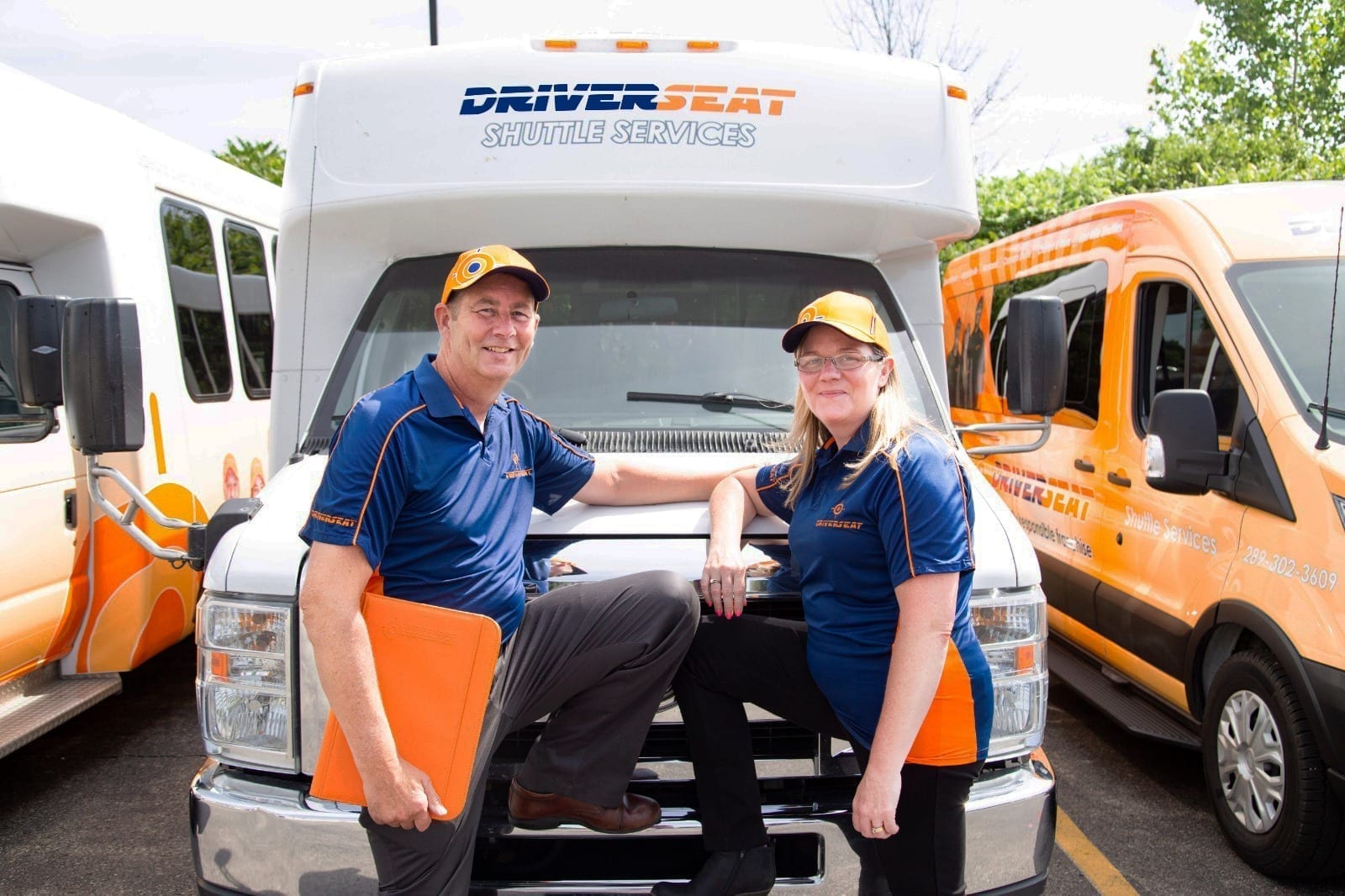 Driverseat purpose built the fleet, so that 15-seaters could go where they were needed, and 12-seaters where they were needed, and so on. "When we need to shift, we'll secure those additional vehicles to do it," says Bazely.
An internal software model means that a franchisee can hand out part of, or an entire run, to another franchisee. "Part of our economic model is making sure we're running very tight with respect to fleet cost, but always keeping it brand new," says Bazely.
While the service itself is ultimately quite simple, the Driverseat vehicles are replaced every three years. Uniformed chauffeurs provide a white glove service treatment to clients, such as always opening doors. The business model is simple, morphing and adapting quickly to community needs. Unique to the model is the franchise aspect, so that the franchise owner lives, breathes and raises their family in that community. "Our owners have a very good pulse as to what's needed there and what's important," says Bazely.
At the start of the pandemic, in March, Driverseat not only committed to flattening the curve, but also started communicating and supporting other community businesses, and found opportunities to keep vehicles on the road. "All of a sudden, due to the fact that we were progressive and trying to support other businesses, we were the first place they called," says Bazely.
One of those calls came from the federal government. "We provided transportation for people who were coming back into the country but had to go into private quarantine locations, where they were held under guard for 14 days," says Bazely. "We became part of the transportation solution."
Relationship and trust
In the first wave of the pandemic, in March, Bazely did daily webinars to franchisees. "We were going to have to manage as best we could." A four tier strategy was created to pivot, and find other ways to generate revenue.
Part of that included taking additional time. Since franchisees had less time – whether less day to day business, less operational tasks – they were encouraged to use their time to build meaningful relationships within the community.
Reaching out to fellow local businesses became a powerful means of networking, providing opportunities to participate and support the community. A live webinar series was designed so franchisees could host webinars or conference calls with other business owners in town, just for the purpose of supporting them. "It's a tough time, and we're a community brand," notes Bazely.
And they did PPE part deliveries. "We're not a courier company," says Bazely. "But it came down to our relationships and trust within each community." As manufacturers started re-tooling from their regular business to building PPE material, they needed re-tooling parts. "Sometimes those parts were six hours away, and time was critical. In some cases, one franchise would send a chauffeur and another would send another chauffeur. They would meet half way to save on time."
It was also a good time to build strategies. The company did a brand launch, with Instagram initiatives that resulted in millions of hits. "People were very hungry to break the COVID news cycle," says Bazely. "We had time to build our LinkedIn audience, to blog. That turned out even stronger than expected."
As a result, revenue has been strong, despite taking a hit on tourism, airport transport and wedding business. "We did everything we could whether there was good revenue in it or not, just to try and help," says Bazely. "When you do that, good things happen. You become trusted and valuable."