Only 33 customers will have the privilege of owning one of Alfa Romeo's latest supercars.
Inspired by the stunning 1967 Alfa Romeo 33 Stradale, the all-new two-seater coupé with the same name is a work of art on wheels. According to the company, it was developed at the Alfa Romeo Bottega, "where the brand's designers, engineers and historians initially met with potential buyers to create each car, as in Renaissance artisan boutiques and workshops of renowned Italian coachbuilders."
Larry Dominique, head of Alfa Romeo in North America explains why the company decided to build this supercar. "We're a brand that has 113 years of history in Europe," he explains. "With our rich heritage, we asked ourselves what we could do to build excitement around the brand. We have this history of coachbuilding and of doing unique things, so we wanted to do something innovative and different. We also wanted to remind everyone that we're a premium brand, and so we started to think about the supercar world."
Dreams of a supercar, inspired by Alfa Romeo's rich history, eventually led to the idea of building the new 33 Stradale, and it didn't take long for the company to realize that they had a hit on their hands.
"We did the design work and we started talking to potential customers," Dominique adds. "And what we thought was going to take many months to sell out, actually sold out in a very short period of time."
Very limited production
Appropriately, only 33 of these supercars will be built and delivered to customers around the world. "They've been sold out for months," Dominique says. "We invited each individual customer to Italy, they sat down with our designers, and they worked with them on customizing all the elements of their car."
The customizing work is so comprehensive, that each 33 Stradale buyer was even permitted to choose their own VIN number. "This is why the Bottega is so important," Dominique explains. "You need to have this core group of people who manage the process. The customer chooses the wheels, the colours, and the aesthetics of the vehicle. It's not a matter of ordering the vehicle and waiting for it to show up. It's a very immersive process."
Initially, to drum up business, the Alfa Romeo team reached out to what Dominique calls an "affluent car-buying population" in key markets. However, as soon as word got out about the 33 Stradale, potential customers started reaching out to Alfa Romeo to ask how they could buy one. "We made them sign non-disclosure agreements before we would show them anything, and we met with them face-to-face," Dominique adds.
Moreover, Alfa Romeo decided that they weren't going to sell a 33 Stradale to just anyone with the means to pay for one. They wanted to make sure that whoever bought a 33 Stradale would truly appreciate the car.
"This is a special vehicle," Dominique explains. "We wanted to make sure that they weren't simply adding it to their existing car collection. We wanted to make sure people had a real desire to own one, and so we had a global committee that reviewed potential customers before we would allocate a vehicle for them."
Dominique says that the number of people who wanted a 33 Stradale far surpassed the limited number available. Those who satisfied the committee's requirements, but couldn't buy one because they were already sold out, would ask how they could get on a waiting list, just in case one of the other buyers didn't go through with their purchase.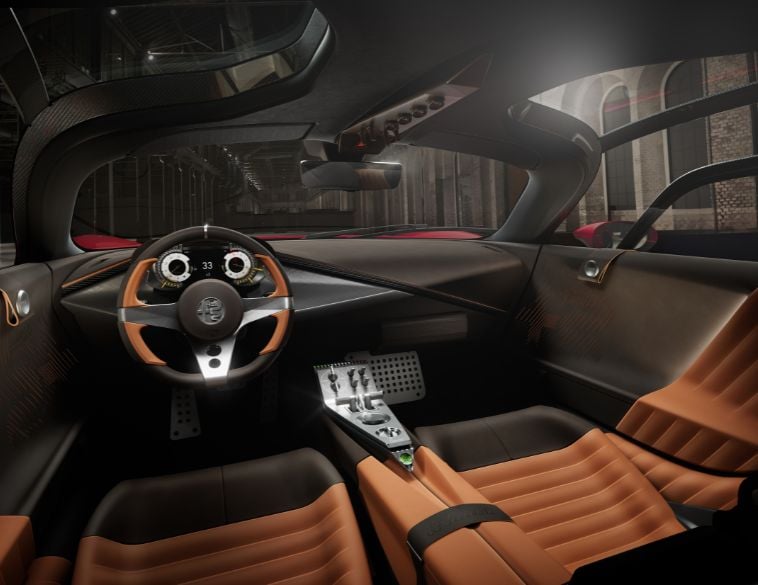 ICE vs. BEV
Besides choosing their favourite colours, 33 Stradale buyers also get to choose their preferred powertrain. Alfa Romeo is offering two options: a 620-hp gasoline-powered V6 twin-turbo coupled to an eight-speed DCT gearbox, or a battery-electric vehicle configured to deliver more than 750 horsepower and an estimated range of 450 km.
"We felt it was important, as a brand, to offer both," Dominque explains. "It's a step into the past and a step into the future for us."
Both the ICE and BEV versions boast a top speed of 333 km/hr, a 0-100 km/hr time under three seconds, and braking from 100-0 km/hr in under 33 m. Most purchasers ordered their supercar with the ICE engine, Dominique says, adding that there's still time for them to change their minds and that some might, now that the horsepower numbers have been officially announced.
Allocation and pricing
Where the 33 new vehicles will end up is a bit of a mystery. The 33 Stradale was offered to buyers all over the globe, but Dominique and his team won't say where the buyers for this limited-production model are located. All he'll say is that Alfa Romeo made sure to allocate vehicles so that each part of the world got its fair share.
"Europe is the number one market for Alpha Romeo," he explains, "and North America is the number two market, but we sell in the Middle East, Africa, India, Asia Pacific, China, and we're now selling in Latin America. So we made sure that we had available allocation for all the regions of the world, in proportion to where we are as a brand."
Although Dominique isn't willing to discuss the price (not even a starting MSRP or a ballpark figure), he is willing to offer a hint. "We're staying quiet on the pricing, primarily because the vehicles are so individual," he says. "But you know, our competitors are Bugatti and McLaren." That said, some third parties are putting the price tag at over USD $1 million.
Dominique says that 33 Stradale customers can expect delivery of their vehicles starting in December 2024 and that this special vehicle will come with a special delivery process. "It's going to take about two years to get through the process of building and delivering these vehicles," he adds. "I will likely be part of each vehicle's delivery here in North America, and we want to make sure the delivery is very special—but all the details will be predicated on each customer's individual wishes."