Second generation dealership thrives on team spirit. 
When it was time for Chomedey Hyundai to move, the choice was easy.
"Our business had grown so much and we have a lot of business with used cars," explains Mathieu Leclair, President of Chomedey Hyundai. For every new car that they sell, Chomedey Hyundai sells two used cars. "That takes up a lot of real estate. The old spot was getting constrained with the space that we had."
There was also the need to redesign to a new Hyundai image program that accelerated the decision. A choice piece of land by A-13 highway became available, but it took five years to get approvals. And then the COVID pandemic struck.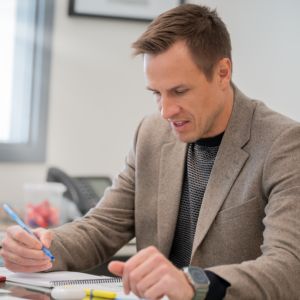 "We poured the concrete in February of 2020, and then everything shut down," Leclair recalls. "It was a dilemma."
Their contractor urged them to build a steel structure in face of steel prices climbing. By May, businesses were slowly re-opening, with a few conditions in place. "We could do mechanical services, and do car sales outside," says Leclair.
Canadian climate
At the time the new Chomedey Hyundai opened its doors in April, 2021, it was the the biggest Hyundai dealership in Canada, with 64,000 square feet on two floors. Now another Hyundai dealership has taken the crown, but Leclair isn't fussed. "We were certainly not going after that prize," he chuckles. "We just wanted more space."
Now, the new dealership can display 25 cars in its indoor showroom on the ground floor and 100 cars on the second floor. "With the Canadian climate, especially the winters in Montreal, we often get minus 30, minus 40 cold," explains Leclair. "It's really an advantage for the customer to come into our store and be in a warm, comfortable space."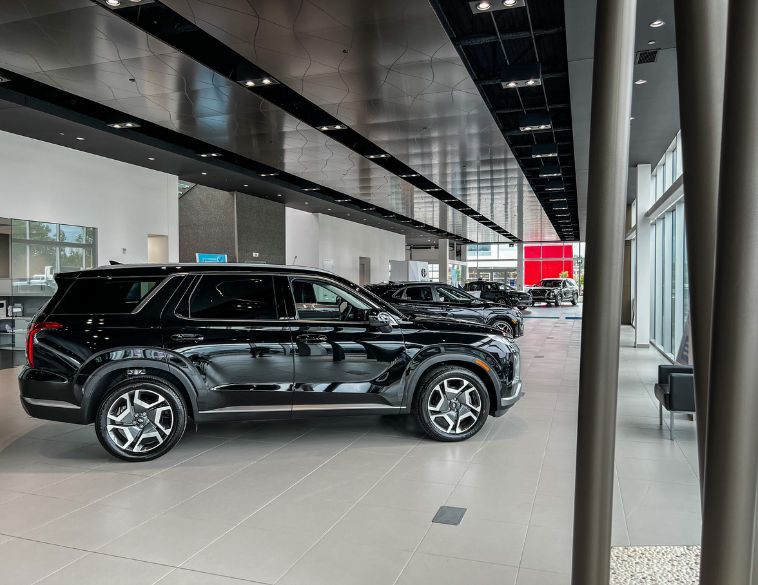 Another advantage is the highway outside, where he estimates about 200,000 people pass in front of the dealership on an average weekday. Already, Leclair is noticing many new faces in the store's service area.
Service customers can enjoy a fresh, new loft-style waiting area that overlooks the garage, and they can see the techs working on their vehicle. And there's a $30,000 coffee machine that can pour anything from espresso to regular coffee to sparkling water, all from a single faucet.
Staff have sports-style lockers with showers, with separate rooms for men and women. They can take their meals in the second floor cafeteria with a large outdoor terrace. "Now everyone is together, service and staff, it makes for better team spirit," notes Leclair.
EV's in high demand
Right now, Hyundai's electric vehicles are in high demand, if in short supply. There are many orders for the IONIQ5 and IONIQ6, but a two year waiting list. Other popular vehicles include the gas and electric Kona, as well as the Elantra, the Tuscon and Santa Fe. The small, sporty Santa Cruz pickup truck has done well with the outdoor crowd. "It's not a high volume vehicle but it fits a certain clientele and extends our image," says Leclair.
How does he work with inventory shortages? "The trick is to be honest off the bat," Leclair advises. The customer is told right away that it could be a long time before they get their car, to set realistic expectations. If they are in a situation where they need a car right away, Leclair sells them a gas car which they can use until their EV comes in. "They can trade in that gas car when their EV arrives, we've assured them the trade in value will be very good and they won't be upside down with their equity."
According to Leclair, Hyundai is ahead of the game as far as software goes. A program called Roadster is used as an online shopping tool, where a customer can completely build and price their car online. A service retention tool from ADP can not only provide maintenance scheduling information to a customer's connected car, it can do so right from their car's screen. Chomedey uses CDK's DMS software for internal operations, and vAuto for used car inventory. "It evaluates, prices and maintains our cars on the website," explains Leclair.
Another system, IRecon, follows reconditioning for used cars from the day they come in until the day that the photo is taken and they're ready to sell. "It helps with the flow."
Family business
But the success and longevity of the dealership is mostly because it's a family owned and operated business. "We are second generation in the business and third generation in the industry," declares Leclair. His grandfather worked in a body shop, and his uncle started Group Leclair, which has grown to five dealerships, including Chomedey Hyundai.
"My father and his brother were partners, and now I work with my cousins. Because we work so well together, we've been able to have sustainable growth. We can continue in the steps of our parents."