The right people, the right compensation and the right tools make all the difference.
While many refer to automotive retail as the "car business," in reality, it's far more a "people's business." Success in commerce, no matter what product or solution it is you provide, comes down to offering something that somebody wants and making the process of obtaining it seamless and straightforward.
Vehicles, by their very nature, are complex and expensive, yet they are for many of us, an essential purchase. Without them, life can be difficult and inconvenient. The stakes are high in the purchase process, both for customers and dealers, but provided the right approach is taken, the result can be exceedingly rewarding for both parties.
Understanding customer needs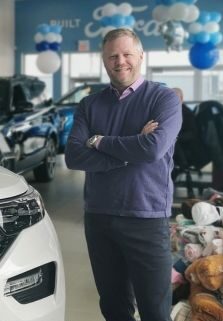 A key one is understanding the customer's needs and providing a path to purchase that is easy, convenient, and transparent. Traditional hard sales tactics rarely work, especially in today's post-COVID-19 pandemic environment, and that's meant a big shift in the way dealers approach hiring and training staff.
Brent Ravelle, President of the Ravelle Group of Companies, which includes multiple dealership locations, including Listowel Chrysler and Listowel Ford, notes that for approximately eight years, there was a big shift in the way sales staff were hired and developed. "At that time, we did away with a commission sales approach. Today, all of our sales staff are on salary with a volume bonus." Ravelle says that dealers need to understand that, "today, it's not just about gross profit"—particularly given how margins on new vehicles have drastically shrunk over the last 25 years.
The concept of commission vehicle sales, where salespeople live or die by their next vehicle isn't good for the customer, isn't good for them and ultimately, isn't good for the business, since it promotes a transactional mindset instead of one focused on long-term customer service and repeat business.
The right people, the right roles
At Williamson Chrysler in Uxbridge, Ont., Dealer Principal and General Manager Jim Williamson has seen the business grow exponentially since he took the reins in 2012. A lot of that has been down to finding the right people to fill the right roles. "It takes time to do that," he said, during an interview at the store, "and we're always tweaking our processes."
Although digital sales and marketing tools have zoomed in popularity over the last 15 years, the pandemic accelerated adoption, since in many cases, customers and salespeople could not meet face-to-face. With that said, successful dealers understand that digital and online solutions really work as an extension of human interaction in the sales process, not a substitute for it. Vehicles are still, to a large extent, visceral and emotional purchases, meaning people want to touch, feel and experience them before they buy, as well as be able to ask any questions they might have to a live person.
Augmenting the process
At LGM Financial Services, a special Digital Toolbox solution provides dealers and sales staff with a range of solutions to improve the overall customer experience. "It really comes down to process, and being able to augment that process," explains Jake Stacey, Executive Vice President, Sales & Training at LGM. "Digital communication channels that are staffed by a human on the other end, tend to create a more intimate and transparent experience for the customer," she says, plus, when you're able to set up regular touch points and personalize each one, such as sending E-Cards, or meaningful messages from a real person, it can make all the difference.