This outstanding event serves as a benchmark for the entire industry.
More than 230 guests attended Simplicity Car Care's second annual conference, which was held on September 15 & 16 in Niagara Falls, Ontario. Over sixty of Simplicity Car Care's current 90 Canadian franchisees attended the event, along with suppliers, insurers, potential franchisees and the media.
In addition to two days of outstanding speakers, engaging workshops, and informative panel presentations, the event included a trade show and a gala evening.
The two-day event kicked off with a high-energy presentation by Simplicity Car Care's CEO, Paul Prochilo, who drove home the message that Simplicity is a high-impact, high-growth organization.
Prochilo proudly explained that the conference was "Climate Positive+." This means Simplicity Car Care offset twice the CO2 emissions that the conference created, factoring in emissions from transportation, accommodations, dining, as well as the conference and exhibition space.
He spoke about the company's many accomplishments, including their rating as Canada's 6th largest collision repair provider, and their goal of growing to 133 locations across Canada in 2024.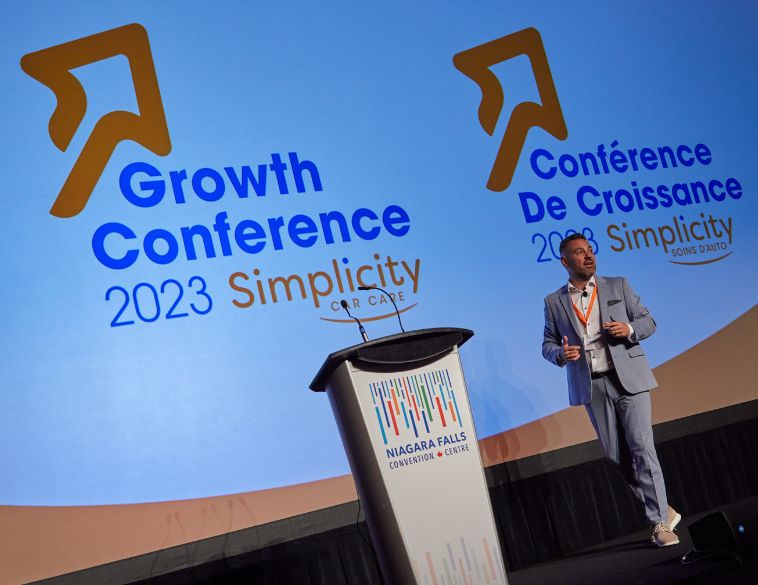 Company culture
Former Disney executive, Dan Cockerell took to the stage next with the topic: How is the culture in your kingdom? He explained that every company and organization has a culture, either intentionally or organically. The latter can be risky because you're not in control, so as a business owner it's important to decide what your company's culture should be, and then you need to build it. Culture, he explained, is all about what you cherish, value and believe in.
Cockerell explained that it's important for business owners to compare their companies with other businesses. He recommended borrowing ideas from other types of businesses, outside the collision repair industry. "What are they doing that you can implement in your business?" he asked.
Cockerell concluded with a powerful thought: You are never done improving. You need to be dedicated to continuous improvement. Always ask yourself: How can we get a little bit better?
The power of the brand
Marketing expert, Thomas Le Maguer spoke about why being part of a brand matters. Contrary to popular belief, he explained, a brand is not just a logo. In fact, the customer experience is the biggest component of any brand. Simply put, a brand is what people think of you.
Le Maguer explained that there are two ways to enhance the power of the Simplicity Car Care brand. One is awareness: The more locations Simplicity Car Care has across Canada, the more consumers will be aware of the brand. The second is the customer experience. When both are working together, then you have brand equity.
On the flip side, when you don't deliver on the promise of a great customer experience, the result is negative brand equity, Le Maguer explained. That negative brand equity then impacts all franchisees.
Reducing cycle times 
Business consultant, Steve Trapp explained how to reduce cycle times. His advice was based on his experience in Switzerland where cycle times are an unbelievable four days.
Trapp recommended setting daily in and out goals and not overbooking. Moreover, when checking in cars, he advised that you not give the customer a delivery date until you've taken the vehicle apart and know how long it will actually take to fix the damage.
One of the innovative ideas borrowed from Switzerland is to create a process for zero-day repairs. Europeans do a lot of these with an express lane, he explained. Bumpers and mirrors: Do them the same day.
A few more great ideas: Open the parts boxes when they arrive to make sure the right part has been shipped. Roughpull the sheet metal to ensure repairability. Pre-pull the frame to identify the extent of the damage. Don't order parts "just in case." Instead, ask the tech if they can fix a given part or if you really need to order it.
He stressed the need for continuous improvement. "As an industry, 50% of jobs $10,000 or over come back because the job wasn't done properly," Trapp explained. "Track your failures so that you know what needs to be improved, he said. "Don't let your customer be your quality control manager."
Environmental, social, and governance (ESG)
Simplicity Car Care's ESG Manager, Alyssa Marchese explained how our planet is experiencing a climate crisis and how Simplicity Car Care is leading the industry with initiatives that will limit the impact the collision repair industry has on our planet.
Marchese spoke about Simplicity's commitment to the environment and their net-zero journey. She presented the business case for reducing carbon, explaining that it's a money-maker, and not a money pit. Simplicity Car Care aims to reduce their carbon footprint by 45% by 2035 and to become climate positive by 2045. She stressed that the only way was to be truly net-zero is to get suppliers involved. You can't do it on your own.
Industry representation
AIA Canada President and CEO, Jean-François Champagne addressed the many challenges facing the automotive industry and how AIA Canada is helping with their many initiatives, programs and events, including I-CAR Canada and the Canadian Collision Industry Forum (CCIF).
The automotive aftermarket industry is worth almost $38 billion and employs almost 500,000 individuals, Champagne explained, as he addressed the labour issues facing our industry. In 2022, he added, we had almost 12,000 vacancies in the mechanical and collision industries, combined.
A challenging labour market
Former McDonalds Canada executive, Sharon Ramalho explained how to thrive in this challenging labour market. "How can you stand out when everyone is recruiting and trying to hire the same people?" she asked.
The answer, she explained, has to do with what you're offering. People are looking for a great place to work, not a good place. They also want to be paid well, have an opportunity to grow, and they want flexibility. It's the sum of all of the above that will set you apart.
Overcoming the impossible
Former NHL star, Jamie Macoun spoke about overcoming tragedy and challenges. After a car accident that paralyzed his left arm, doctors wanted to amputate, but he assured them that he would be back on the ice within six months. He beat all the odds, proved the doctors wrong, and went on the win two Stanley Cup championships.