This energy-packed inaugural event was the first ever climate-positive conference in North America.
Simplicity Car Care hosted their inaugural "Growth Conference" on Sept. 15-17 in Niagara Falls, Ontario. More than 250 guests attended the high-energy event including franchisees, potential franchisees, suppliers, insurance partners and the media.
"I'm so honoured and grateful to be here with each and every one of you to celebrate," Simplicity Car Care CEO Paul Prochilo said during his welcome address. "This is a celebration of 'Simplifiers,' of your commitment, your perseverance and your leadership. And it's a celebration of our customers, our B2B partners, and our supply chain. We're going to celebrate, and we're going to have one absolutely unbelievable weekend."
The executive team at Simplicity Car Care, which includes Paul Prochilo (CEO), Domenic Prochilo (VP) and company President, Domenic Ieraci delivered on the promise of an "unbelievable weekend" with a memorable lineup of top-notch speakers.
Above & beyond moments
Former Walt Disney World Vice-President, Dan Cockerell spoke about the importance of creating what he called "above and beyond moments" for customers. Cockerell, who also sits on Simplicity Car Care's advisory board, explained that all collision repair customers expect you to attach the bumper. That's a given. "But what are you doing that's extra?" he asked. "What are you doing that they'll talk about with their friends and family?"
Cockerell offered advice that he learned from his many years at Disney: Empower your employees to make decisions that will allow them to create above and beyond moments. For example, if someone drops off a car and thinks that they're getting a shuttle home, but you don't offer that service, what's the next step in the process. Should your employee simply tell the customer that you don't do that? Should they say, "Let me talk to the manager?" Or will you empower them to say, "Don't worry. We'll get you a cab. We've got you covered?"
He added, "If you're afraid you'll lose money because everyone is going to want a free cab ride home, cross that bridge when you get to it."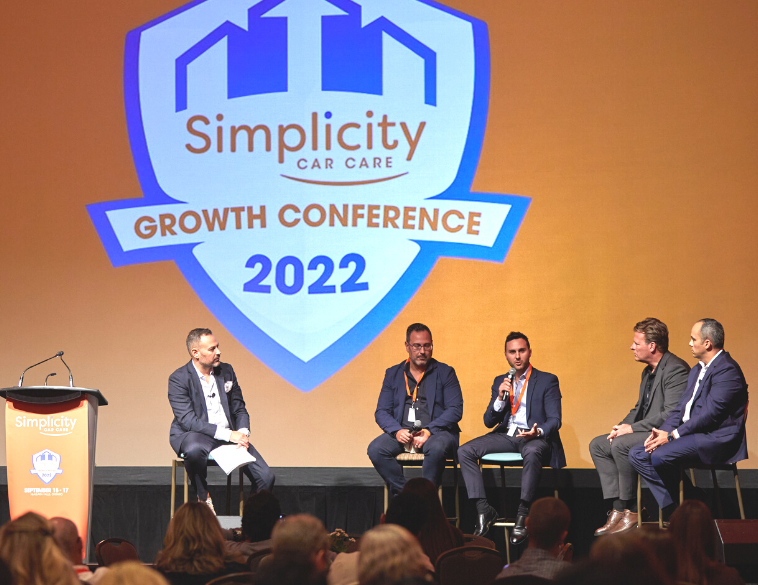 Building a brand
Domenic Ieraci talked about the history of the company and how the idea for a franchise was born. He discussed the Simplicity Car Care brand, and took the audience on a virtual tour of Simplicity Car Care locations in Canada.
The brand is already in five provinces including Alberta, B.C. New Brunswick, Ontario and Quebec, with three additional provinces (Newfoundland, Nova Scotia, and P.E.I) joining the many Simplifiers by the end of this year. The term "Simplifiers" was used throughout the conference, and refers to corporate employees and franchisees who are part of the Simplicity Car Care family.
Ieraci explained how Simplicity Car Care will continue to improve the customer experience, and how they will "amplify each location's local presence, build more brand assets so we can tell our brand story, and create an optimal environment for the customer so they choose Simplicity when they need their vehicle serviced." He then debuted the brand's first commercial.
Making history
Dominic Napier, Director of Carbon Neutral Repair, an automotive consulting firm that specializes in measuring and reducing carbon footprints came all the way from the U.K. to speak about greenhouse gas emissions.
He explained how taking the initiative to cut greenhouse gas emissions is actually good for business. Not only can it increase revenue by setting you apart from the competition in the market, but carbon also costs you money, so reducing your carbon footprint will reduce your costs. It will also mitigate your risk to possible future carbon taxation.
The 2022 Simplicity Car Care Growth Conference was the first automotive aftermarket conference in North American history to be climate positive. "We're blazing the trail," said Prochilo. "We're innovating for a better future and we hope our competition will follow."
Touchless claims handling
Bill Brower, Vice President of Industry Relations for Solera explained how touchless claims handling will change the way collision repair facilities do business.
He took the audience through the process where after an accident, the driver scans a QR code on his insurance document and it taken to a site where they report the accident. An app takes the driver through a series of questions, prompts him to take a photo of his plate and the other vehicle's plate, then it asks if the app can access his phone's GPS so they can send a tow truck, if necessary. That same GPS data can be used later by the claims adjuster. The driver is then prompted to take a photo of his VIN and of the damage. The claim is then submitted.
Once the data is submitted, AI takes over to create an estimate. A human double checks the estimate and an estimate is sent back to the driver with details.
In the meantime, back at the accident scene, the app will ask which collision repair facility the driver would like to use, and what kind of car they'd like to rent.
Recruting & retaining talent
Sharon Ramalho, former Senior Vice-President, Chief People Officer at McDonald's Canada, and advisor to the Simplicity Car Care Management team, discussed the challenges businesses are facing recruiting employees.
In order to maximize your recruitment and retention efforts you need to understand what workers are looking for because they're in the driver's seat, she added.
Ramalho explained what employees want: a positive culture with a leader who listens and appreciates their work; fair compensation with base salary benefits, rewards and perks; opportunities to learn and apply their skills; open, honest, and regular communication about their performance and opportunities to advance; flexibility in when and where they work.
She recommended paying for referrals in order to find good people; using your employees' social media to send out the message that you're hiring; tapping into trade schools and offering an apprenticeship; advertising at community job centres, job fairs, and new-Canadian employment support groups; asking former employees if they can they come back, maybe during your busy season.
Going for gold
Olympic gold medalist in bobsleigh, Alex Kopacz, took the audience on his thrilling journey to Olympic gold. He explained why it's important for all of us to set goals, and how to achieve them by working hard, and by getting out of our comfort zones, our panic zones and into what he called the learning zone. He stressed that this is the only way to succeed in sport, in life, and in business.
The inaugural event included a trade show, as well as an awards gala where top franchisees were recognized for their achievements.