CARSTAR Newmarket & Deokinandan Family Honoured for award-winning customer service.
Romena Deokinandan always wanted to follow in her mother's footsteps having worked with her in their family business, watching in awe how her mother took care of customers. Her goal was to be able to have her own business someday where she could deliver the same level of service.
Today, Romena Deokinandan and her husband Bisram are owners of CARSTAR Newmarket in Newmarket, ON, where their children Ryan and Ashley, work with them as customer service representatives. They were named the top CARSTAR facility owners in the country for customer service at the recent CARSTAR Conference 2022. They received the CARSTAR Canada Top Net Promoter Score Award (NPS) which recognizes a repair facility's excellent customer service and satisfaction.
"This is such an honour for our family," said Romena Deokinandan. "This is really a tribute to my mother and everything she taught me. It's amazing to be recognized by CARSTAR for the work that we do. And it's great to work with my husband and children every day."
Romena and Bisram had no experience in collision repair, in fact, they are professional singers. But she knew customer service and he went to work to learn the trade. He started out washing and detailing cars, then moved his way up to become a painter. Together, they have made their CARSTAR location sing.
"Romena brings such passion and energy as the owner of CARSTAR Newmarket, and combined with her family, they are an incredible team," said Dean Fisher, collision president, Driven Brands. "We are honoured to recognize their achievements and accomplishments at the CARSTAR Conference 2022."
CARSTAR Torcam Group Honoured for Marketing Initiatives, Community Outreach
One thing to know about the CARSTAR Torcam Group, which owns CARSTAR Brantford, CARSTAR Brantford West, and CARSTAR Simcoe, is they are focused on connecting with the communities they serve. From supporting local charities, hosting golf events, sponsoring race teams and youth sports to serving on the local chamber of
commerce, they are committed to giving back in their backyard.
That's why CARSTAR Torcam Group, led by Co-Owners Javier Torres, Liliana Galeano, and Sebastian Torres, was named the top CARSTAR owners group in the country for their marketing initiatives. This award honours the facility owners who connect with the community through innovative marketing initiatives that engage consumers and drive brand loyalty among consumers and drives brand loyalty within their regions.
The CARSTAR Torcam Group does an annual toy drive through the holidays, they host car washes for Cystic Fibrosis Canada, participate in their local Brantford Chamber of Commerce events, support local youth teams from varying sports and even sponsor local sprint car team Nathan Ackland Racing.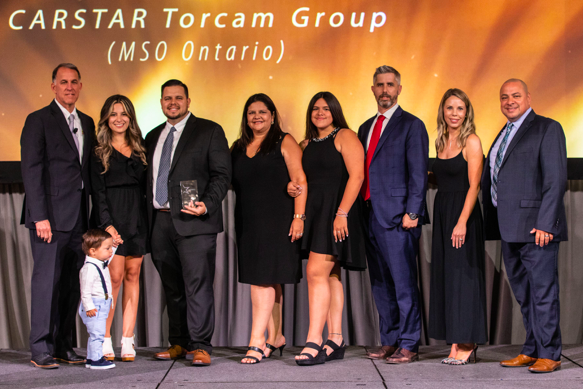 "Our goal is to get our name out there while giving back to the community," said Sebastian Torres. "We want the CARSTAR name everywhere in our community so people know who to call if they have a collision repair need. Three things that have helped us raise brand awareness in our community are billboards in Simcoe and Brantford, our social media outreach, and our local sponsorships."
Torres noted that they budget for their expanding marketing initiatives each year to build that community awareness. They also have an employee, Nicola Munarolo, who enjoys running their marketing initiatives, so they pay him additionally for the time he works on marketing activities. This allows them to have someone dedicated to this effort with a schedule and goals for the year they can review on an annual basis.
"We leverage a number of the tools CARSTAR provides, like our annual calendar and plush gifts for our industry partners," Torres added. "We also work with the CARSTAR team to create custom postcards for our dealerships, mapping out the directions to our store from the dealership. It feels like we do a lot, but we always want to kick it up a notch. There's no shortage of initiatives we can get into and we're always looking to do more!"
Torres offered advice to other owners looking to do more in marketing:
Appoint a dedicated team member (who enjoys marketing) to manage your initiatives;
Create partnerships – meaningful ones – and always ensure the charities you support know what partners helped out;
Recognize your partners whenever you can and support their needs when possible;
Online, always respond to your customers and thank them for their feedback;
Constantly focus on relationship building across every medium — in the repair centre with your employees and industry partners; in the community with your local organizations; and online through your digital presence.
"The Torcam Group have become a dynamic part of the CARSTAR family, and we're proud to see them continue to grow and succeed," said Dean Fisher, Collision President, Driven Brands. "They have created a very vibrant brand for their CARSTAR locations in Brantford and are a role model for excellent marketing for the entire CARSTAR network. We are honoured to recognize their marketing achievements and accomplishments at the CARSTAR Conference 2022."
Lorenzo Pellicciotta, CARSTAR Owner From Oakville, Recognized With "Ironman" Award for 30 years of Excellent Performance
Lorenzo Pellicciotta, owner of the CARSTAR Oakville East and West locations in Oakville, Ont, is known for his ebullient personality and his "Oh Hey Hi" greeting on his social media posts. Now, he has been named an "Ironman" by CARSTAR for his accomplishments, leadership, dedication and performance as a longstanding member of the CARSTAR family.
Pellicciotta was honoured with the CARSTAR Canada Ironman Award at the recent CARSTAR Conference 2022 at the Gaylord Opryland Resort and Convention Center. The CARSTAR Ironman Award recognizes the champion of the CARSTAR network helping other owners in the system and maintaining a strong level of operations and community engagement.
The longtime owner of CARSTAR Oakville East and West, who was one of the first CARSTAR franchise partners in Canada, is admired for his vision for the company and the pride he instills in his team for the highest repair quality. The facilities are regularly recognized by www.oakvillereaderschoice.com as #1 "Diamond" Auto Collision centres.
"I've always worked to create a positive attitude in our facilities and encourage the same level of commitment to quality repairs that I've brought to work every day," said Pellicciotta. "As the competition in our market grew, we adjusted how we did things to continue to serve our customers and outshine the competition. That's where our social media program came into play, and now my customers know me for my 'Oh Hey Hi' greetings. The Ironman award is a tremendous honour and it is great to be recognized for our long partnership with the CARSTAR family."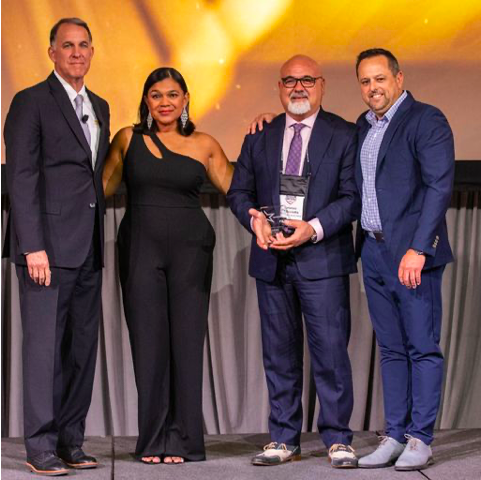 "Lorenzo is one of the original members of the CARSTAR family, and has made many, many contributions over the years," said Dean Fisher, Collision President, Driven Brands. "He is a true role model for our industry and organization, and his unique combination of business acumen, commitment to excellent performance and passion for giving back are something from which we can all learn. We are honoured to recognize his achievements and accomplishments at the CARSTAR Conference 2022."
Visit CARSTAR.ca for more information.