MB Distinctive Autoworks Calgary sets the standard for luxury vehicle collision repairs
At 45 Royal Vista Drive NW in Calgary, stands an impressive collision repair facility.
Measuring more than 30,000 square feet, MB Distinctive Autoworks Calgary is a leading luxury vehicle repair facility that was purpose-built from the ground up.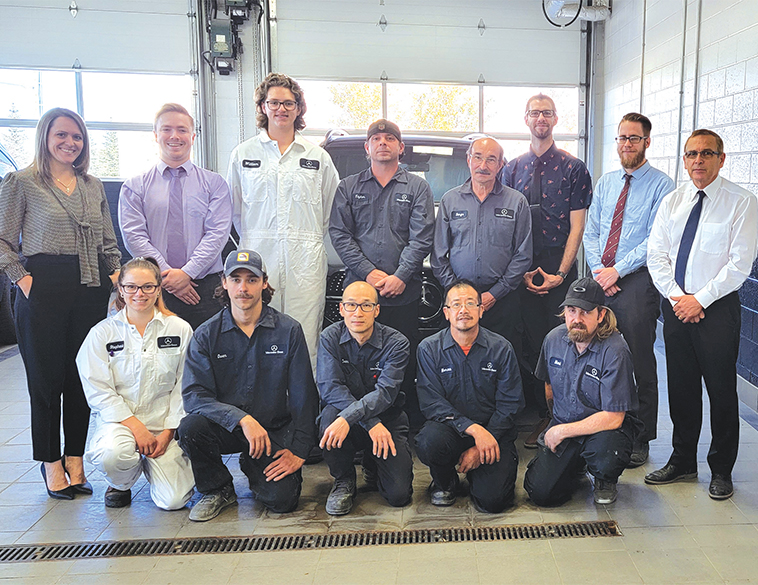 MB Distinctive Autoworks Calgary General Manager Deanna Sullivan and Manager Ed Rackham, note that the mission of this location is to deliver quality repairs and what she sees as "minimizing customer effort."
She explains that there simply aren't many collision facilities in this area that are able to perform collision repairs to such exacting standards and that have both the equipment and training required.
Easily accessible
The location of this facility was chosen for several reasons, one, that it is easily accessible to major thoroughfares in the Calgary area and secondly, that many key stakeholders and high-end dealerships are close by.
Because this facility was conceived as a regional hub for the Distinctive Autoworks brand in Alberta, it not only does it boast an expansive repair area, but also an onsite boardroom in addition to having a sizeable amount of administrative space.
As for the back end of the shop, it features a total of 21 body repair stalls, as well as a complete aluminum repair station and twin paint booths, one of which is oversized so the facility can repair Mercedes-Benz high roof Sprinter vans and other commercial-type vehicles.
From the outset, the idea was to make the shop open and spacious with a great deal of natural light.
At the planning stage, Rick Hatswell, President of Operations the Craftsman Group of Companies (which owns the Distinctive and MB Autoworks brands) along with his father (and Craftsman founder) Bill; wanted to ensure not only was it a pleasant place to work but an efficient one as well.
"We have two big runways down the centre of the shop, that feed into the paint shop," says Rick Hatswell, "plus on either side of the runways we have body stalls set up for easy access."
This setup means that smaller repairs can be quickly turned around. It also allows the shop to accommodate specific types of repairs for certain types of vehicles on each side.
"It just depends on what type of vehicles are coming through and at what given time," says Deanna Sullivan.
"There are specific [and certified] tools that we need for each luxury vehicle brand."
Given the shop's history and expertise with Mercedes-Benz, often, one side of the shop will be dedicated to Mercedes-Benz repairs with another will be set up to repair vehicles from other brands such as Lexus and Audi.
Superior experience
Besides the dedicated production area, there is also an expansive detail bay that can accommodate up to four vehicles, plus a special enclosed delivery section once vehicles are ready to be collected by customers.
It's designed to ensure a pleasant delivery experience, sheltered from the extremes of winter, and part of the overall emphasis on creating a superior customer experience.
Although insurance and DRP are a key part of overall operations, Manager and long-time Mercedes-Benz repair specialist Ed Rackham, notes that there has been a significant demand for customer pay repairs, particularly due to the current economic climate.
"We've been doing a lot of customer pay work in the region of $10,000 or more," explains Rackham.
He says in many cases, customers today recognize the shortage of new vehicles available in the marketplace.
Additionally, with many having had travel plans and other activities curtailed, they've decided to spend it on sprucing up their vehicle instead to make it last longer.
Furthermore, dealers in Calgary have also recognized the quality of work performed at MB Distinctive Autoworks and so there's also been a steady stream of reconditioning work from them, including all three Mercedes-Benz concessionaires located within the city.
Looking to the future, Rick Hatswell explains that there has been a significant revival in the luxury vehicle market in Calgary over the last few years.
This is one reason, why the location is being co-branded with both MB Autoworks and Distinctive Auto Works under one roof.
"Ultimately we want to be the one place that everyone looks to for luxury repairs," explains Hatswell, "and we want to make it so easy for customers and insurance companies and the dealer that they, can't and won't choose anyone else."