CARSTAR Brantford/Torcam Group is making a big difference in their community.
As part of an ongoing initiative to raise money to combat Cystic Fibrosis, Torcam Group, which owns and operates CARSTAR Brantford and CARSTAR Brantford West has been highly active.
Despite COVID-19 restrictions and obstacles, the group has continued to support their local community, giving back and making a big difference. Autosphere interviewed Sebastian Torres, General Manager, Torcam Group to find out more…
Approach to supporting the local community
Autosphere: As a family-run business, what's been CARSTAR Torcam Group's approach to supporting the local community in Brantford?
Sebastian Torres: My father always taught me about the importance of giving back to the community, especially when it supports us.
Brantford is quite a large city and we have been very fortunate to receive a great deal of support in the communities we operate in and so we are always looking for ways in which we can give back.
Whether it's raising money for research to fight Cystic Fibrosis (because we have some of our customers who have children with Cystic Fibrosis) or other causes, we always look for initiatives to support and raise money for.
It's a driving force behind our ability and motivation to give back to our community which has and continues to support us so well.
Soaps It Up car wash
Can you tell us how the Soaps It Up car wash initially came about and what was the objective?
ST: It first started with a golf tournament.
CARSTAR was starting to support the initiative and they wanted to find a way to get franchisees involved from across the country and unite us together in support of a worthy cause.
We came up with the Soaps It Up which spans a whole month (June).
Franchisees get together and each of them hosts a car wash so we can all raise as many funds as possible to combat Cystic Fibrosis.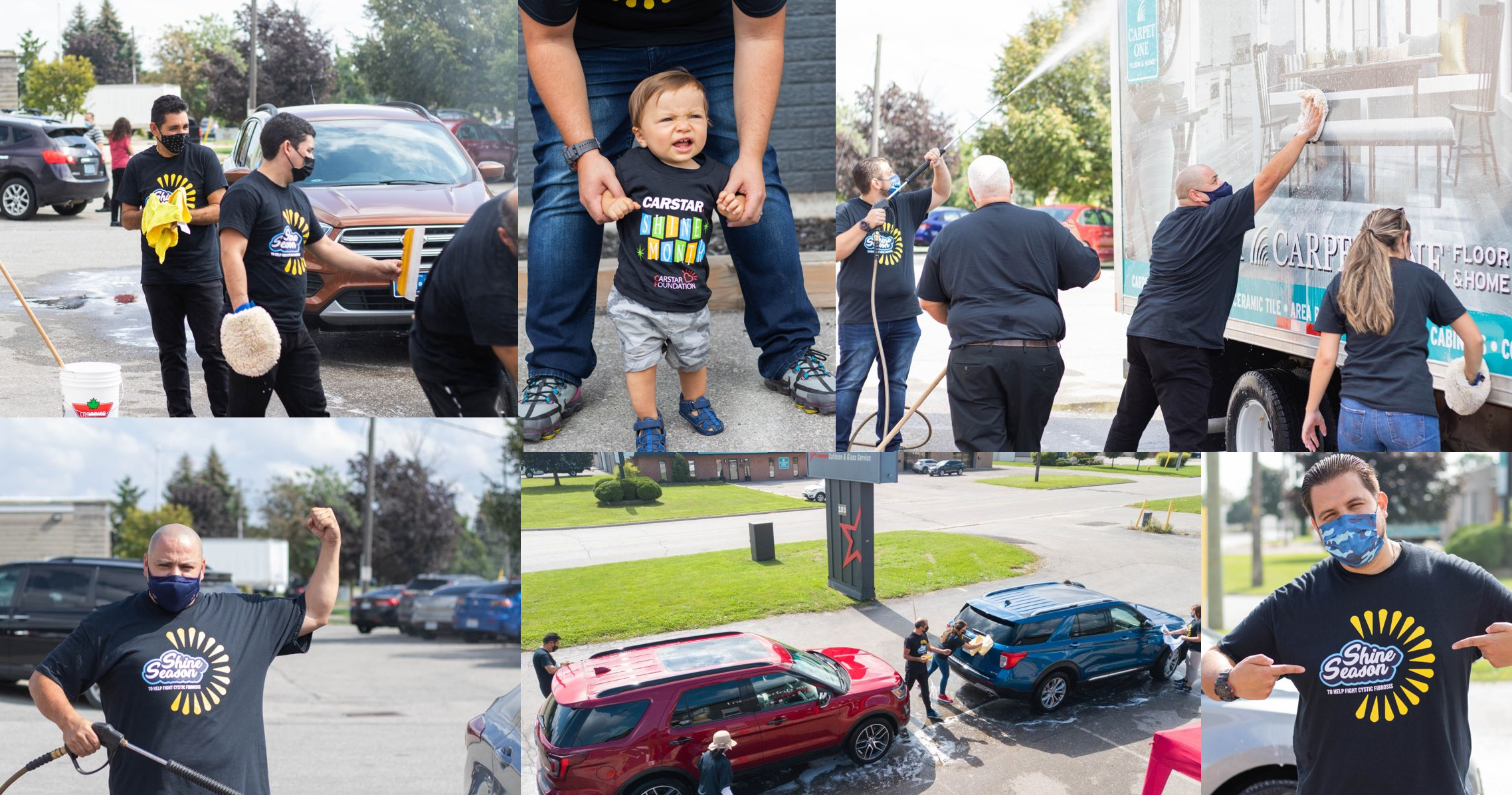 Thousands raised
How many of these events have you hosted to date and how much money have you raised for Cystic Fibrosis?
ST: As far as the Torcam Group and CARSTAR Brantford is concerned, we have been doing this for over 10 years. Nearly every single year we have hosted a car wash and to date, we have raised more than $15,000.
Over time, these events have gotten bigger and bigger.
A major goal is to raise more money than the year before.
My father originally started the program and I have since taken over the Soaps It Up car wash initiative at our locations in Brantford.
We continue to look toward increasing the amount of money we raise from these events so we can provide even more support for Cystic Fibrosis research.
COVID's impact on charity events
How has the COVID-19 pandemic impacted Torcam Group's approach to charitable initiatives like this and what are some of the steps you've taken to continue raising money and hosting these kinds of events?
ST: The Pandemic has impacted almost everyone and a lot of people need our support.
Last year, due to the lockdowns, it was a little bit different because we couldn't host the car wash and do it the same way we did it in 2019.
We did manage to raise some funds for Cystic Fibrosis, however, but we also shifted our initiative to what the city needed. We got in touch with the mayor, city staff and councillors.
We asked where help was needed and where we could contribute. At that time, they mentioned that the city food bank was one aspect that needed great support.
So, in 2020, not only were we able to raise money for Cystic Fibrosis, but we also managed to raise $4,000 by getting multiple parties together to give to the food bank and provide support during the pandemic.
Soaps It Up 2021
The Soaps It Up car wash was back on this year in September. Tell us a little about how the event went this year and some of the experiences from the day?
ST: For 2021 we wanted to make sure everything was in place. We began during Cystic Fibrosis Shine Season in June and we continued up until the end of September.
In June, we gave $5 for every repair that happened within the month.
For July, we gave $5 for every Google review that was given to us. In August, our original goal was to host a car show, but with COVID cases rising again and everything shifting regarding the regulations we had to cancel.
In September we planned for the Soaps It Up car wash and we finally got the green light to go ahead and do this, so we hosted it during the second week of September.
We collected all the funds that we'd raised since June and [just following this interview] we presented a big cheque to Cystic Fibrosis Canada.
It was amazing. It was a lot of fun and both our locations in Brantford got involved. I can't say enough about our vendor partners who pitched in to help and support us.
It was great to see everybody in the industry come together for a cause like this.
Everybody has been wanting to do this for some time and so it was very refreshing to be able to host the car wash again in September.
And of course, with this event over, we are now looking at even bigger and better things for 2022
Plans for community events
Can you tell us a little bit more about your plans for the future as it relates to community events like this?
ST: As I mentioned, we do have big plans and the Soaps It Up car wash is always going to be one of the events we do. We are also looking at other initiatives and supporting additional charities as well.
A few years ago, we restored and donated a van to St. Leonard's Community Services and we're looking to do something like that again, possibly next year.
Essentially whatever our city and community needs, we want to be able to be there and support them in the same way that they have supported us over the years.
Extra support for the cause
Given that Cystic Fibrosis is such a terrible disease how can others help and join you in the quest to continue research and hopefully find a cure?
ST: There are plenty of ways to do it. One is by going to the Cystic Fibrosis Canada website and making a donation. You can also access it via the carstar.ca website.
There is a navigation area under CARSTAR Cares to provide donations directly to Cystic Fibrosis, and then of course, by going out into the community.
Every single time we host an event like the car wash more and more people get involved and the better it gets.
The more people we can get through the carwash and the more people we can get buying tickets, the more money we're able to raise, the more goals we can achieve and the more we can support research to combat Cystic Fibrosis.
Ultimately, it's a matter of coming together and trying to get as many funds as we can to those that need them.
Final thoughts
ST: I'd just like to say a big thank you to our vendor partners and how they have gotten together and supported us with initiatives like the Soaps It Up car wash.
Without them, none of this would be possible. We also really appreciate people in the community of Brantford for making the car wash into the amazing event it is today.
We regularly have more than 50 vehicles come through the car wash, so we thank them for taking the time to do it.
I also want to say a big thank you to my business partners; Javier and Liliana and my wife, Laura.
She works with us as well and, together we work hard to make sure that every time we do an event like this, we are doing it with the best of intentions and always focusing on raising the bar.
Ultimately, I'd just like to say thank you to everybody that has gotten involved with this event and that thanks to their efforts we are looking to make it even bigger and better in the future.