Both the shop and the business continue to expand.
Since Ryan Isherwood acquired it, CARSTAR Duncan has continued to grow. "We started out here with 2100 square feet," he says. "Today we have 9000 square feet of production space."
The facility, a former light industrial building, required very significant modifications to turn it into a collision repair facility, but the investments made by Isherwood and his team are paying off. The shop is highly efficient and processes approximately 90 to 100 vehicles per month, "Last year we boasted a $450 per square foot average in production capacity," he says.
Dedicated office space
CARSTAR Duncan features a spacious, inviting reception area as well as dedicated office space for estimators. "We added natural gas and made significant electrical upgrades, as well as paint, siding and office renovations," says Isherwood.
Other additions included in-ground Wedge clamp frame rails and new bay doors. "When we first bought this place, it didn't even have heating," says Isherwood.
Currently, CARSTAR Duncan boasts 14 people on staff. Among them are six administrative staff members, including Isherwood and his wife Marnie, as well as two refinish technicians, three collision repair technicians, one detailer, one part-time cleanup staff member and one maintenance person.
Besides being a highly efficient collision repair centre, CARSTAR Duncan also has a deserved reputation for outstanding customer service. "We really focus on going above and beyond," says Isherwood. "A lot of people say that, but here we truly believe it." Isherwood is first to acknowledge the difference the staff make. "I couldn't be prouder of them," he says.
"People are in difficult situations and it's our job to make the repair process easier for them." An emphasis on above standard repairs and quality detailing are part and parcel for every vehicle that comes into the shop.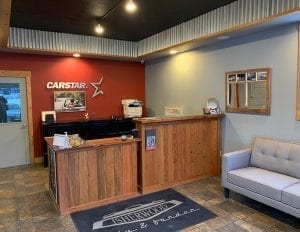 Big investments
Not surprisingly, investments in equipment and training also play a big part. CARSTAR Duncan boasts a laser measuring system, spot welders, nitrogen welders, UV primers and is fully equipped for aluminum repairs. The facility is also a recognized Certified Collision Care facility and Duncan's technicians are fully I-CAR Gold certified.
"We're big believers in training," says Isherwood "and pay for our staff to take current and updated courses in order to stay ahead of what is happening when it comes to automotive trends." Isherwood and his team also leverage resources such as CARSTAR University to ensure the business remains ahead of the curve.
Being located in a small city, news travels fast, one reason why there has been such an emphasis on delivering the best service possible. Isherwood and his team are also big believers in supporting the local community. "We support sports teams, the performing arts and many other charities," he says.
More space
Since Isherwood first purchased his Duncan location back in 2012, he has slowly expanded to take over more and more of the adjacent units. "When we first came here, there were four separate businesses in this building," he says. "Over the last eight years we have taken over the entire building with the exception of the on-site rental car firm and the building behind us."
Further expansion is planned for CARSTAR Duncan, with the addition of a state-of-the-art refinish department. "This will feature a singular sideload Blowtherm booth with a track system that will feed from either side," says Isherwood. The new refinish space will also incorporate a Greentech robotic drying system for maximum efficiency. When cominbed with Axalta's Cromax line and UV primer, Isherwood says this "will greatly increase our refinish department throughput. I'm really excited for this. Once we have moved into this space, we will be converting our old refinish centre into a drive-in estimating bay and two more sheet metal bays."
From the sound of things, it's clearly onward and upward for CARSTAR Duncan.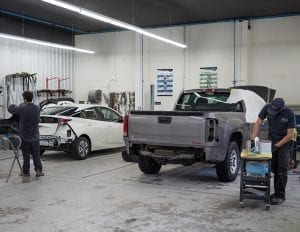 Part of a Wider Operation
Ryan Isherwood trained as a collision repair technician and worked at a GM dealer before deciding to branch out on his own. He acquired his first shop in 2009. "It was a two-bay facility with an old cross-flow spray booth," he explains.
Business quickly grew and Isherwood knew he needed to expand and found his current location for CARSTAR Duncan (5440 Trans Canada Highway). It proved a shrewd move, for as business continued to grow, Isherwood was able to acquire more space on the premises. Adding more and more staff, Isherwood was able to transition away from the shop floor and spend more time working on the business. This led to the acquisition of a mechanical repair shop, Dickson & Fraser Auto Repair, and in 2018 he opened a second CARSTAR collision repair facility in Courtenay, B.C.
"I am very grateful for the help I have received from staff both past and present and friends and family," remarks Isherwood. "It takes a talented and dedicated team to do what we have done. This is not a story of one person but of a culture that we have built with the teams at all three of our businesses. I truly believe that by creating a happy workplace you can also create a productive one."