For decades, many aftermarket brake manufacturers traditionally offered three pad formulations: good, better, and best… and some still do. But the ATE Original brake pad line includes over 150 different brake pad formulations. The reason is simple. 
ATE is offered in this huge range of pad compound formulations so that the brake pad friction materials can precisely match the OE pad's specifications. This helps ensure that every vehicle's braking performance is the same as when the vehicle left the dealership.
ATE is a brand of Continental, one of the largest brake systems suppliers to car makers around the world. When designing brake systems for OEMs, the engineers at ATE precisely tune their brake pad compounds for each new vehicle. That same philosophy is carried over to the brake pads that ATE provides for the aftermarket. 
ATE pads are engineered and constructed with the highest possible quality, from the first step to the last. ATE brake pads use proprietary compounds created using the best materials on the market to ensure that the pads deliver quiet, reliable performance and long service life, with no squeal or judder. All ATE brake pads include under layers and noise damping sheets to minimize noise during braking. They are sold in pairs that include all necessary brake hardware for fast, trouble-free installation.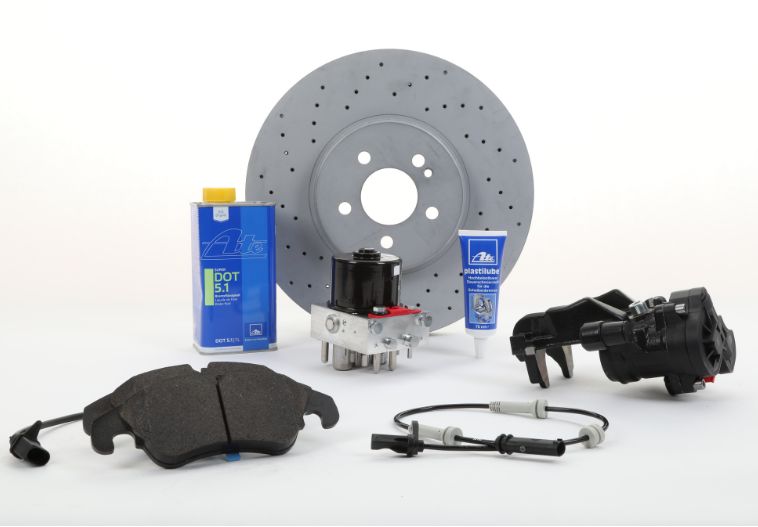 Today, the ATE brake pad line includes 293 part numbers with coverage for over 104 million vehicles in operation. Regardless of the make and model the ATE pad has been formulated for, they are engineered and built to deliver full braking power instantly with low heat transmission to prevent braking fade or failure. 
Notes Dan Caciolo, Head of Product Management at Continental. "We offer so many different brake pad compounds because we believe that every year, make, and model deserves the ideal brake pad. Average quality is just not enough when it comes to safety, and with over 150 different pad compounds, we have exactly the right product for every vehicle – and the best range for your customers. 
In addition to ATE Original and ATE Ceramic brake pads, the ATE brake range includes disc brake rotors, drum brakes, brake callipers, master brake cylinders, wheel cylinders, brake boosters, brake force reducing valves, brake hoses, brake fluids, wheel speed sensors, and brake pad lubricant.
Contact information:
Dan Caciolo
Head of Product Management, Engine Management & Brake Systems
Smart Mobility (SMY), North America
Automotive
Continental Automotive Systems Inc.
6755 Snowdrift Road | Allentown, PA 18106 | USA
Phone: +1 484-705-1821 | Mobile: +1 610-390-6064
[email protected]
www.continentalaftermarket.com
---
Sponsored Content by Continental