The 48th edition of Shad's R&R Golf Tournament on June 22, 2023, turned out to be very special indeed!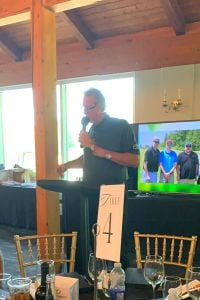 Brad Shaddick, Shad's R&R Chairman and Shad's Board of Directors proudly presented Stacy Lintern, Chief Executive Officer of the Muscular Dystrophy Association of Canada with a cheque in the amount of $180,000.00—their highest donation to date! This brings their total contributions to Muscular Dystrophy Canada to over $5.5-million! With all the work that Shad's R&R does for and during this event, they endeavour to operate with a zero overhead—everyone behind the scenes is a volunteer and all do the work. There are no celebrities or sports stars at the event—and as the saying from Founder, Fred Shaddick goes: "We don't need to pay for celebrities when we have over 200 of them right here in this room!" All competitors put down their gloves and join forces in supporting Muscular Dystrophy Canada and have for quite some time now. Together the Canadian Aftermarket people have helped raise much money and awareness about this debilitating disease.
A great turnout of 280 people on June 22nd helped increase additional funds by purchasing tickets to the 50/50 draw which amounted to over $4,000.00, plus raffle tickets for the great array of prizes donated by many different companies. The winner of the 50/50 draw was Matt Osborne of Kleen-Flo who very generously gave his 50/50 winnings back to MDC—a wonderful gesture on Matt's part. Sponsors for this event are many thus helping to increase needed funds to aid in conquering this disease. In addition, Shad's Board of Directors—Brad Shaddick, Kristine Brown, Luc Champagne, Mike Fazackerley, Charlie Grant, Mark Potts, Malcolm Sissmore, Scott Stone, Jeff Van de Sande, Andrew Connor, Sean Williams, Jason Yurchak, Pat Lazzarotto and Cam Young work hard all year to make this tournament successful in order to present a sizeable donation to Muscular Dystrophy Canada.
Keynote Speaker: Danielle Campo, Paralympic Swimming Champion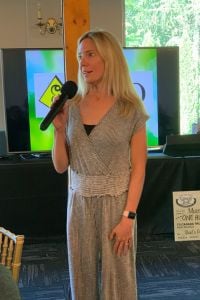 The keynote speaker was indeed incredible—Danielle Campo, a victim of Muscular Dystrophy who has fought with the consequences of it all her life. First diagnosed with M.D. when she was two, she became active with Muscular Dystrophy Canada who were a great support. Danielle and her family took a positive approach and began strengthening what muscles she could. Starting to swim became like physiotherapy and gave her a sense of freedom. After joining a differently abled sports league, Danielle went on to become a Paralympic Swimming Champion, winning seven medals.
She also started to see another doctor and did genetic testing to find out if or what any impact there would be on any children she or her brother might have. And after many hours of testing, they had a breakthrough—a new medication was found, and her symptoms and pain pretty much went away.
Danielle and her husband have five children and she told us that unfortunately their son Samson has been diagnosed with neuromuscular disease, but they are coping with it quite well. Samson is a pretty funny boy and when he falls, he hollers, "Man down!" and cheerfully waits for someone to come and pick him up!
Danielle went on to tell Shad's audience that as a family they talk about how "Shad's R&R is helping us as well as others and I'm pretty sure they will keep on doing this!"
Shad's R&R's 50th Anniversary is coming up in two years and Brad Shaddick says they are aiming for their donations to Muscular Dystrophy Canada to the reach six-million-dollar amount at that special anniversary!
Another fabulous contribution to Muscular Dystrophy Canada by Shad's R&R. Well done everyone!