This month's Service Provider article focuses on Downtown Automotive in Nelson, B.C. where it has been in operation since 1998.
Doug Brackett took over the business in 2007 after completing his apprenticeship at the repair facility. "The transition to shop owner quickly made me realize that while I was a great technician and a very competent service advisor, I had a lot to learn about business management! Through industry consultants, I learned how to measure and manage my business. I have worked with Murray Voth of RPM Training for over a decade," states Doug.
Standing out from the crowd
Wanting to know what type of facility Downtown Automotive was, we found that it has evolved from a do-it-all shop to specializing in Domestic and Asian vehicles and has positioned its emphasis on preventative maintenance, brakes and chassis. Brackett says, "We stand out from the crowd with our fully digital, paperless systems. We use a tablet-based inspection system (Autovitals) which is integrated with our POS software (Protractor). At Downtown, we use digital systems to inform and educate our clients as well as provide full transparency of the repair process. These systems have revolutionized how our clients perceive our services."
Currently Downtown Automotive has five bays and seven to ten employees thus making them the largest independent shop in Nelson.
Doug continues, "In 2022 we became a NAPA AUTOPRO shop and have been very excited about the partnership with the whole NAPA organization. With the support of our local store, AUTOPRO reps and the amazing team of AUTOPRO locations across Canada, we are able to provide our clients with an outstanding level of service.
"We have just started using the NAPA Autotech training program to bolster our own in-house training. Over the last 20 years, we have always had at least one apprentice, often training several at a time."
Emerging new tools and technology
Doug considers himself a technology nerd and he is always looking for ways that his company can use new and emerging tools and technology to solve everyday problems. Downtown Automotive technicians use their tablets as a work order, inspection system, time clock, and messaging system.
Brackett reveals that "Communication is also one of our strong points. Using our digital systems to keep our clients informed before, during and after the repair process further builds trust and transparency. Texting with our main shop number has been a huge success and we always encourage our clients to add us to their contacts. For instance, if they think about booking their car for a service at 9:00 P.M. one night, all they have to do is send us a text and we will handle it when we arrive in the morning!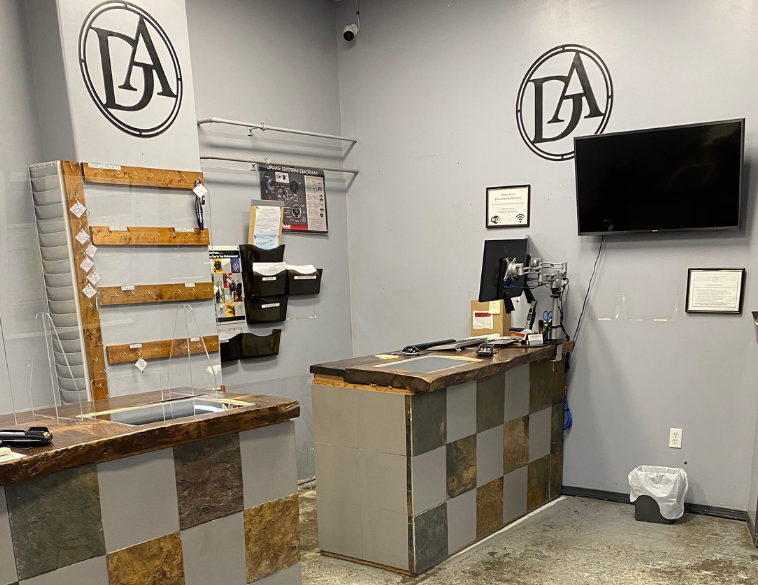 Client education and transparency
"I believe client education and transparency is our key to success. Using technology to show them the recommendations and educating clients on the repairs builds trust and takes the pressure out of the interaction. We operate in a small town where community and reputation are paramount. We offer pick-up and drop-off service as well as an electric courtesy car."
Doug continues, "Both our web presence and digital marketing are key to new client acquisition as well as our radio advertising (always voiced by me). There is so much online marketing that can be done for free that shops are missing out on—manage your Google listing (and all the other directories), post your shop culture on social media, and encourage your clients to provide reviews (we have 4.7 stars and 270 reviews).
The skills of today's technician
"Our industry has always changed and evolved with new technology and developments in personal transportation. Automotive manufacturing and the technology available in today's vehicles have changed dramatically since I entered the industry, especially in the last three years. These changes have meant a shift in the everyday skills demanded of our technicians and challenges in acquiring the knowledge needed to repair the newer vehicles.
"Constant self-led learning and a curious mind state are essential attributes in the modern technician. The ability to research information has become a key trait of successful technicians. We are now looking for the brightest students with digital technology skills and a desire to be hands-on in what can be a dirty, demanding industry. As expectations of our technicians elevate, so should their rate of pay. We are car doctors and if we want to be paid as professionals we need to operate as professionals!"
Well said, Doug and oh so true…it looks as if you are most certainly on the right track for more success at Downtown Automotive in Nelson, B.C.