Our ASP Profile this month is Doug Brown of Brown Auto Service—a family-owned-and-operated business still at the same location of 401 Erie Ave., Brantford, Ontario as it was in 1959.
We touched base with Doug to ask some questions about the business and first and foremost—because it is a family business—we wanted to know how it all started.
Doug stated, "Yes, it is very much a family business and was started in 1959 by my father, Harold and my uncle Fred. Today the business—as before—still continues to be built on trust and building personal relationships with our clients. We feel this is very important in business today and we believe it means a lot to the people we deal with daily. Right now we are a four-bay shop, and we offer mechanical and technical services to our clientele and their domestic or European vehicles."
Evolution and growth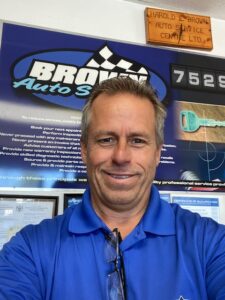 CCB wanted to know how the business and its growth had evolved through the years and Brown told us it had certainly developed in many ways. "My sons Mitch and Jake have brought Brown Auto Service new energy, and this allows us to meet all our clients' vehicles' needs. In addition, our new and current tech tools have allowed us to keep up with technology where we need to be. We have a total of four employees, and I personally have been involved in the business for 58 years. Mitch and Jake, as mentioned, are now thoroughly engaged with Brown Auto Service and David Goodacre has been with us for 20+ years.
We asked Doug how far his business reached in terms of customers and territory and if they had many long-term clients.
"We have a lot of second and third-generation customers and hear great stories from many about their parents' and grandparents' experiences at Brown Auto Service. Our city, Brantford itself has grown greatly in the last ten years and as a result, we have acquired many new clients and developed lots of new business relationships," Doug replied.
Equipment and training
Inquiring about equipment investments made over the last decade or so because of changing vehicle advancements, Brown told us that all the equipment at their facility is current, and updates are performed regularly. "All our Rotary vehicles lifts have been updated in the last five years due to regulations and safety precautions. And on the matter of training, it is an ongoing issue at Brown Auto Service and done regularly in-house through different providers.
"We are a member of the TechNet program. This and the professional service from CARQUEST have worked great in many ways for Brown Auto Service and all our clients. We get excellent quality parts from them, and their warranty gives my clients peace of mind. We absolutely stand behind all our work.
"I love what I do and the business we run. I take pride in getting to know all my clients, providing for them, and taking care of the needed professional maintenance services for their vehicles to keep them safely on the road!"
Sounds like Brown Auto Service in Brantford, Ontario is going to be around for many more years and looking after their many valued clients.