Carshare unlocks driving opportunities. 
When Peg City Car Co-op launched its carsharing business in 2011 in Winnipeg, there were doubts about its success.
But 12 years later, the fleet that started with three cars has grown to more than 130 cars, with more than 3,000 members. 
Carsharing is a popular way for people who need a vehicle but don't want to own a car, to rent one from time to time. Peg City Car Co-op provides vehicles to members who need to supplement their transportation needs. In some cases, people may be depending on transit but need a vehicle for a specific errand, or may temporarily need a second vehicle. 
"Our service is ideally suited to people who live centrally in Winnipeg," describes Michelle Panting, Marketing and Communications Specialist at Peg City Car Co-op. This member-based service provides each member with an account that enables them to make and manage their own vehicle bookings through an app. "They can put reserves on vehicles for as little as an hour, or as much as 28 days."
Listening to membership
A vehicle is picked up from its location, used as needed, and brought back when the member is done. Recently, Peg City Car Co-op introduced an additional "Flo" plan for members to return a vehicle anywhere within an allotted zone. Previously, members had to return the vehicle from a designated pick-up location.
It's one of the reasons they've been able to grow so effectively, by listening to the requests of their membership. Panting also credits the organization's CEO for networking and building relationships with local government and developers. "We're helping developers meet their parking quotas and supplement that with carshare parking spots," explains Panting. "We have also made connections with the city of Winnipeg, and are developing pilot programs for new parking regulations for carsharing."
The "Flo" vehicle fleet is a mix of hybrid electric sedans and hatchbacks, while the "Fix" vehicle fleet—those that have to be returned to the same location—includes hatchbacks, sedans, hybrid electric, minivans, cargo vans and trucks. Most of the vehicles are from Kia, Hyundai or Toyota.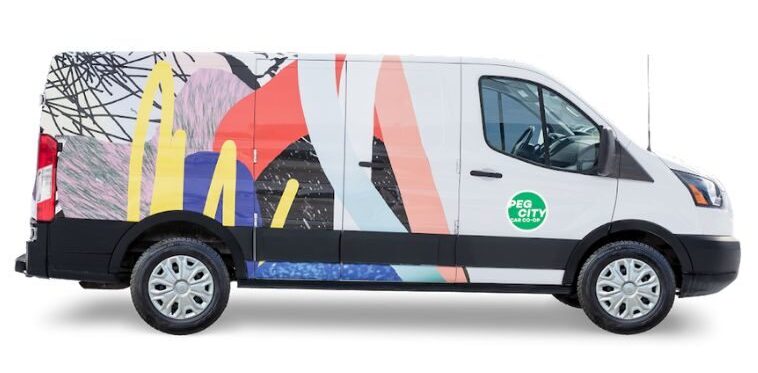 Special relationships
Peg City Car Co-op has arrangements with a number of manufacturers and dealerships to get vehicles as needed. This was an issue during the pandemic when there were global vehicle shortages. "We have a few special relationships that have helped us have a reasonably reliable supply chain," says Panting.
All the vehicles are monitored through the Astus software program. "Our online booking system is connected to hardware that is physically connected in the car," describes Panting. "That hardware allows our members to access and secure the vehicles, and automatically tracks kilometres when they're driving and sends that information to the website software so we know what to charge people." It also tracks each vehicle by GPS.
Members can unlock and secure a vehicle through a fob, or through their app. Each driver is required to do a walkaround at the beginning of their booking and report any damage that hasn't already been noted. They are required to have a Class 5f licence, but vehicles are also available to drivers with international licenses, or from other provinces. "There are requirements around collision and criminal driving offenses to try and ensure reasonable liability on our end with Manitoba Public Insurance," adds Panting. 
Three different tiers of membership allow people to choose a plan that best suits their need and budget. At the entry level plan, members pay as they go, so they can try out the service without commitment. With the other two tiers, a deposit is required but members have access to lower rates and monthly billing.  
Carsharing grew exponentially through the pandemic all over the world. "There's a lot of factors that contributed to that, such as climate, transportation and carbon footprints," reports Panting. "People are turning to carsharing as a different way of getting around."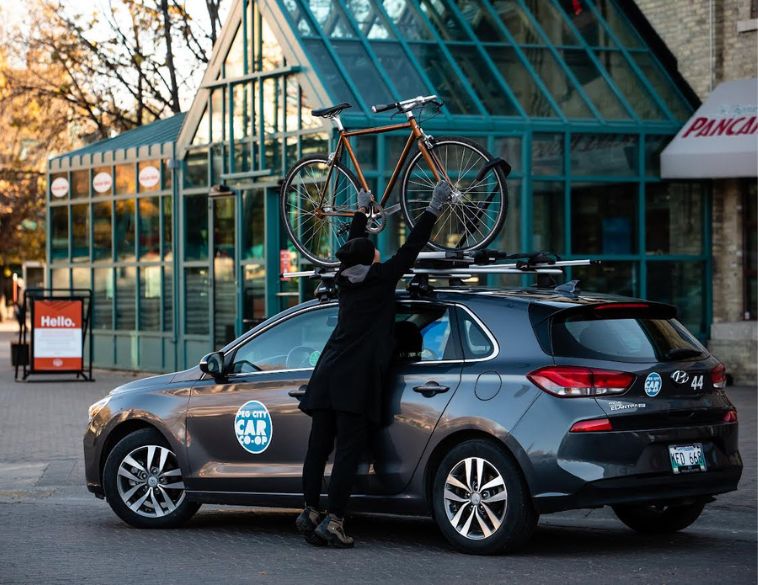 Roaming agreements
Business takes off in the summer months, when members take cars to go out of town and travel. There are also roaming agreements with other carsharing companies, so that people can choose to carshare in Winnipeg instead of renting a car.
"We have a partnership with Communauto, the largest carsharing company in Canada," explains Panting. "They helped us develop the software when we launched our app, as well as the recently launched free floating car sharing. If our members are in cities where Communauto operates, they can get a special rate into their program."
Right now, people are asking when Peg City Car Co-op will be expanding into new neighbourhoods. "That's something that's on the table," says Panting. "We're adding neighbourhoods one by one. It's pretty slow because there's quite a bit of risk and cost involved."
She also hopes that in time, the business will be able to convert  more of the vehicles in their fleet to hybrid electric, as well as full electric. "We don't see the infrastructure yet to support a fully electric fleet, but that will change in years to come."