GM shared their big plans for the future with fleet professionals from around North America.
San Diego served as the backdrop for the 2023 General Motors Fleet Solutions Summit. Close to 1,000 fleet professionals from North America attended the event, which took place on May 10 & 11.
This year's Summit focused on a single theme: GM Envolve, which is a one-stop customer experience, designed with input from customers and dealers, to make it easier to tap into all the products and services GM has to offer. GM executives explained that they're giving business customers more ways to help reduce their environmental impact, streamline fleet operations and increase driver safety.
GM's Executive VP, and President, North America Steve Carlisle said that GM Fleet is being reimagined as a one-stop B2B/B2G partner. "GM Envolve will leverage the complete power of General Motors to offer the best solutions to customers and further reinforce why we've increased our fleet sales for five consecutive quarters," said Carlisle. "Today begins the GM Envolve journey, where we will bring our customers in to create tailored solutions to meet their unique business challenges."
Outsmart Change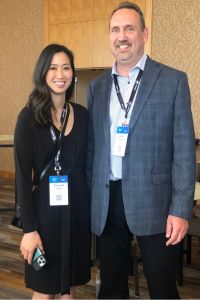 The two-day fleet event kicked off with a presentation by Ed Peper, U.S. VP of GM Fleet, who focused on an interesting topic: Outsmart Change. He introduced the audience to the all-new Chevrolet Silverado EV WT, a work truck like no other.
"It's currently in production at GM's Factory ZERO plant in Detroit," he said. "It has a 400-mile range, 8,000 lb. towing capacity, 1,200 lb. payload, and has available bi-directional onboard energy so you can power tools, other vehicles, even buildings."
The front of the Chevrolet Silverado EV WT features what GM calls an e-trunk, which is a lockable and weatherproof storage space with enough room for toolboxes, gear and equipment, as well as a 120-volt outlet. The truck bed has another four 120-volt outlets, as well as a 240-volt outlet.
"For the first time ever, Silverado EV is being launched fleet first, and not retail" Peper added.
Heavy-duty trucks
Peper next unveiled the all-new 2024 GMC Sierra HD and the Chevrolet Silverado HD pick-up trucks. "These are the most capable heavy-duty trucks yet," he added. "The enhanced Duramax 6.6L turbo-diesel V8 engines are paired to Allison 10-speed transmissions."
These new trucks can tow 19,000 lbs. when equipped with the gas engine, and 36,000 lbs. with the diesel. GM boosted low-end torque by 25%. "We also upgraded the interiors," Peper added, "because we wanted to make these new HDs into true mobile offices for your crews."
Peper introduced new off-road packages: Chevrolet Silverado HD ZR2 and GMC Sierra HD AT4. "And new for 2024—full-size chassis cab pick-ups," he added, "and a universal control module that can momentarily increase engine idle in order to power hydraulic of electric accessories."
ICE & EV
By introducing an all-electric truck, along with GM's heavy-duty gas-and diesel-powered workhorses, Peper was making the point that GM can supply fleet customers with the entire spectrum of vehicles. "Even though our collective futures are zero emissions, we are still here to take care of your internal combustion engine needs," he added. "The transition to an all-electric fleet is not going to happen overnight. Rest assured we will continue to support your fleets today, tomorrow and well into the future."
GM Energy
Peper then announced that GM was now in the energy management business, and he introduced Wade Sheffer, VP of GM Energy to elaborate. Sheffer explained how GM Power Solutions, an internal division within General Motors, is dedicated to engineering propulsion solutions that will electrify businesses.
"Through GM Power Solutions, we're doing everything from developing electrification propulsion kits that convert ICE vehicles to pure electric," he said, "to working with partners to power off-road vehicles."
Sheffer explained how the new Silverado EV can be used to power a home for up to 21 days in the event of a power outage, thanks to innovative bi-directional charging solutions.
"Why is GM venturing beyond vehicles," Sheffer asked the audience rhetorically. "The answer is simple: We want to be part of the solution. Our commitment to energy management and innovative power solutions allows us to create a more resilient and reliable energy ecosystem for all."
Sheffer then explained how fleet customers can take advantage of these new technologies. "If you have a fleet of EVs, power can be transferred back and forth to your facility or to other EVs," he explained. "And if you are a company with a large fleet and vehicles that return to a central depot at night, you can move the power to where it's needed most, without drawing new energy from the grid."
To make all this possible, GM will be introducing bi-directional chargers to the market in the near future, along with large on-site power storage units that will allow businesses to store energy, as well as manage it, on a large scale.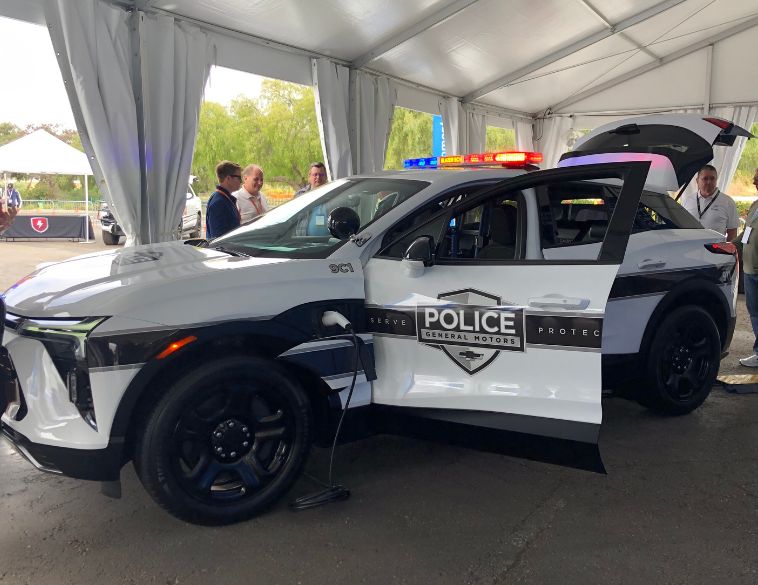 GM's growing EV family
Jennifer Costabile, General Director of Marketing and Sales Enablement for GM Fleet unveiled the all-new Chevrolet Equinox EV, which boasts a 300-mile range on a full charge, and the ability to gain 70 miles of range in only 10 minutes when plugged into a DC fast charger. "It's going into production this month," she said.
Costabile also spoke about the all-new Chevrolet Blazer EV, which boasts a GM estimated range of up to 515 km on a full charge and will be available as an FWD, RWD or AWD vehicle. "It's going to be a very popular fleet vehicle," she said, "especially with fleets that have drivers who spend a lot of time on the road, like pharmaceutical companies."
The all-new Blazer EV PPV (police pursuit vehicle) made its debut, complete with what Costabile called "a police-specific interior." She added, "This will be our fastest police pursuit vehicle ever, with a zero-60 time of less than 4 seconds, and a top speed of 130 mph."
Kristen Siemen, VP of Sustainable Workplace and Chief Sustainability Office for GM then discussed GM Sustainability. She spoke about the Cadillac LYRIQ, which is currently being built at GM's new environmentally-friendly EV plant in Springhill, Tennessee. She also spoke about GM's vision for the future with zero crashes, zero emissions, and zero congestion.