Vans bring safety supplies to work sites.
It takes agility and experience to get safety products to a construction site which may not yet have an address. That's but one of the jobs of Bunzl Canada's mobile safety fleet.
Newly arrived in the Greater Toronto Area (GTA) since October of 2022, Bunzl has been operating mobile safety fleets in the lower British Columbia mainland for 40 years. Currently, there are two vans in the GTA and 10 in British Columbia providing same-day delivery of safety products and supplies directly to businesses.
The fleet consists of two diesel-powered Mercedes-Benz Sprinter vans that function as a safety product shop on wheels. "The Sprinter is like a big bread box, with lots of space for our customers to walk in," notes Dave Hart, market manager, British Columbia, Bunzl Canada Inc. 
Right now, construction sites are primarily where the mobile safety vans go, but Bunzl hopes to expand into other types of businesses." Federal requirements around first aid kit supply kits are changing," says Margo Hunnisett, vice president of marketing and communications for Bunzl Canada Inc.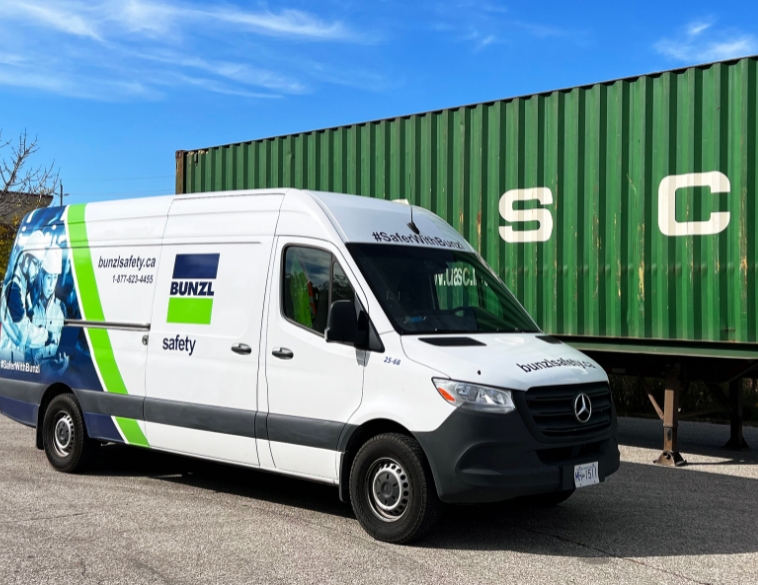 Booming construction sector
However, for now, the booming construction sector is providing plenty of business. "We bring experts to the construction site, where it's very limited on resources," explains Hart. "We have a very intimate conversation and connection with that company, and can get on-site, offering more solutions with the variety of products on there." 
Each van carries everything from personal protection gear, boots, respiratory products, fall protection, safety glasses, gloves, hand protection and more. There are about 16 categories representing about 250 products.
The mobile account managers that are driving and managing the vans are experts. "They have vast knowledge in all the product categories surrounding safety," remarks Hart.
Every company has a first aid requirement mandated by the federal government. The Bunzl fleet is stocked with all the first aid products an organization would require, and the mobile account managers can provide an assessment of their current state of first aid products compared to their needs. "They can say, if you like, we can replenish your needs, we have it here in our vehicle," details Hart.
Unexpected scenarios
But the Bunzl fleet also responds to unexpected scenarios where a customer finds themselves requiring some type of additional safety equipment. For example, if a new worker arrives on a job site and requires safety gear, Bunzl will be there quickly. "That's the most common because there is a high turnover in our workforce generally in Canada," describes Hart. "We also offer product orientation, maybe it's their first time on a construction site, where they're not familiar with how to put on a harness or how to inspect it, or what the real risks are if they don't utilize the equipment correctly." That includes fit testing, to ensure the product performs properly.
All vehicle drivers complete a certified course to ensure they have up-to-date training, as well as very specific product knowledge. 
All Bunzl vehicles are equipped with GPS and dashcams, with Samsara software providing tools to give analytics on vans, road safety, and vehicle maintenance. "Traditionally, a GPS system in a van used to be an asset tracker," says Hart. "But there's a whole lot of inventory in our van, along with the person. Samsara has brought us a different level of engagement with the driver and the van, and a whole balloon of different tools, to where the driver is engaged with trying to make their vehicle and business more efficient."
Daily route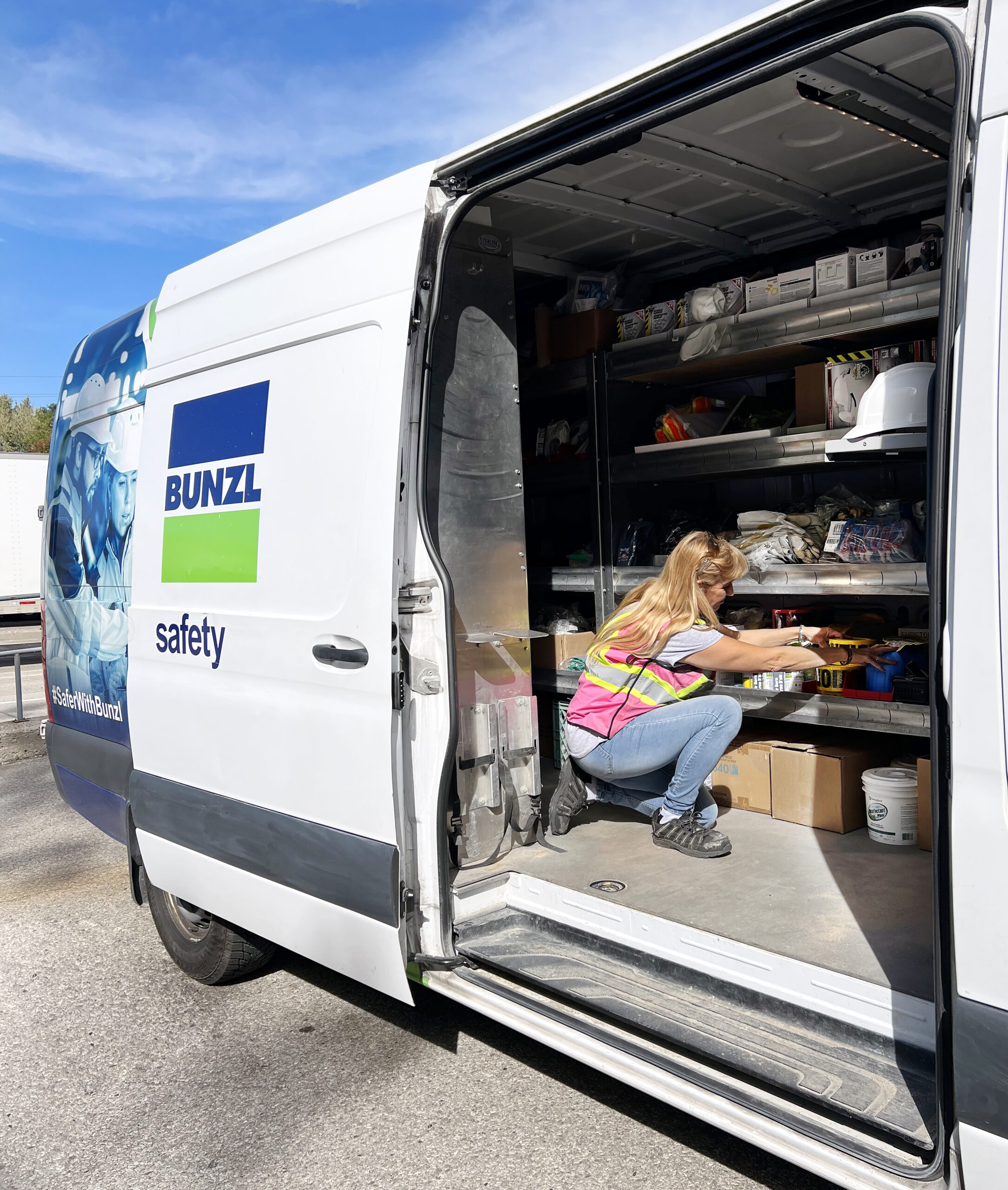 The mobile safety units go on a daily route and return to a hub where they can replenish their inventory. "Our software system tells us what we sold and gives us some indication, some auto replenishment tools, to make sure we can be as efficient on the road as possible," notes Hart.
Right now, the Sprinter vans have some time left on their five-year lease. Bunzl is exploring an EV option as well as other sustainable vehicles. "We're looking at what we have to do in our facilities to support a more sustainable vehicle," explains Hart. "We know Mercedes-Benz will have some good choices if we choose to stay with the Sprinter."
The Sprinters are fully customizable, and the shelving fits a set Bunzl configuration. "We took the shelving out of our last fleet and put it in the new fleet," describes Hart. 
Although Bunzl is very established in the market, they're blazing a new trail in the GTA. A rep has been moved from British Columbia to the GTA to help grow the market. "We're confident we can bring value to this area," notes Hunnisett.