All systems are interoperable. 
When Brampton Transit decided to add eight battery electric buses (BEBs) to their fleet, they wanted to explore a more open-ended solution.
It was important to work with different agencies and have a partnership for their demonstration trial that offered full interoperability among different manufacturers. "A fully interoperable system ensures a robust supply chain while also supporting competitive procurement processes," explains Alex Milojevic, General Manager, Brampton Transit.
Brampton Transit worked with the Canadian Urban Transit Research and Innovation Consortium (CUTRIC), an organization that is working with governments, the private sector, and academia, to coordinate the Pan-Canadian Battery Electric Bus Demonstration and Integration Trial. Six BEBs were acquired from New Flyer Industries and two from Nova Bus while charging systems came from ABB Inc. and Siemens Canada Ltd. All participants are not only Canadian-based but also delivered fully interoperable systems.
The eight BEBs have been on the road since May 2021, and the results have been positive. Operators enjoy driving them, riders appreciate the smooth ride, and even residents in neighbourhoods where the buses operate have commented on how quiet they are. 
10,000 hours of training
Operators, maintenance workers and first responders went through about 10,000 hours of combined training to familiarize everyone with the electric bus systems. At the end of each route, the Operator pulls into a charging bay at one of three locations (two on street, one at depot), where an overhead pantograph charger descends onto the top of the roof of the bus and does a rapid charge in under ten minutes. After that, the bus is ready to go on its route again.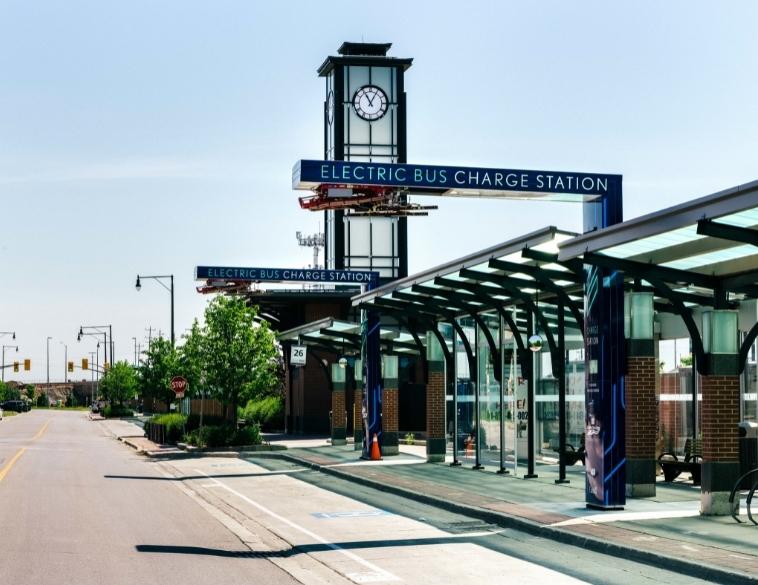 Even on a longer route, the bus battery is rarely drained more than 30 percent. The New Flyer buses have about a 120-kilometre range, and the return trip distance along the routes is typically under that range. "Even when you're using the air conditioning system, it's still well within the capacity of the bus," comments Milojevic.
Although the budget for the project was just under $16 million, funded largely by the federal government as well as the municipal government, there have already been savings on fuel, service and maintenance. "We definitely have maintenance savings because of less wear and tear on engines, transmissions, and other components," notes Milojevic.
This isn't the first step into electrification for Brampton Transit. In 2010, when they launched their Züm rapid transit service, 40-foot and 60-foot articulated hybrid New Flyer diesel-electric buses were used and continue to be in service today.  The experience was so encouraging, they've progressed to the next step with fully electric buses, which generate zero tailpipe emissions.
More electrification
The future holds more electrification for Brampton Transit. "In late 2019, the federal government announced a mandate to deploy 5,000 buses within a five-year period," says Milojevic. "That's a combination of municipal transit as well as school buses."
Of course, one of the biggest challenges is having the infrastructure to support electrification. Although there are currently three charging locations in Brampton that support the current BEB fleet, the plans are to build a large facility that will be completely electrified. It's still in the design stages, and the City remains hopeful to secure the provincial and federal funding necessary to fully electrify the new third facility.
Brampton Transit continues to work closely with the federal government under the Zero Emission Transit Fund and federal/provincial governments under the Investing in Canada Infrastructure Program. In March, the City and the Canada Infrastructure Bank (CIB) executed an agreement to purchase up to 450 BEBs using a $400 million credit facility. "Electric buses are a lot more expensive than diesel," describes Milojevic. "We anticipate the incremental savings from operations will pay back the CIB investment."
12-year life cycle
Currently, diesel buses have a useful life of 12 to 18 years. After 10 years, the buses are completely refurbished to get them through the next eight years. With the electric buses, manufacturers project a life cycle of 12 years, with a battery replacement mid-life. Brampton Transit is hopeful that the life of BEBs can be extended to between 15-18 years.
Brampton has drawn a great deal of interest in and support for its transit programs, as demonstrated by community ridership. "We have one of the fastest-growing big city transit systems across Canada," remarks Milojevic. Recovery from pre-pandemic ridership for systems in the Greater Toronto/Hamilton area is only at about 50 to 80 percent, but Brampton has already seen a recovery of beyond 110 percent. 
"There are a lot of people who use public transit, and we want to provide a service that's green and healthy for our community," says Milojevic. "Given what we're doing with CIB and our federal and provincial partners, we're hoping to transition our fleet to a positive outcome, where we can have zero emissions on all our vehicles."