With all the hoopla currently surrounding battery electric vehicles, it can sometimes seem difficult to separate hype from reality.
Granted, Tesla seems to be stealing the show with its publicity machine in overdrive, but the advances that "legacy" automakers are making in the battery-electric space should not be overlooked.
One of the most progressive is Volvo Cars. In March, CEO Hakan Samuelson announced that by 2025, the premium Swedish brand plans to have its entire product portfolio consist of battery electric vehicles with the objective of reaching 100% by 2030.
It's a lofty goal but given Volvo's position as a niche player in the premium segment—one with a history of progressive safety and environmental initiatives, it does at this point, seems like a logical move.
Based on a regular model
Volvo's first step in the fully battery-electric space is this, the XC 40 Recharge P8. Unlike Tesla, Volvo has sensibly chosen to start its BEV journey by creating a model based on a conventional gasoline engine offering, in this case, the regular XC40 Crossover.
Outwardly similar to its regular crossover counterpart, the XC40 Recharge P8, does have some distinguishing features. For starters, it features unique ID emblems and exterior colour options such as Sage Green (like our test vehicle), as well as uniquely styled 19 and 20-inch wheel/tire options.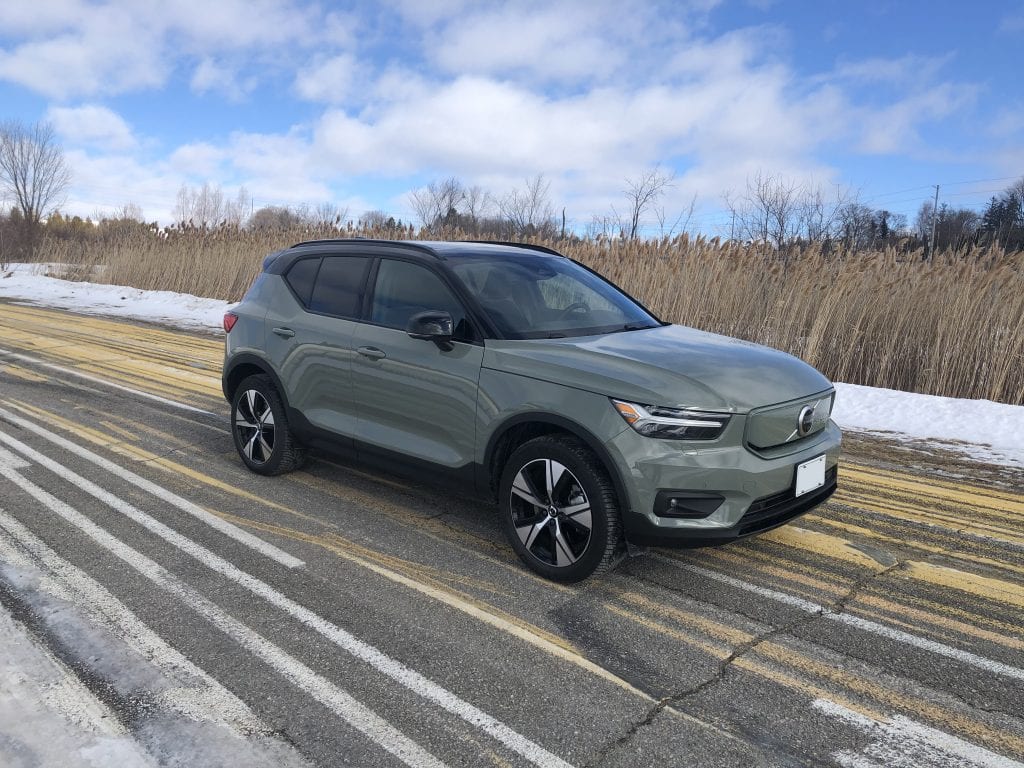 Most notable is the absence of a front grille since no cooling is required because under that chiselled hood is not an engine, but a front trunk (or frunk).
Additionally, the Compact Modular Architecture (CMA) that underpins the XC40 family has been extensively modified to accommodate the all-electric powertrain. For starters, there's a reinforced frontal crash structure and the 78 kW lithium-ion battery pack—which is located along the floor-pan area—is protected by an extruded-aluminum safety cage that's integrated into the heart of the vehicle's unibody structure, meaning during severe collisions, it is designed to remain completely intact, while at the same time also providing maximum protection for occupants within the XC40 Recharge.
The absence of an engine means 21 litres (0.7 cu.ft.) of added front luggage capacity, which is a welcome feature, especially for families. In total, cargo volume (with the second-row seats folded) is an impressive 1,328 litres (46.9 cu.ft.)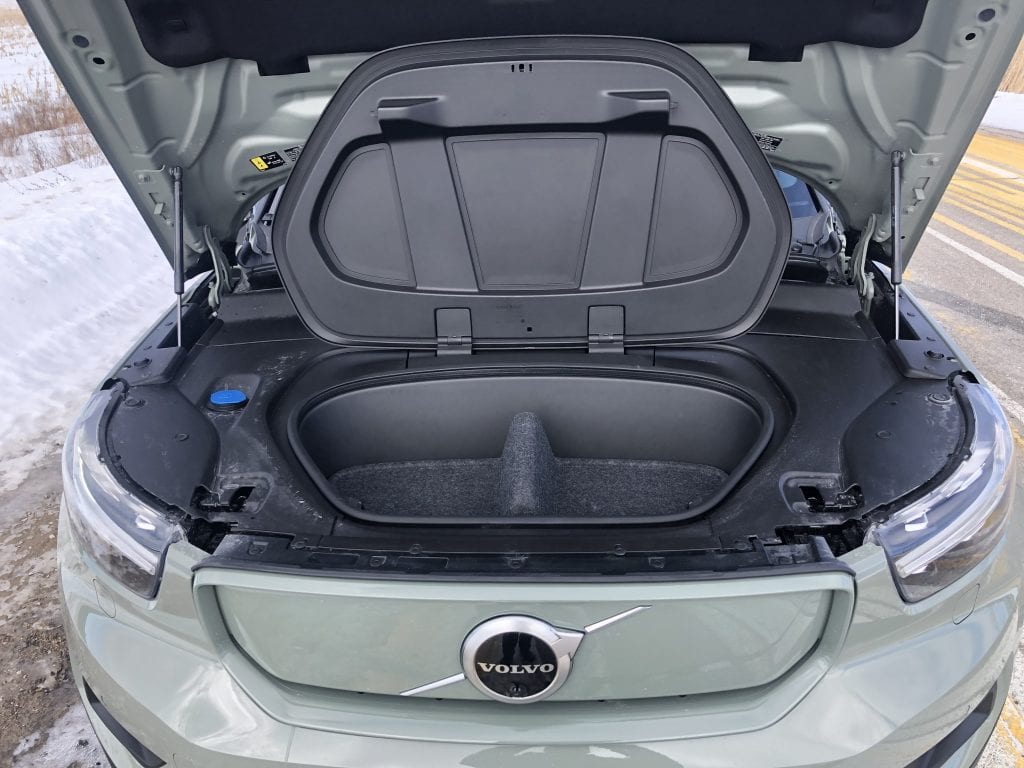 Sense of familiarity
The cabin, in typical Volvo fashion, is spacious, well-appointed and boasts good ergonomics, with controls falling readily to hand and a sense of quality that's premium but not ostentatious. Climbing behind the wheel does at a glance appear to be much like getting into any conventional crossover.
For those that have never driven a battery electric vehicle before, two things come to mind. Firstly, pressing the start button reveals no noise, instead the experience is akin to powering up your smartphone or tablet.
Secondly, the e-shifter on the centre console feels a bit fiddly at first but a bit of practice and you soon get the hang of it. Due to the regenerative braking, at slow speeds, the XC40 Recharge feels like somebody left the parking brake on and requires very minimal input to the left pedal when negotiating city traffic.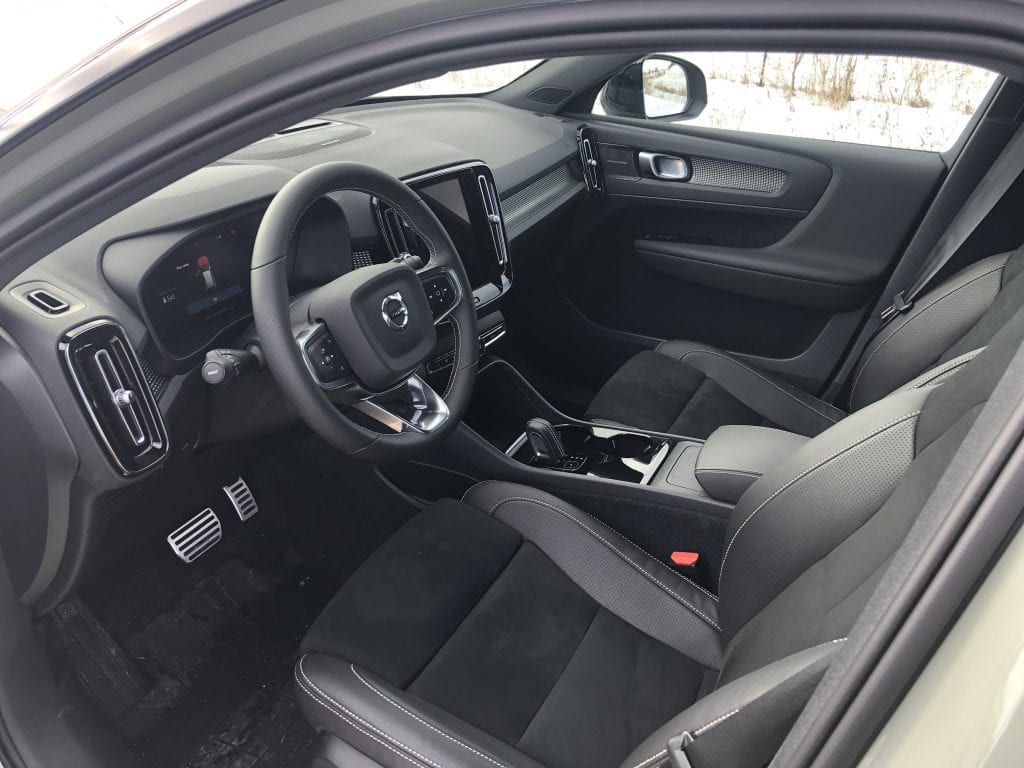 Hit the accelerator and the instant torque from the front and rear electric motors pin you back in the seat. It's reminiscent of big cube, torque monster muscle cars, but there's no rumble of a big V8, just silence and zero tailpipe emissions as the XC40 Recharge rapidly accelerates.
With the equivalent of 402 horsepower under the floor (and more importantly) 486 lb-ft of torque (available at zero rpm no less), the XC40 packs a good wallop in the acceleration stakes, with 0-96 km/h (0-60 mph) taking just 4.7 seconds, despite the crossover's substantial 2,150kg (4,7741 lb) curb weight.
All XC40 Recharge models sold in Canada come in AWD configuration only, and in late winter/early spring road conditions, despite the relatively large footprint of the optional 20-inch wheels and tires, there's more than ample traction when you need it, whether it's dry pavement you're contending with or a slippery mess.
Notable advantages
For commuting, the electric drivetrain offers notable advantages. The instant acceleration means merging with freeway traffic is effortless and at highway speeds, the XC40 Recharge feels solid and stable, inspiring real driver confidence.
While the laws of physics mean that most crossovers are in essence bigger, slower and more ungainly passenger cars, the XC40 Recharge holds its own better than most, especially in the dynamics department.
We found a few twisty sections of two-lane road peppered with undulating crests and dips. It was here that the benefits of the low-slung battery pack and front and rear electric motors could really be felt. The XC40 Recharge corners far flatter and with greater certainty than a vehicle of this size and stature has any right to (with a conventional powertrain at least).
Although enthusiast driving is not the prime reason why most of XC40 Recharge's target audience will purchase one, it's nice to know that every time you get behind the wheel, there's a bit more excitement available than your average, milquetoast suburban family hauler.
A big reason that the target audience will likely consider the XC40 Recharge, is the Google Android Auto Operating System, the first of its kind installed in a Volvo.
Not only does this provide easy [and fairly intuitive we might add] infotainment features, including Google Maps, Google Assistant and the Google Play Store, but through a partnership with ChargePoint, the vehicle's OS also incorporates a ChargePoint in-car app.
The objective here is to alleviate any range anxiety concerns by allowing the Google Android Auto OS to actively search for charging stations as well as navigate a route to get to them, as well as options to pay and start charging the vehicle.
The app was jointly developed by Volvo Car Technology in Silicon Valley and ChargePoint and allows drivers of the XC40 Recharge to access most of ChargePoint's existing 100,000 locations across North America.
Besides, ChargePoint has developed active roaming integrations with other charging networks, which will provide Volvo customers with access to more than 80% of both AC and DC public charging stations currently existing in both Canada and the U.S.
Things to consider
This is very significant, despite the high media visibility, battery electric vehicles like the XC40 Recharge P8 currently enjoy in the marketplace, range anxiety is still a very real issue for buyers whether they are private or fleet customers.
In the case of the XC 40 Recharge P8, having the charging outlet in the same location as the fuel filler on the regular model provides a sense of familiarity when it comes to plug-in and power up, yet if there is one drawback, we see that the vehicle's battery energy depletes fairly quickly once on the move.
During our driving observations, we saw the battery charge decline by more than 20% within less than an hour of regular city/suburban driving), so even though Volvo claims a 335 km range based on EPA estimates, in real-world driving, owning one of these vehicles will still require planning in terms of how long you will be on the road, which routes you plan to take and of course, when and where to charge.
When you factor in that even a DC fast charger still requires a minimum of 40-minutes (and AC charging takes around eight hours), this is currently something buyers must consider when looking to purchase the XC40 Recharge.
Verdict
While it is still difficult to say how the battery-electric vehicle market will evolve and if and when these vehicles become practical enough to be embraced by the majority of businesses and the population—for those early adopters and people who see the benefits in operating a BEV, there's no question that among the offerings currently out there, the Volvo XC40 Recharge is certainly among the most enticing.
SPECIFICATIONS
Vehicle 2022 Volvo XC40 Recharge P8
Price As Tested $64,950
Driveline (as tested) 78 kW Lithium-Ion Battery Pack, twin Permanent Magnet synchronous electric motors (front/rear)
Power/Torque 150 kW/204 hp / 243 lb. ft. of torque per motor
Fuel Economy Range 335 km (estimated)
Noteworthy Features / Important Selling Features Gutsy acceleration, good traction, stability, zero emissions, integrated ChargePoint charging app feature
Chief Competition (top 3) Ford Mustang Mach-e, Tesla Model Y