Canadian National has signed an agreement for the acquisition of 50 8T electric trucks from Lion Electric for intermodal transport use.
At the press conference announcing the agreement on August 31, CN President, Jean-Jacques Ruet, explained that his company had committed to reducing its fleet's greenhouse gas emissions by 25% in 2030 versus 2015. An effort has resulted in a 40% reduction in emissions from its locomotives, while the investment in Lion's trucks will allow the company to further significant progress.
Clean and quiet
"The key to success is innovation, he explained. In this sense, we must congratulate Lion and their team for the development of this truck, which will be used in the urban areas of Montreal, Toronto and Vancouver. Another advantage of this electric solution is that it will have a very positive impact on noise reduction, which will be highly welcomed."
In April 2019, CN launched a pilot project to test electric trucks designed and custom-built by Lion Electric in Quebec.
These zero-emission trucks, intended for intermodal transportation, will be tested in multiple contexts and environments across CN's network such as urban delivery, container shuttle service, and port operations. These trucks are equipped with the latest telemetry technology. This technology enables managers to better manage maintenance programs.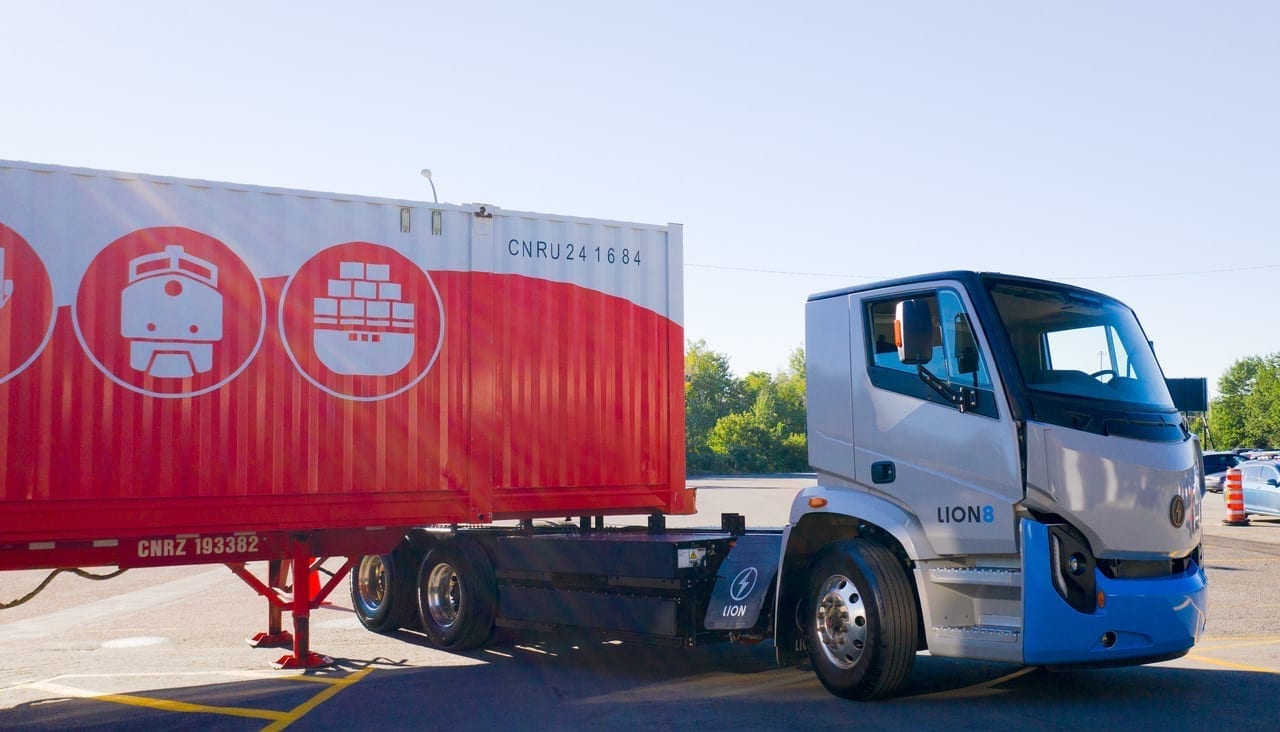 A gesture of trust
"CN is demonstrating leadership by acquiring 50 all-electric Lion trucks, said Marc Bédard, Founding President of Lion Electric. This $20 million order, the most significant for Lion Electric to date, is a great vote of confidence in our company and demonstrates that the electrification of heavy transportation is now. I hope that this transaction will inspire all those who wish to find an economical, sustainable and environmental transportation solution to turn to electrification."
For Mr. Bédard, this transaction solidifies the entire electric vehicle ecosystem in Quebec. Fewer than 150 local companies supply parts and services to Lion Electric, which has 360 workers.
"The Quebec government believes in a sustainable economic recovery. I am pleased that Lion Electric and CN are able to work together to contribute to the electrification of transportation, a very effective way to reduce greenhouse gas emissions in Quebec. We can be proud of these two companies that want to do business and showcase our expertise while fighting climate change," said Benoit Charette, Minister of the Environment & Fight Against Climate Change and Minister of the Laval region at the press conference.