New Range Rover Evoque has a sophisticated character, with its reductive design, latest technologies and luxurious material choices for modern luxury clients. 
Inside, Range Rover Evoque features a new 11.4-inch curved glass touchscreen, seemingly floating within the driver's eye line for improved visibility, while liberating space for interior stowage and Wireless Device Charging. 
The latest technologies and material innovations also promote well-being with the Cabin Air Purification Plus air quality technologie.
Geraldine Ingham, Managing Director, Range Rover, said: "The original compact luxury Range Rover for the city is even smarter and more sophisticated than its predecessor. The cabin is reductive and serene, with new materials and colourways for effortless luxury. A single curved glass interface and clean air technology allow clients to enjoy the calm and tranquillity that is the hallmark of a Range Rover."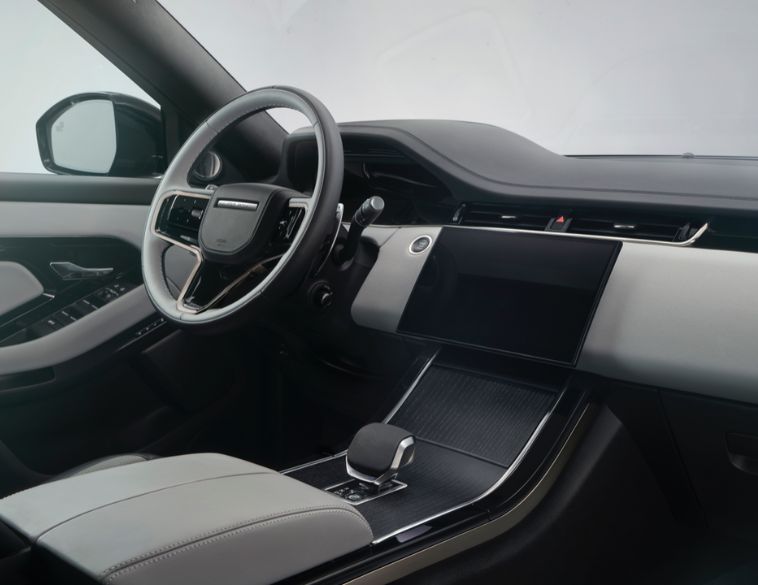 Captivating design
New Range Rover Evoque features a subtle evolution of its reductive exterior design, with unmistakable hallmarks including its coupe-like silhouette, floating roof, continuous waistline and flush deployable door handles. 
Prof Gerry McGovern OBE, Chief Creative Officer, JLR, said: "Range Rover Evoque's unique personality has put its indelible mark on the automotive landscape. Its sophisticated design and timeless sense of modernity continue to strike that all-important emotional chord."
The cabin features a panoramic roof which bathes the cabin in natural light. Inside, a clean centre console design features a tactile new gear shifter for automatic transmission models, while Pivi Pro2 infotainment is accessed via a crisp new 11.4-inch curved glass touchscreen, from which clients can seamlessly control key vehicle functions. It also liberates more stowage space and features standard Wireless Device Charging.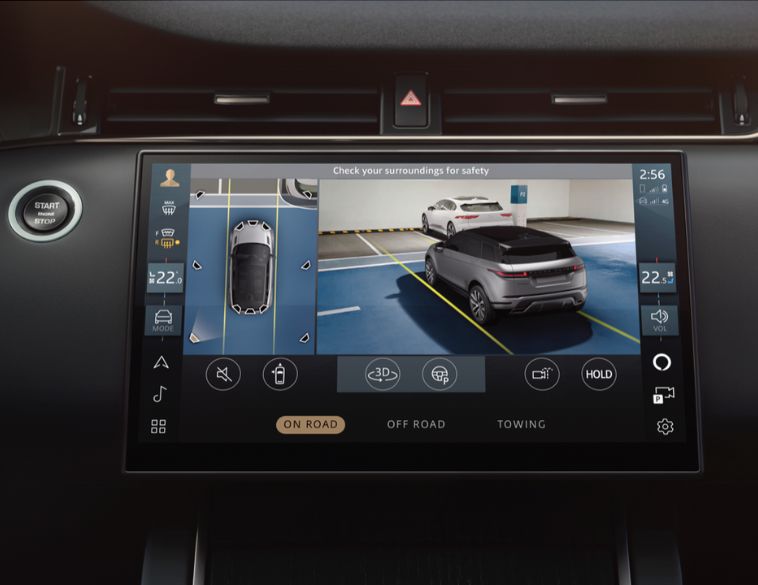 Connected technology
At the beginning of every journey, drivers are presented with a Pre-Drive panel for fast access to commonly used features, such as window demisters and heated seats. Once on the move, it disappears to reveal the familiar three-panel home screen that can be customized with trademark Pivi Pro2 intelligence and flexibility. Pivi Pro2 supports smartphone connectivity with Wireless Apple CarPlay and Wireless Android Auto and full access to a range of online apps.
The next-generation infotainment was the subject of extensive testing and development to reduce task and interaction time. Approximately 80% of tasks can be performed within two taps of the home screen. 
Range Rover Evoque also offers a sophisticated suite of camera technologies with 3D Surround View, ClearSight Ground ViewTM and ClearSight Interior Rear ViewTM offering greater driver reassurance.  
Electrified performance
The advanced P300e plug-in electric hybrid enables drivers to complete their average daily journeys with zero tailpipe emissions, thanks to an electric-only range of up to 62km (39 miles) from its 14.9kWh battery. 
The electric hybrid powertrain combines an efficient three-cylinder Ingenium petrol engine with an 80kW electric motor, providing a total power output of 309PS, 0-100km/h in 6.4 seconds (0-60mph in 6.1 seconds). Updated battery chemistry offers an improved real-world driving experience, with an expected real-world electric range of up to 48km (30 miles). On longer journeys, this means a total real-world range of up to 651km (404 miles) with CO2 emissions from 31g/km.
Rapid DC charging is standard on the Evoque P300e, ensuring swift charges away from home in as little as 30 minutes. Using a 7kW home charger, 0-100% charge can be completed in around two hours.
The New Range Rover Evoque is priced from £40,080 in the UK. Configure yours at www.range-rover/range-rover-evoque.