Jérémie Bernardin learned about electric vehicles (EVs) the hard way—by rebuilding them. 
The business development manager of ALL EV Canada launched a business with two others rebuilding EVs from insurance recovery vehicles. EVs like Tesla were being written off for a bumper or a fender or a headlight. Those which were too damaged to be roadworthy became parts cars. "We became experts in EVs from the inside out," Bernardin recalls. 
But he and his partners felt there was more opportunity, so in 2019, pivoted to creating a dealership, ALL EV Canada, selling and servicing pre-owned EVs of every brand under one roof. 
Based in Halifax, Nova Scotia, the partners realized that there were low adoption rates in Atlantic Canada. But that also meant they could dominate the space, and within a year, they had merged with a dealer in Prince Edward Island. 
Steele Auto Group
Now, they are owned by the Steele Auto Group. "We're excited to partner with them because they're one of the most forward thinking automotive groups in the country," notes Bernardin. "They wanted to be able to access the expertise from ALL EV to help get all their dealers up to speed, while also growing the ALL EV business model and brand."
Shortly after being bought by the Steele Auto Group, ALL EV moved to a premium location in Halifax's "Car Alley," in the north end of the city. Their new building was formerly occupied by Porsche, and takes up a significant footprint. Previously, ALL EV was in an industrial park, which wasn't ideal for walk-in traffic.
Moving into the new store sent a strong message to the industry. "When a pre-owned EV dealership takes the place of a Porsche store, in a prime location on Car Alley, it shows that the Steele Auto Group is taking this very seriously and putting some significant resources behind it," says Bernardin.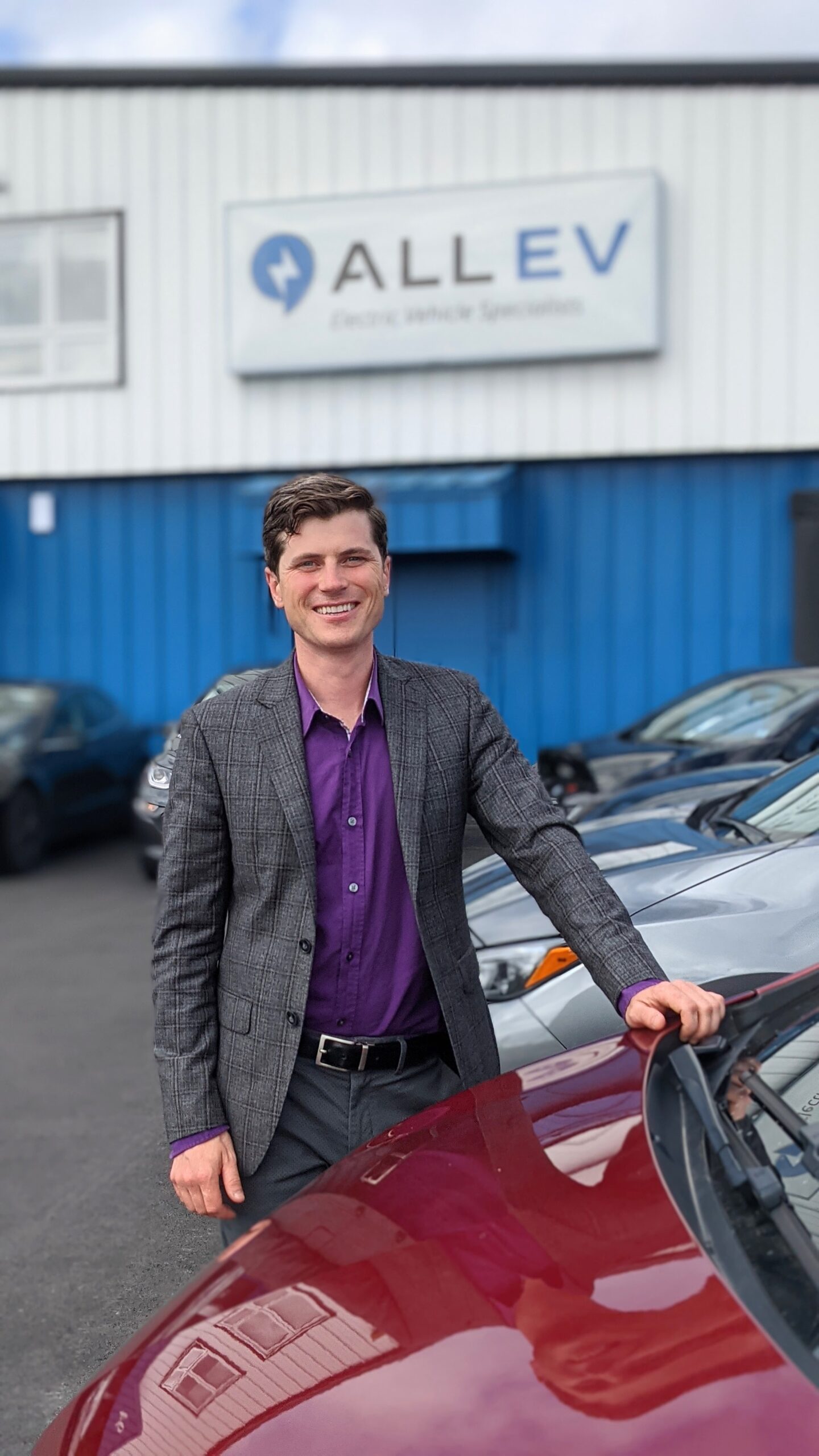 Short-term lease
Currently, there's a long waiting list for any new EV, as there is for most new vehicles. That's one of the reasons ALL EV offers short-term leases, so consumers can have a 14 month lease in an EV while waiting for their new vehicle to arrive. "We do a lot of rentals for government, movie sets, or if someone wants a specific EV," explains Bernardin. "We have fleets for Parks Canada in multiple provinces for their summer busy season."
He feels education is key to helping consumers understand the advantages of EV ownership. There's a Tesla Model 3 cutaway vehicle in the dealership, showing just the drivetrain, battery, electronics, suspension, steering and wheels. "It's a rolling platform to show consumers just how incredibly simple EVs are." The cutaway was toured around the Atlantic provinces, to help educate the public. 
All Atlantic provinces have now introduced incentives for used EVs, and Nova Scotia premier Iain Rankin chose ALL EV to make his incentive announcement.  The inventory is shared across provinces, so anything available on the ALL EV website can be sold in any province. With the Steele Auto Group, the dealership can take advantage of dealer management services, digital platforms, marketing and inventory tools. Bernardin admits that he and his partners had never worked in a dealership. "We all had some interesting experience that contributed to the business but we never knew what to expect," he says. "That's where it made sense to partner with the Steele Auto Group."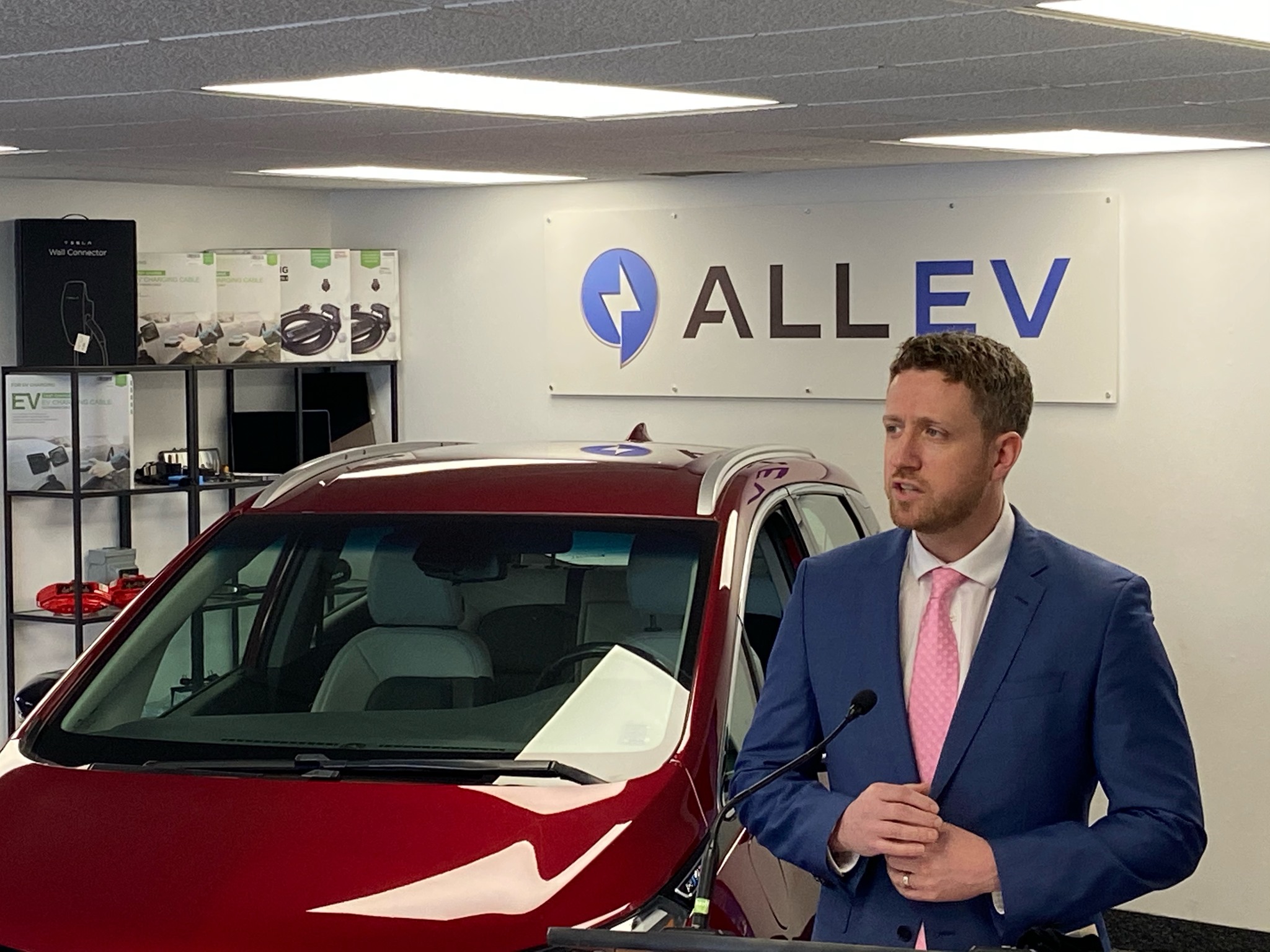 Secret touch
Acquiring pre-owned EVs requires a special skill set, and Mike Kenny, at the Prince Edward Island location, has the secret touch. "You have to be innovative in finding these vehicles," describes Bernardin. "When you want a large EV inventory, there aren't that many. It goes beyond auctions."
Former partner, David Giles, is a master technician, who has written curriculum on how to train technicians on EVs. ALL EV provides very specialized offerings, such as undercoating that's specific to EVs. The more complex EV system requires more care, since there are high voltage cables, plastic coverings for aerodynamics. It's not just a 10 minute spray, but a four hour job, since the car has to be taken apart. 
Right now, the most popular cars are the Tesla Model 3, Hyundai Kona and Chevy Bolt. ALL EV has clients across the country, and a very unique inventory, which ranges from a Porsche Taycan to a Polestar 2 and a Mustang Mach E. There are also lower cost offerings, such as an e-Golf, or an original Nissan Leaf.
"We want to cater to whoever is trying to go electric and help them navigate their transition, so we're serving all segments of the population."