Mazda Canada reported May sales of 3,589 vehicles, a decrease of 43.7 percent compared to May 2019.
Sales year-to-date (YTD) are 16,017, which is a decrease of 39.6 percent compared to the same period in 2019.
Mazda Canada is responsible for the sales and marketing, customer service and parts support of Mazda vehicles in Canada.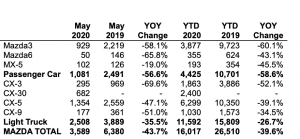 Headquartered in Richmond Hill, Ontario, Mazda Canada has a nationwide network of 164 dealerships.
For additional information visit Mazda Canada's media website at www.media.mazda.ca.