This small but mighty dealership topped Mazda's CPO sales in 2018.
Despite what many people may think, bigger isn't always better. Mazda of Stoney Creek, in Hamilton, Ontario, isn't a large dealership, but it makes an impression with its customers. For 2018, the store took great pride in being Mazda's number-one Certified Pre-Owned dealer in Canada.
That's due to a number of positive factors, said Dealer Principal Hossein Totonchian. "It's the way we merchandise our cars, the way we promote, and with no added fees or charges for CPO. We've been working with our staff to train them and be able to talk about the CPO, and to believe in it."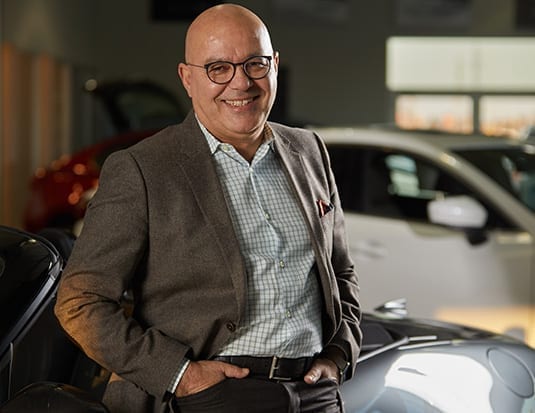 Totonchian purchased the dealership, formerly Select Mazda, some three and a half years ago. He'd already been an owner in North York Chrysler in Toronto but sold his shares and looked for a new opportunity in a growing district outside of the Greater Toronto Area.
Thinking outside the box
He bought into a turnkey business, but because it was so small and wasn't doing a great deal of business, he "[didn't] have much to lose and [could] take all the risks," he said. "We were pretty much at the beginning. Mazda is up and coming, and it has great products. I'm a car guy, and I love the business, and I thought it was a great opportunity."
One of Totonchian's first decisions was to hire non-commissioned sales staff. "I call them 'Mazda Experts.' Their job is really to go over the features and take the guests for a test-drive. Then the sales managers generate the offers and options on the payments, which they will then present to the customer.
"They have bonuses, but I don't have anybody on commission. One of the things about Mazda is that people are much more in tune with what they're buying, and they're knowledgeable about the product. You have to be able to show them what they're looking for."
The best price first
The dealership always puts its best price forward at the start, on both new and used vehicles, because Totonchian believes haggling isn't fair to customers. "Someone buys a new car every four or five years, and it's not an advantage when they negotiate with a professional who does it every day for a living. We let the product sell itself.
"I keep a smaller sales force than most dealerships because I think an elite force is better than a big one. You can pay them better, and they perform better, whereas a lot of dealerships flood (the sales floor). I have very little turnover. I'm very selective on who I bring in. We have a floor captain, and his job is to mentor new people coming in. In peak months, we're around 100 units per month with only seven Mazda Experts. They're focused on looking after the customer."
The showroom's configuration is unusual as well: it's an open concept. "We got rid of all our offices except the sales manager. It's like sitting in your living room. You're on a couch, there's a coffee table, you're relaxed, and you sit there and do the business." To prepare his staff, Totonchian called in Toronto Auto Consulting with help to learn how to use vAuto management software effectively to meet goals.
Selling customers what they need
The store has eight service bays. Unlike the sales staff, the service advisors are on commission, but Totonchian also runs the department to the customer's advantage. "I completely disagree with putting a special bonus on a coolant flush or something like that. Customers should buy what they need, according to their scheduled maintenance."
When it's time for winter tires, the service hours are extended two nights each week so that customers can come in after work to get their tires changed. The advisors are encouraged to make appointments for all jobs so that the shop can be efficiently scheduled to get vehicles in and out as quickly as possible.
Totonchian started in the auto business as a salesperson at Volkswagen Richmond Hill, north of Toronto, where he worked his way up to become the business manager and then sales manager over his seven years there. He left and became a wholesaler, and then opened a small used-car lot. In 2003 he bought North York Chrysler with a partner, where he spent nine years.
His leadership style is hands-on. "I don't like to sit in an office. I have an office, but I'm rarely in it. I'm always walking around, but I put my phone down, so I'm focused on what's happening with our guests and our employees. I always tell my sales managers not to get lost in their phones, because they'll stop seeing what's around them."
Even though he tries to limit his time on a computer—he admits to using it a lot once he gets home at night—his store has a website and, in just three years, it has hit a 4.5-star rating on Google Reviews. "I think that says a lot about the way we do business," he said. "When people come in, I greet the customer and tell them we have no commissioned staff. And people say they know! The word is getting around."