Newest location further reinforces a commitment to excellence.
ProColor Collision Georgetown is impressive by all accounts. Not only does it provide residents of this growing community with a premium option for getting their vehicles fixed, it also boasts state-of-the-art equipment, a full team of I-CAR-certified staff and high levels of efficiency. Owned and operated by the Tsatsos family—father John, mother Eva and sons Daniel and Lee, along with General Manager Jon Banks, this ProColor location represents the latest venture following the establishment of four other successful automotive collision repair businesses.
John Tsatsos is an accomplished entrepreneur, having emigrated to Canada from Greece in the 1970s. He and his wife Eva founded Superior Auto Collision in Etobicoke and from there, it was onward and upward. Today, the business also includes Fix Auto East York and most recently ProColor Collision Georgetown.
New chapter
Previously known as Rite Way Auto Body, ProColor Georgetown represents a new chapter for the family business. 
"We've been really fortunate that we've been able to grow as we have and still have that family business atmosphere," explains Daniel Tsatsos, who along with his brother Lee, is helping fuel that growth as next-generation owners and partners. "Our employees are pivotal to our success, and they are like family to us. We care about our staff—we take a lot of pride in that, and I think that's reflected in the work we do and how we've been able to expand the business."
A major game-changer has been joining the Fix Network, first with the Fix Auto brand and most recently, ProColor. "We've known Daryll O'Keefe [Senior Vice President, Fix Network Canada] for a long time and when an opportunity came to join Fix Auto, we took it," says Tsatsos. 
Since then, things have gone from strength to strength. One of the biggest benefits, says Tsatsos, has been the robustness of the relationships that Fix Network has with insurers and other key stakeholders. "With insurers and fleet organizations, we've seen a significant increase in repair volumes and the processes they have in place have freed our staff up to work more on what we do best—fix vehicles."
The experience Fix Network has in running collision repair locations, creating effective standard operating procedures, as well as providing shops with the ability to access state-of-the-art equipment, training, as well as insurance guidelines and live data have all helped improve efficiencies.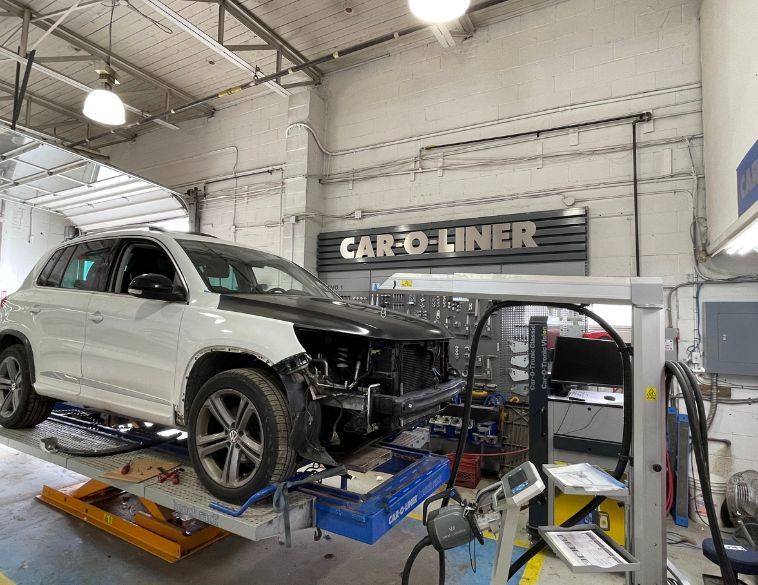 ProColor opportunity
With the Fix Auto East York operation well-established, when the option came to add another facility to the network, this time under the ProColor banner, not surprisingly, the Tsatsos family and their team jumped at it. "The Georgetown location, historically run by my father and Jon Banks was doing a great job and had a good client list including dealers and several insurers," Daniel notes that in joining the ProColor brand, there was an opportunity to significantly expand sales and revenue opportunities with additional insurance partners, while also having the reassurance of working with someone [Fix Network] whose proven systems and processes had already made a major difference to the family business. 
ProColor Collision Georgetown is a 12,000-square-foot facility with two acres adjacent to it, providing ample parking for vehicles. The location has ample room to grow and expand in the future—a key consideration explains Tsatsos. Currently, ProColor Collision Georgetown has 15 employees and processes approximately 40 vehicles per week. At this location, there have been major investments in equipment and training. ProColor Georgetown has several OE certifications including Certified Collision Care as well as Acura, Honda and Volkswagen. It has a Car-O-Liner Evo 3 frame measurement system, a downdraft spray booth, as well as dedicated aluminum and steel dent-pulling stations. There are also R-134a and R-1234yf A/C machines, as well as a complete roster of diagnostic scan tools. 
Due to the setup, training and equipment, the shop is extremely versatile, able to handle everything from smaller repairs to larger hits with ease and offers additional services including on-site detailing and rustproofing. 
"We're very excited about the future and taking things to the next level," explains Tsatsos. "My father and Jon Banks had a vision and it's amazing for us to see that vision come to life. I have to say a big thank you to both our team and the incredible support we have via the Fix Network in making that happen."