Outstanding customer service and reputation has been a cornerstone of NOVUS Glass North Shore's rapidly growing success.
Located at 198 Pemberton Avenue in North Vancouver, NOVUS Glass North Shore boasts 79 Google reviews and a five-star rating. Business owner Armin Ojani is proud of the fact and deservedly so. Since the business opened on February 1, 2022, it has prided itself on offering the best in customer service.
The facility is equipped with state-of-the-art equipment, enabling it to handle any type of windshield repair and replacement. Yet when Ojani first acquired it, the building was in what he describes as a very rundown condition. "I really have to credit [NOVUS Glass and Speedy Auto Service Strategic Partner Developer] Jay Shaver and his team. They have been with us every step of the way.
Planning and execution
"From the time we first signed the lease to being fully operational took about six months," Ojani explains. During that time there were weekly meetings and updates, with bullet points and checklists of what was needed to get the business fully operational. "Jay was really instrumental when it came to this, and I gained a great deal of knowledge and experience from working closely with him."
The amount of planning and development required to become a highly successful auto glass service location cannot be understated. A big aspect was having British Columbia's public insurer, ICBC, firmly on board, as well has having agreements set up with other comprehensive insurers.
For Ojani, running NOVUS Glass North Shore is a far cry from the days when he worked in the medical field, but he finds it far more rewarding and satisfying overall. "Every day I see more referrals from satisfied customers, and more are returning to us with repeat business.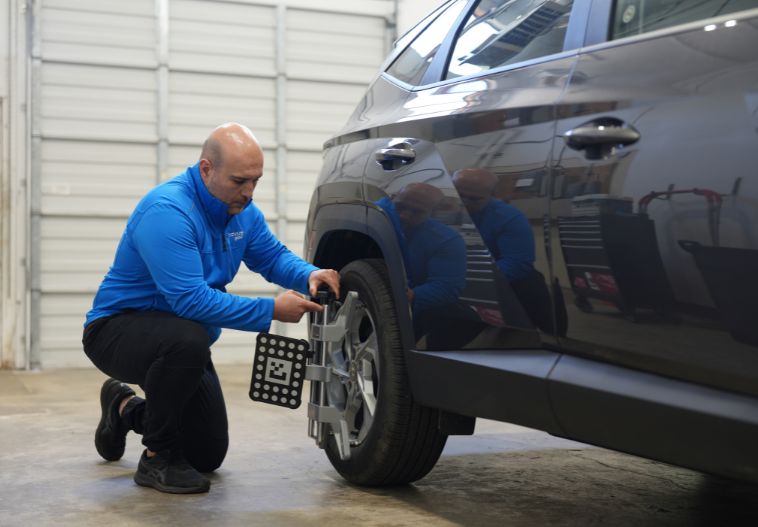 Clients first
"All of us here are focused on servicing our customers—this is really a people business and we prioritize each individual client first and foremost," Ojani explains. "Our motto at NOVUS Glass North Shore is to never let a customer leave our shop unsatisfied." And it's a strategy that clearly appears to be working.
We asked Ojani, what made him decide to get into the auto glass repair/replacement business and why he chose to partner with NOVUS when the time came to take the plunge.
"I really wanted to do something that would have a positive impact on the local community," says Ojani, "and I wanted to do something that I found fulfilling." While he acknowledges that it can be very stressful and uncertain to both start and operate a small business, the satisfaction of being able to resolve a difficult situation or problem, such as repairing or replacing a windshield on a customer's vehicle far outweighs any challenges. Plus, when that customer provides a glowing review and recommends the business to others, it makes all the toil and effort more than worthwhile.
Windshield repair and replacement has come a long way in the last two decades. Besides the first-rate support from the NOVUS and Fix Network corporate team, a big reason why Ojani chose to partner with them is the technology available to perform state-of-the-art windshield repair and replacement.
NOVUS Glass has its own patented technology, including resins that enable technicians to repair cracks and chips that normally would require replacing the glass.
As far as windshield replacement is concerned, most late-model vehicles today incorporate Advanced Driver Assistance Systems (ADAS), which include windshield-mounted cameras. Even when replacing the glass, these cameras must be recalibrated for the system to operate correctly. Ojani and his team have invested in the Autel MaxiSys system to ensure calibrations are done correctly and accurately. "It really is a state-of-the-art and a top-line tool," he says. "It comes with a tablet and exterior fixtures, including a laser measure that precisely self-adjusts to ensure every single camera on every single vehicle we repair is properly calibrated."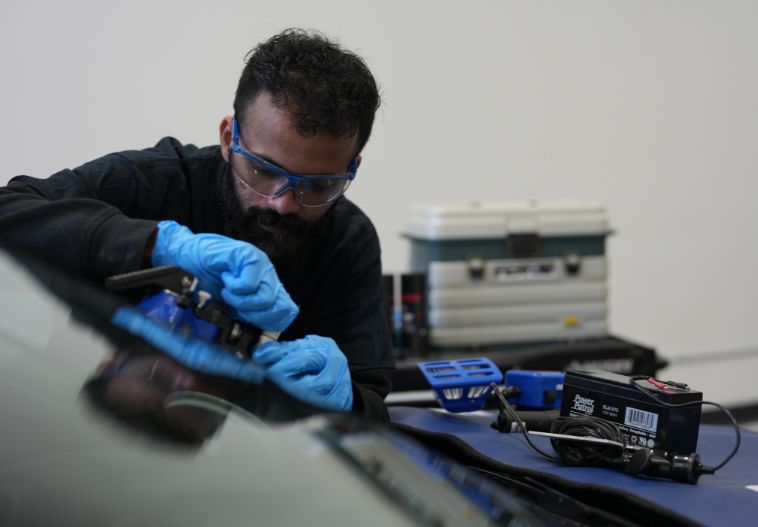 Advanced adhesives
Besides accurate measurement tools and calibration technology, NOVUS Glass North Shore also uses advanced urethane seals for bonding windshields to the vehicle. "Thirty minutes after installing a windshield, the urethane has cured and the vehicle is ready to drive," Ojani explains. "When you think about it, it's amazing. Not too long ago it would take a minimum of two hours before the adhesive was cured and the vehicle was ready—now it's down to just 30 minutes!"
Our motto at NOVUS Glass North Shore is to never let a customer leave our shop unsatisfied."

—Armin Ojani, Owner and Operator, NOVUS Glass North Shore
NOVUS Glass works with four major suppliers that provide Original Equipment Equivalent (OEE) replacement glass, and for the North Shore location, Ojani says being able to obtain top-tier quality replacement auto glass easily and efficiently has been a huge benefit of being a network franchisee. Another is being able to get NOVUS customer referrals by leveraging national partnerships within the Fix Network.
Currently, NOVUS Glass North Shore handles about 100 windshield repairs and replacements per month, which has doubled from last year. They have the capability to add another 120 jobs per month if needed, and as business and referrals continue to grow, along with work from local dealers and rental car agencies, the 2,400-square-foot location is well placed for long-term success in auto glass repair.