Iconic 928 goes under the hammer at Barrett-Jackson Houston Auction.
For those of us old enough to remember the 1983 movie Risky Business starring Tom Cruise as Joel Goodson and Rebecca De Mornay as Lana, you could argue that the third star was the 1979 Porsche 928 prominently in the film.
The car, which in the storyline, belongs to Joel's father and which Joel "borrows" while his parents are out of town endures some mishaps, including a scene where it rolls down a hill and into Lake Michigan.
As with many films, more than one car was used for filming (in this case three visually identical 928s).
This year, the hero car from the movie showed up at auction, more specifically Barrett-Jackson's Houston auction which took place this September.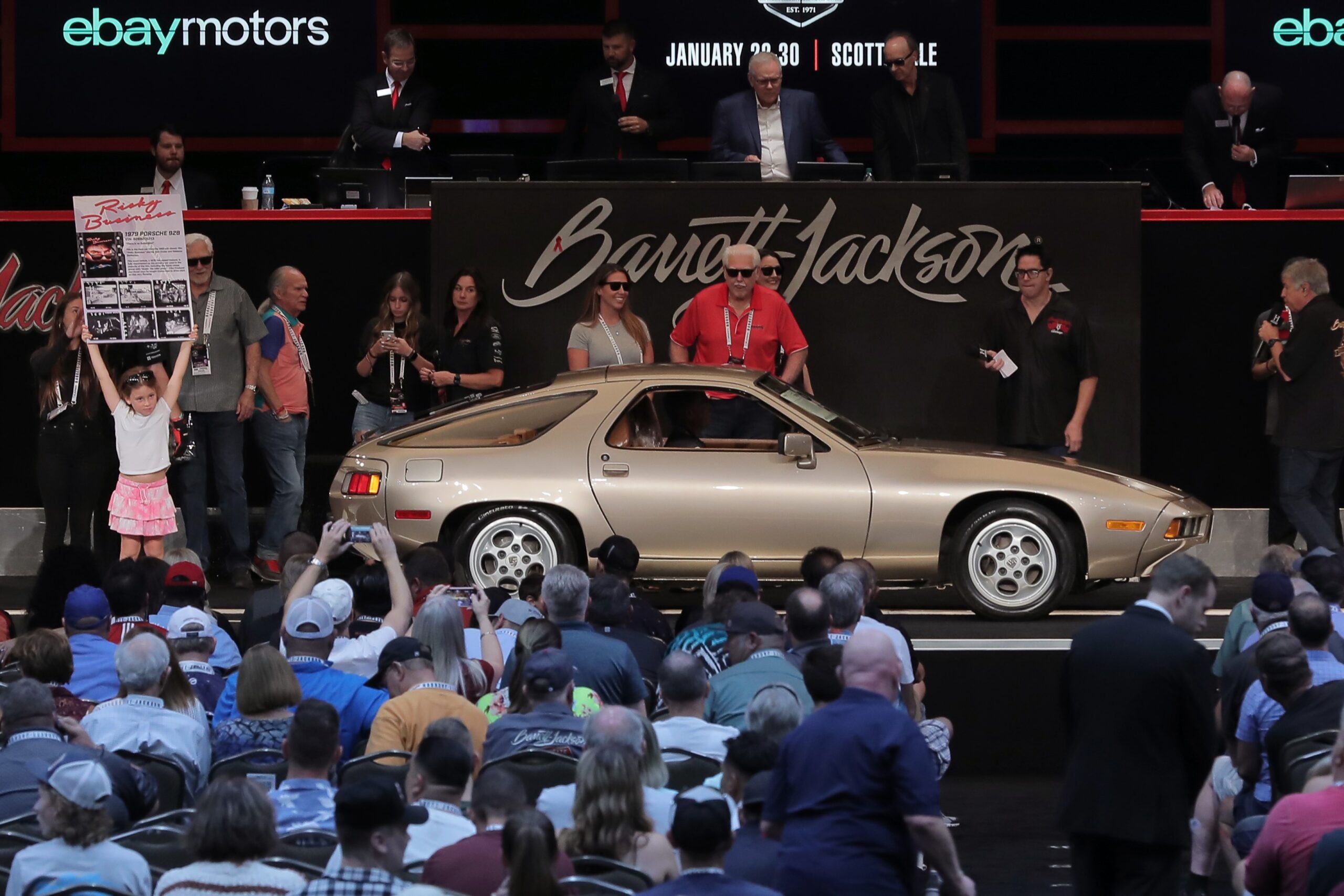 This car was one of three procured for use in the movie and according to Barrett-Jackson, was also the car that Tom Cruise learned to drive a manual gearbox in. PHOTO Barrett-Jackson
Charmed life
Unlike the 928 that ended up in the lake, this particular example has led a cossetted existence.
It has been stored for many years in a climate-controlled garage and has never been wrecked or abused.
Originally equipped with a 4.5-litre V8 rated at 219 hp and teamed with a five-speed manual gearbox, the 928 was fast by late 1970s standards, able to reach 0-96 km (0-60 mph) in just 6.8 seconds, at a time when many so called performance cars in North America struggled to do it in less than 9 seconds due to emissions regulations.
Originally painted green, it was re-sprayed for the movie and features prominently in the chase scene where Joel utters the famous phrase "Porsche, there is no substitute."
Given the high profile that many TV and movie cars tend to attract these days, it perhaps wasn't surprising that this 928 would draw a lot of interest when it crossed the auction block on September 18.
The final bid? A staggering $1.98 million U.S.
Porsche 928: A Different Direction
Manufactured between 1977 and 1995 the Porsche 928 was originally conceived in the late 1960s as a replacement for the firm's hallowed 911.
A complete rethink of the sports car concept, it was designed as a front-engine, two door grand tourer at the behest of then Porsche Managing Director Ernst Furhmann.
Furhmann believed at the time, that the company's signature 911 was close to reaching the limits of its development potential, plus with impending safety regulations and controversy surrounding the Chevrolet Corvair in the U.S. (Porsche's largest market at the time), a new model would solve a number of issues.
The 928 made its debut at the Geneva Motor Show in 1977 where its futuristic styling caused a sensation.
It was also praised for its performance and comfort. Despite this and being named European Car of the Year for 1978, sales were slow to take off.
As a result, it never replaced the 911, instead the two cars were sold side-by-side, appealing to different buyers.
Over time, Porsche introduced a number of upgrades.
The 4.5-litre engine was replaced by a bigger 4.7-litre unit for 1980 in the 928 S, which also featured wider wheels and tires, as well as standard front and rear spoilers.
Initially, the 928 S was only sold in Europe, but finally reached North American shores as a 1983 model, replacing the previous "base" 928.
The 928 would endure until 1995, by which time around 61,000 examples had been built.
In its final incarnation, the 928 GTS sported a 5.4-litre engine cranking out 345 horsepower and was a fitting send off for a unique car that challenged the status quo on what a sports car should be.
To see the Risky Business Porsche 928 cross the auction block click here – https://www.youtube.com/watch?v=iPWO886Kq_E