With a blank canvas, Vinny Patel was able to create the ideal collision shop.
Vinny Patel and his brother Arun have been working in the collision repair trade in the Edmonton area for over 35 years. Vinny trained as a painter and his brother, as a body man. By the early 2000s, the brothers decided the future lay in starting their own business. By 2010 they were able to lease a collision shop, invest $300,000 in renovations and open their doors.
Around 2014, the brothers began looking for a building to own rather than lease and that's when they came in contact with Johnny K at CARSTAR Edmonton South. Johnny was in the midst of selling his old facility and moving to a new location.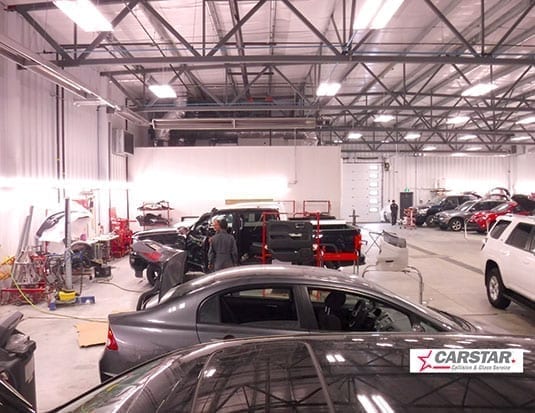 A change of direction
For the Patels, acquiring Johnny's old shop seemed ideal. "It was fully equipped," says Vinny Patel. "It had the compressor, air lines, everything was essentially ready to go." Yet in talking with Johnny, the subject of joining the CARSTAR network came up. Because this shop was close to Johnny's new location, it didn't make sense to have two CARSTAR stores in such close proximity. As a result, the Patels decided to join the CARSTAR network, keep their existing location at Milwoods and search for a new, second location.
Parsons Road is a purpose-built facility, sitting on 1.5 acres of land. The building itself is fabricated entirely from steel and was designed from the inside out, meaning the shop area was conceived first and then the reception, administration, storage and personal use areas built around it. "The building is approximately 160 feet long and 80 feet wide," says Vinny. "It covers roughly 13,000 sq ft with about 10,000 sq ft dedicated to the shop area. The other 3,000 sq ft is divided between the administration office and washroom, along with the lunch room and parts area." There's also a second level that has an additional parts storage and a function room for religious events and community groups.
Up-to-date
Patel and his team wanted to create a state-of-the-art production facility at CARSTAR Parsons Road and, as a result, have invested heavily in equipment. This includes an estimating bay with surgery style lighting, a built-in lift and no fewer than five cameras to document the damage on each vehicle that comes in. "It really helps us to know in detail what damage was caused by the collision and any prior damage to the vehicle," says Vinny. Additional cameras inside and outside the building allow every facet to be monitored, from parking cars to actual repairs.
The shop area boasts a full array of equipment including prep stations, state-of-the-art measuring and pulling equipment, as well as the latest in welding technology, including resistance spot welders and silicon bronze units.
There's also a dedicated aluminum area with aluminum sanding, welding and dent repair stations. A recent initiative has been to add nitrogen plastic welding, given the increase in the cost of some replacement plastic parts such as headlight assemblies. "If a tab on a headlight assembly is broken off, we can now fix it, instead of replacing it. In some cases, a new, replacement headlight assembly can cost $5,000 or more, so if only the tab is broken and can be repaired, it's worth the investment."
On the paint side, Patel and his team have partnered with BASF and are very happy with the quality of the product (Glasurit 90) as well as the support and training provided. The Parsons Road shop also incorporates a downdraft spray booth and state-of-the-art mixing room.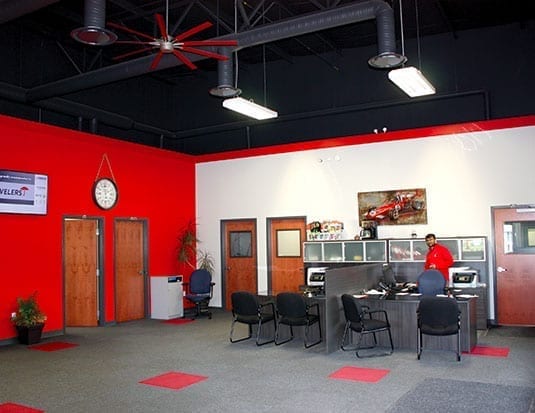 Bullish about the future
At peak capacity, the shop has 13 people on staff, but with the Alberta economy still reeling from a slump in oil demand, Patel says that locally, many shops are slow. Nevertheless, he remains bullish about the future, especially now that the business is part of the CARSTAR network. "We've been able to grow the business, despite the economic downturn in the last few years," he says. "Also, we've invested in becoming certified with OEMs (Nissan, Ford, FCA and Kia), through CCC, as well as Toyota and Lexus. Through the network we also have more than seven DRPs with major insurers, so I feel the future looks good."
With strong ties to the local Indo-Canadian community and a long-standing reputation for good quality collision repairs, as well as the progress made in the last few years, it's easy to understand why Vinny Patel and his team are optimistic about the years ahead.