Looking at ways to consistently improve and evolve has been a key driver for this independent collision business since day one.
In 2001, Josh Kazdan and a friend decided to open a body shop. "I was 20 years old and thought it would be great to paint one car a month and wash and detail others," he says. With a plan to focus on restoration and custom work, Kazdan learned that while he was learning how to paint vehicles properly, his approach wasn't showing him how to make money or stay in business long term.
Eight years later, his perspective had changed. "At this point, I could see where the trends were going. Collision repair was an insurance driven space, and that's where we needed to be." So as he says, he put his "big boy pants on" and got to work.
New location
A key part of the plan was finding another, more suitable location for the business. "We found a bigger, more central location in Niagara Falls, and we focused on doing collision repairs."
Seventeen years later, Kazdan's business, Better Image Collision, has opened a second location in St. Catharines. A former mechanical repair shop, it boasts 650 sq m (7,000 sq ft) in production space with an additional 93 sq m (1,000 sq ft) located for administrative work.
"As soon as I saw this facility, I knew it would work for us," says Kazdan. Adding a second location was a big step, but Kazdan knew that it was necessary to keep the business viable in the long term. "There's a lot of consolidation happening in our industry, so I felt we had to step up in order to remain competitive, otherwise we could get steamrolled."
Part of that stepping up was major investments in tools and equipment. When you enter the facility at 161 Hartzel Road, what strikes you is not only how meticulously clean it is but that the entire production space is dominated by Symach's Fix Line system.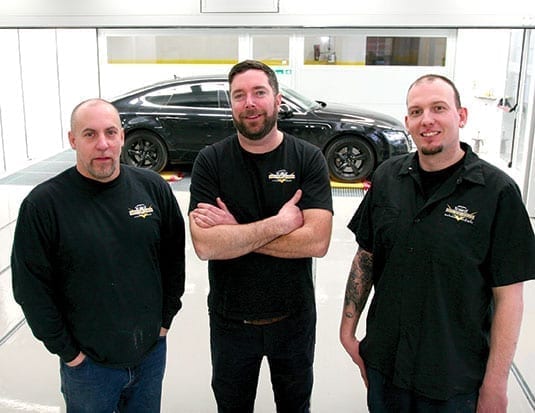 Shop in a box
"With the Fix Line system you're not so much buying equipment as buying a process," says Kazdan. "It's essentially an entire collision shop in a box."
Kazdan says he spent a lot of time looking for a suitable production solution for this location. "I went to a lot of other facilities to see how their equipment worked, and I met Osvaldo Bergaglio. He showed me what was possible in our space and we embraced it. I really buy into Osvaldo's vision because he's providing a proven process that works."
With the Fix Line system, cars move on rails through the entire repair process, including filler, prep, priming, painting and assembly.
"The system makes a huge difference," says Kazdan. "We're able to deliver consistent, quality results and can guarantee delivery times. It makes a huge difference when it comes to keys-to-keys. The efficiencies we realize are incredible."
Better Image has also chosen to invest in state-of-the-art welding equipment from Pro Spot, as well as working with ALLDATA to provide fast, accurate repair information (including pre and post scanning) for the shop's technicians.
"With the push toward pre and post scanning, we need to be ahead of the curve. ALLDATA allows us to have access to the information we need, and it's completely portable, so our techs have everything at their fingertips."
Working with re f inish partner AkzoNobel has also reaped significant benefits. "We've adopted Akzo's approach to lean principles and found better, more efficient ways of running the business.
In fact, to use a Japanese term—Kaizen— continuous improvement is a mantra at Better Image Collision. "We are constantly evolving, always trying to find more effective ways of doing things and eliminating wasteful steps."
Exceptional service
Quality is a key ingredient, too, not only in terms of being able to deliver superior repairs but also in terms of customer service and staff satisfaction.
"We're an independent shop, but we've built our business reputation on delivering exceptional customer service in Niagara Falls. And we're applying the same principles here." Kazdan notes that a key part of that is also having exceptional staff. "We focus on attitude—we want to hire people who have the right attitude. Even if your resume says you have the skills to do the job, it's how you go about doing it and how you can operate as part of a team." He notes that Better Image has been able to build an exceptional reputation due to having an exceptional team in place. "We have many repeat customers at our Niagara Falls location because our staff are able to go above and beyond and earn their confidence."
And with this new, second location Kazdan and his team see themselves having the ideal space in which to further raise the bar, adding advanced technology, experience in processes and a winning culture to raise the bar even higher.