Repairing panels on today's vehicles requires a complete re-think of techniques and processes.
Working on vehicles with mixed materials can be complicated, but with the proper information, training, tools, equipment, and teamwork, collision shops can ensure complete, safe, quality repairs.
"Aluminum is still the most prominent material coming into the shops today. Ford switched its F-150 pickup truck over to aluminum in 2015, and a lot of other manufacturers are now making panels from aluminum while the structure is still steel," says Bill Davidge, National Technical Manager, CARSTAR Canada.
"My perspective is a little different, explains Roy Pelletier, Owner, Fix Auto Thunder Bay South.
"When my grandfather first started this business over 30 years ago, we were originally a truck shop and working with aluminum panels was commonplace. Many heavy trucks like Peterbilts and Western Stars use aluminum panels. The cabs are all-aluminum with riveted and bonded panels, so it's been 30 years that we've been working with aluminum."
The light was temporarily taken off the issue of working with mixed materials when OEMs started wrapping new sensor-driven safety technology around the vehicles. "The focus in the shops had to change. We had to learn to deal with repairs with all the new technology wrapped around the cars. This took the focus off mixed materials for a bit," adds Bill Davidge.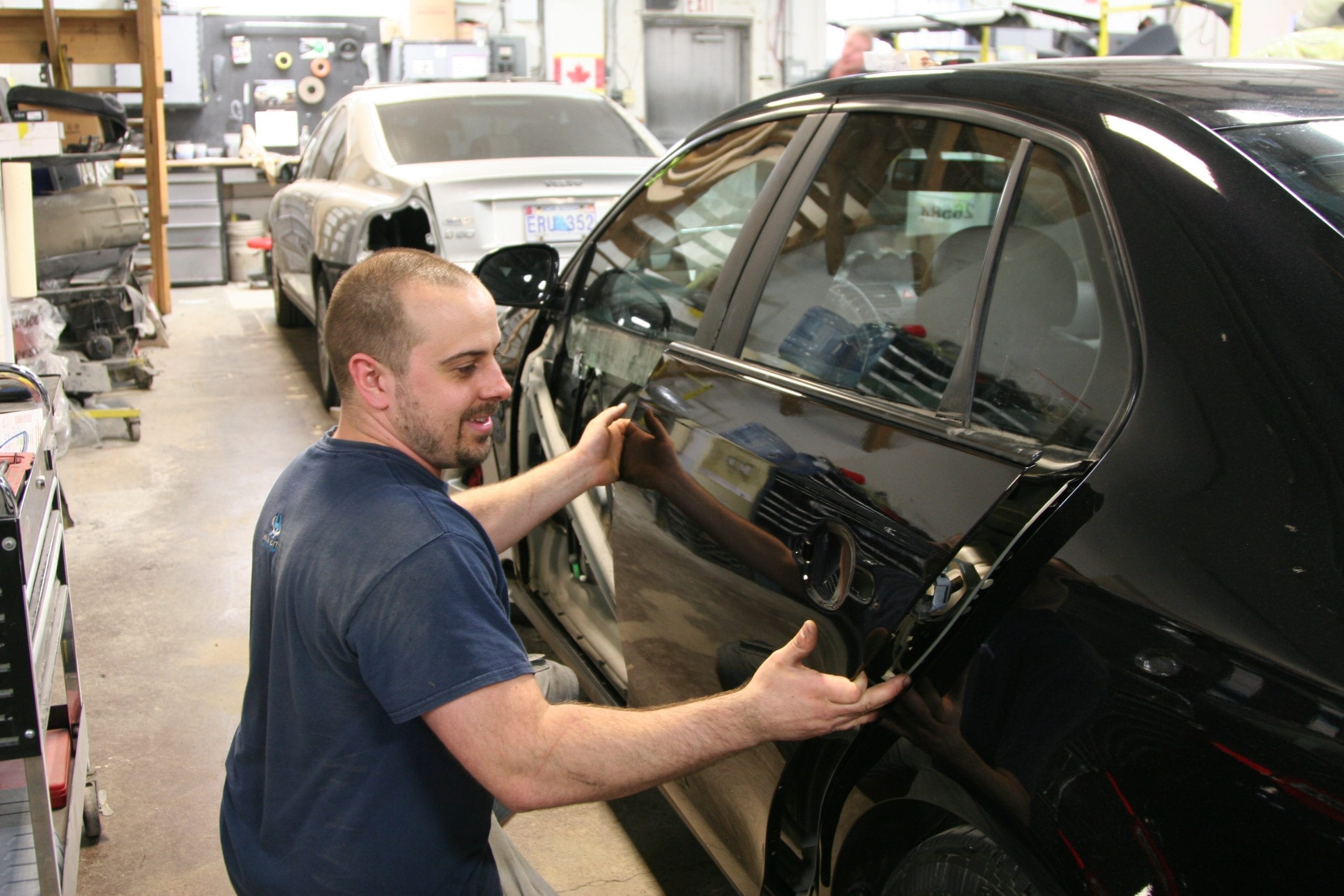 Research
"We often find ourselves repairing 2018 model year vehicles before the manufacturers have put out the repair recommendations. We go to all our resources, and in some cases, we still don't know what they are made of. This is certainly an interesting change here," explains Davidge. "You have to do your research on what the panels are made of. Without the manufacturer's information, we certainly are at a disadvantage. We work to keep up with the OEM recommendations and certifications. Research is a big part of the job now, and for many older technicians, this is not something they are used to doing."
Pelletier notes that with virtually every car using high-strength steel today, the use of resistance pulse spot welding is mandatory. "There aren't that many resistance spot welders out in the shops yet, and these cars are being sold and repaired, so how are they repairing these parts?" asks Pelletier. "You can't MIG weld it, and you can't glue it. Resistance spot welding is the only approved method. It's a pretty scary prospect when you start thinking about it."
He also says that vehicles are becoming far less repairable. "If you have a dent from a minor collision or your son throws a baseball, and it hits your car, that's a minor repair on a steel panel, and that's potentially a replacement on an aluminum panel," explains Pelletier. "Aluminum just doesn't respond to being repaired in the same way as steel. It stretches so much easier, and it doesn't want to come back to its original shape."
Roy Pelletier says the old way of assessing damage on a car is just not relevant anymore.
"The way cars are built now, everything is designed around the occupants. You can have a small front-end collision, and the damage is transferred to the back of the car. For example, the front apron is back one inch, so that is not a big deal to pull back, but meanwhile the shock towers have moved two inches, and there is a buckle in the roof. The car doesn't know if it's been in a high-speed collision or a fender bender. It only knows where it's been told to transfer the damage. It's engineered to transfer that damage so when you get in an accident, on the surface, it looks minor until you put it on a 3D measuring system."
Rising costs
And as aluminum becomes more prevalent, it's just going to drive repair costs up because of the high rate of replacement. "Aluminum vehicles are costly to repair, plain and simple," adds Pelletier.
CARSTAR's Bill Davidge notes that some insurance partners are going down to the level of looking at each individual part in scrap piles of materials, to see what's in there that is repairable. "Of course, the bumper pile is always the biggest," he says. "In most cases it warrants this, because the bumpers are so cheap you can't do much labour on them, says Davidge. "Insurers are seeing the cost of repairs rising, and they are looking closer at what the industry can do to control it."
Pelletier feels that some insurers seem to be more reactive rather than proactive.
"We have cases where the adjuster will think the door is repairable and we have to spend 20 minutes explaining that it's an aluminum door and you can't pull the dent out. We are so far from what we need to be paid for these repairs it's just incredible," he says.
When it comes to lightweight materials, whether it's plastic, metal, or composite, there is a great deal to learn, while administrative costs keep rising, notes Davidge. "There is a lot more accountability and lot more people looking for mistakes. The good part is the safety of the vehicles; the logistic challenge is the biggest thing."
Bill Davidge says a ballpark estimate of time spent researching a structural repair would be 15 to 20 minutes, and even after that 20 minutes you still may not have all the information you require for the repair. "You are using some history, some I-CAR information, you are subscribing to manufacturer websites, you are doing the best you can with what you have available to you, but you are still not always getting all the information."