APRA's BigR Symposium is back for 2023. The event will take place next Monday, October 30, at the INQ Hotel, in Las Vegas, Nevada.
The BigR Symposium brings together industry experts to share their knowledge and is a great networking opportunity for people in the remanufacturing industry.
Schedule
Here is the agenda and the great speakers for this year's Symposium:
9 a.m. – Welcome: Joe Kripli, APRA President
9:15 a.m. – Managing Data for your Internet Store: Jake Larson, CEO, ATOMM
10 a.m. – 0 to 60 in the Electronics World: Ed Edwards, CEO, Circuit Board Medics
10:45 a.m. – Break and Tabletop Networking
11 a.m. – Keynote Address Speaker: Michael Cardone III, CEO and Aaron Poynton, CCO, A3 Global
11:45 a.m. – Lunch (Provided with Registration) Tabletop Networking
12:45 p.m. – Building Businesses that Run Themselves: Brian Weaver, Focal Point Coaching
1:45 p.m. – Tesla Remanufacturing Opportunities: Craig Van Batenburg, ACDC
3 p.m. – Closing Remarks: Joe Kripli and Tabletop Networking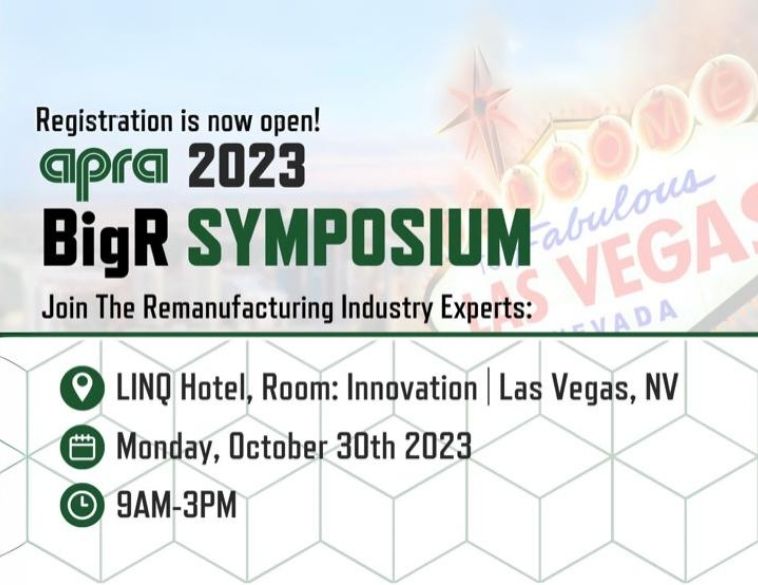 Registration is still open for the 2023 session.