If you've shopped TPMS Tools you've probably seen choices priced from $10 to over $1,000. What should you be looking for in a tool? What should you expect to spend to get it? Read on for some guidance, but first a word about TPMS service in general…
TPMS technologies are complex. There are 12 major vehicle manufacturers selling vehicles in the US. Each has their own TPMS technologies, sensors, and software. Plus, there are over 20 aftermarket TPMS sensor brands available. With all these variations, compatibility between tools, software, and sensors has become a major issue. The capabilities included on the tool you choose may mean nothing if you run into tool/sensor/software compatibility issues.
Be an informed buyer
Before you buy a TPMS tool, do your research. See what's being said online about the tool. Does the tool program only one brand of sensor? Customers may be unhappy if you're not able to work on their car because the one brand of sensor you can program isn't available at the moment. Other considerations – what's the warranty? Are software updates included, and if so, for how many years? Also, while there are 20+ aftermarket sensor brands out there, REDI-Sensor™ and EZ-sensor® dominate the aftermarket. You may want to look for a tool that can program these brands as they're most widely available.
TPMS Tool Strategy
You can find companies that offer 20+ TPMS tool choices. At Continental we offer two, the Autodiagnos D and the Autodiagnos SE. Why? We believe that every shop should have at least one TPMS tool that can handle virtually every TPMS and tire service need, and that's the Autodiagnos D. The other TPMS tools in the shop may only need to handle common day-to-day TPMS service needs, and that's the Autodiagnos SE. This two-tool strategy makes the shop ready for most every TPMS service need. Plus, it saves money over buying more full-capability tools than are needed.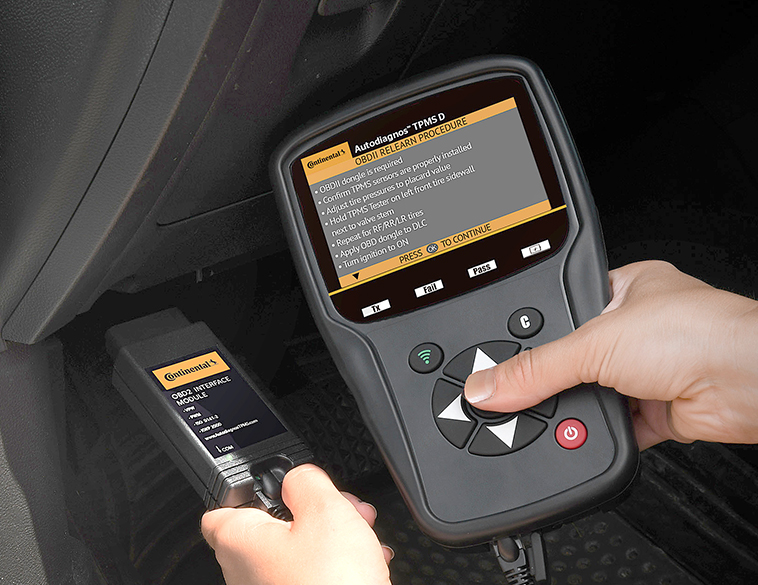 Tools for the DIYERs
You can find TPMS Tools for under $10. At that price, you're just getting a TPMS trigger tool that will work on a limited group of year/make/model applications. There's no diagnostics, no ability to clear codes, no ability to get sensor IDs, and no ability to update the tool for new makes/models. If something goes wrong, the tool can't tell you what's happened. Most importantly, these tools have no ability to program sensors.
Low-end TPMS tools for service professionals
Inexpensive TPMS Tools that meet some of the needs of professionals start in the $130-$260 range. At this price, you can expect a tool to include the ability to relearn/activate most available TPMS sensors. However, many of the tools in this range can only program one brand of sensor. At this low-to-mid range price, you may also expect to get the ability to retrieve TPMS sensor data. This data may include sensor IDs, tire pressure and temperature, battery status, and sensor position and frequency.
Mid-range TPMS tools for service professionals
Moving beyond the low-end professional tools, you'll find choices for $250-$600. The Continental Autodiagnos SE Tool fits into this range. At this price point you'll see features that can help speed up TPMS service, and for pros, time is money. But be aware, even in this range, there are TPMS Tools that can only program one brand of sensor.
Some of the features you might expect to get with mid-range TPMS Tools include direct (OBD, auto, manual) and indirect TPMS relearn procedures, TPMS reset via OBD-II (on applicable vehicles), and the ability to program/clone sensors by OBD. You should also expect relearn coverage for the vast majority of the vehicles on the road. Look for the ability to retrieve sensor IDs, copy sensors sets, and TPMS ID input capability. The tool should be able to unlock the ECU for Toyota, Lexus, and Scion, which is required for TPMS service on these brands. Along with all of these capabilities, the Autodiagnos SE includes built-in TPMS service help and training plus support for multiple languages. Both of these features are somewhat unique at this price point. In addition, the Autodiagnos SE can reconfigure the ECU to change the default placard pressure. This enables you to do TPMS work on vehicles where the tire sizes and pressures have been changed for towing or customization.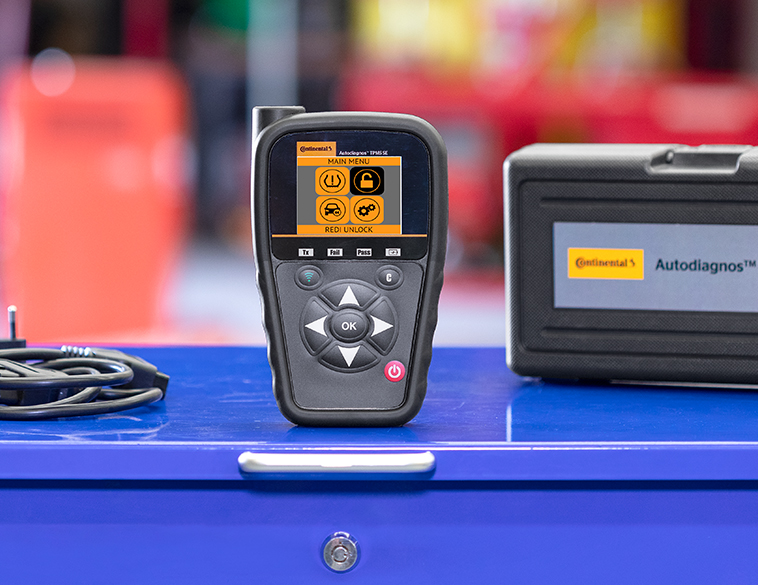 Advanced TPMS Tools for service professionals
Moving up price range, you'll find tools that are $650 -$1,900 and above. These tools should be able to take on any TPMS or tire service issue that comes into the shop. This is where the Autodiagnos D slots in. Some of the tools in this range may include scan tool capabilities as well as TPMS and tire service features. But yet again, buyer beware. Even at the highest prices, there are TPMS/scan tools that can only program one brand of sensor.
Advanced TPMS tools should be able to read, diagnose, and program virtually all aftermarket sensors that use 315MHz or 433MHz frequencies. There are a few cars on the market that use Bluetooth, but the overwhelmingly majority of cars on the road use 315MHz or 433MHz. Advanced tools should be able to retrieve and decode TPMS DTC information on applicable vehicles and provide service kit part numbers. The Autodiagnos D includes all these capabilities and some unique ones such as the ability to scan the placard barcode to look up the VIN and automatically find applicable TPMS part numbers.
Compatibility is key
TPMS technology continues to evolve and with it the challenge of maintaining tool/sensor/software compatibility. Autodiagnos TPMS tools are developed by Continental, an OE supplier of TPMS systems to vehicle manufacturers around the world. The software we provide for Autodiagnos TPMS tools is written by engineers who have the most up-to-the minute understanding of TPMS technology and software standards. So, you can count on Autodiagnos to be at the leading edge of compatibility.
Strategy + research
So, if you're looking at TPMS service tools, don't get less than you'll need, or more. And whether you're buying for yourself or for multiple bays, do your research up front. You'll be glad you did.
Article by Peter (Piotr) J. Dobrowolski
Product Manager – TPMS and TPMS Tools 
Continental Automotive Systems Inc.
www.continentalaftermarket.com
---
Sponsored content by Continental