Western Canada's oldest OK Tire is thriving despite challenging economic conditions.
With downtown Calgary office occupancy rates low as a result of the downturn in the oil and gas sector, the property tax burden on suburban businesses has increased to make up the shortfall.
The move has proved tough on many small operations, including auto repair shops, but OK Tire Northmount—owned by Kyle Stanford—continues to thrive in the face of adversity.
A good problem
"We can barely keep up with demand, which is a good problem to have," he says. "But our monthly tax rise was $2,200. A lot of shops in Calgary are having a hard time. We have nine people here; if a small shop like me goes out of business, that's nine families that lose their livelihoods."
The situation was less rosy when Stanford and his wife Jan bought the 65-year-old shop in 2014.
The building on Northmount Drive was originally an OK Tire warehouse before becoming its first retail shop in Western Canada. With the business only running at half capacity, Stanford saw the potential in an older residential district that's close to numerous schools and the University of Calgary. Revenue has doubled since he took over.
"Take care of your customers, give everybody 100 percent, and smile," offers the owner, a former biology teacher with a business degree. "A lot of people say we're a small-town shop in a big city. My manager, Manny Molina, knows 99 percent of the people who walk through the door and calls them by their first name. It feels like home and people trust us. If mistakes are made, we take care of people. They like that."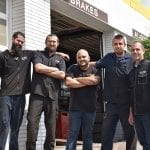 Incentivize the franchise
OK Tire is currently adding 20 to 30 new stores each year across Canada. Stanford is a fan of its franchise model, which has some fees associated but involves 100 percent ownership and no monthly franchise fee—another reason why he can stay competitive in tough times.
"We have a share in OK Tire, too, and get two percent of everything we buy through OK Tire back at the end of the year. The more that we buy, the better the company does. It's a very good model and I would recommend it to anybody."
Stanford also gets two percent back of everything that is billed through head office but bought from OK Tire-affiliated suppliers such as NAPA Auto Parts. Mechanical work comprises around 75 percent of the work at the shop, which employs three full-time licensed mechanics, two service advisors, a manager and two tire/oil technicians.
One-stop shop
There are two bays at Northmount used primarily for tire, oil and brake work and a Hunter Revolution tire changer to ease the load on the busy fitters. Two further service bays have Hunter alignment racks. Longer tasks such as engine rebuilds are undertaken in a space to the rear, where a limited number of tires are also stored.
"On any given day we might have a 1995 Honda Civic in beside a $160,000 Tesla," Stanford says. "We get diverse vehicles and try to take care of everybody. We're lucky to get two daily deliveries from the OK Tire warehouse in Calgary. If we have to source a specific tire elsewhere, then we can usually get that, too."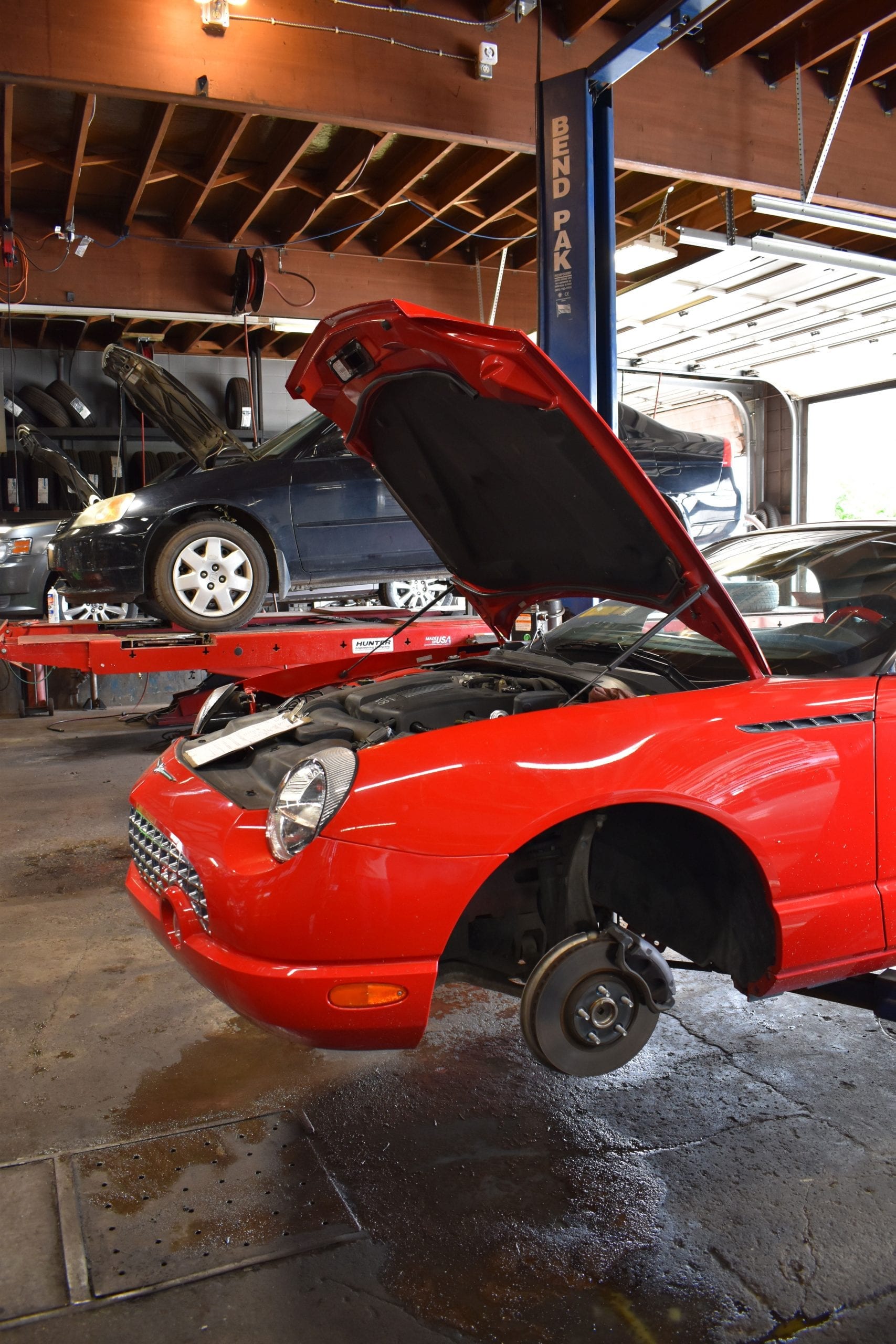 Location, location, location
Stanford admits that he could use more space but wouldn't trade his prime location and loyal customer base for a bigger building. He says that around 50 percent of customers are from an older demographic, with the remainder including staff members at the seven schools along the 3.5km stretch of Northmount Drive; members of local churches; university students; customers who know Stanford through his involvement in local mountain biking; youth baseball groups; as well as passing trade from nearby Highway 1.
"People Google us and find our good ratings, so we try to take care of their travel emergencies," he explains. "Google Reviews is big for us. A lot of people who come in are first-time customers because of our very high rating [4.8 at the time of writing]."
Despite his success, Stanford has no plans to expand to a second site.
"My family's happy and I don't necessarily want the stress of two or three shops," he concludes.
"Hopefully in the next couple of years, things will get straightened out with the taxes. We'll continue to get to know our customers. No matter what the economy's like, they need you to take care of their vehicles and, if they trust that you're not going to sell them stuff they don't need, they're still going to come."