This family run business continues to build on a legacy of quality repairs and customer service.
Westown Auto and Tire Service in Hamilton, Ontario is a family-run business that has been around since 1969.
Tony Salamone started the repair shop then and both his sons—Vince and Peter—joined the business with their Dad, officially taking over in 1999.
Westown Auto and Tire Service is a well-run shop that has a loyal customer following. Vince tells us they have created "friendships that compare to no other." When you go into their shop the clients are treated like family!
To verify that statement, Westown Auto has won the View Magazine Readers' Choice Award for "Best Auto Shop" in 2006, 2007, 2009 & 2012. That's quite an achievement!
"We currently employ two technicians and one apprentice in our three service bays. On top of that both Peter and I are Class 'A' technicians, and we share the management duties. My wife, Leanne, handles the bookkeeping responsibilities," Vince comments.
"We stand on sound business principles and uphold high ethical standards. Just this year we have completed an extensive renovation—adding a new customer lounge, tire showroom and washroom. Three service counters make the arrival process efficient and, in addition, we offer a Customer Shuttle service."
Providing expert repairs
All the technicians at Westown are Class 'A' technicians and certified to provide warranty-approved NAPA AUTOPRO service. Vince informs us that they have a reputation for quality repairs, efficiency and affordable prices. The shop provides expert repairs to both domestic and import vehicles and, in most repairs, offers same-day service. All the repairs coming into the facility are performed with a written estimate, price guarantee and warranty on all new parts.
"Customer service is a must, and our goal is to make sure our customers are totally happy with the service. Our mission statement is to give you peace of mind knowing your vehicle is safe for you and your family, that we can extend the life of your vehicle, reduce stress and help you avoid unnecessary breakdowns and costly repairs," Vince states sincerely.
Vince also acknowledges that training and high-tech equipment are a must for the repair of today's high-tech vehicles. "Because of our partnership with Barton Auto Parts and the NAPA network, doors are open to an expansive selection of parts in order to be able to service the complexity of today's vehicles," he adds. He goes on to say that modern consumers need to know their vehicle will be properly maintained when they arrive at your facility. "And how do we go about doing this as an AUTOPRO member? First and foremost we need to have structure, and this structure must begin at the exterior of your site. This means clean, professional, welcoming exteriors and interiors; warranties such as two-year/40,000kms; Nationwide Roadside Assistance; seasonal awareness promotions, and so on. With NAPA Auto Pro we have an arsenal of tools at our disposal, so we make sure we use them to our best abilities!"
Vince also told us that Westown's technicians have multiple training opportunities along with the latest technical information with sources such as Identifix and technical service bulletins. Westown also performs a wide range of Programming for many vehicles through various subscription services that are invaluable for the shop.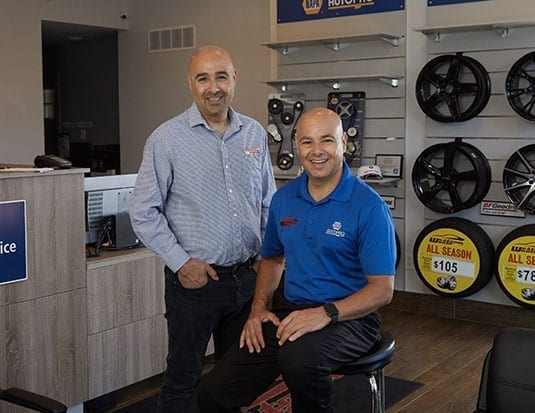 Success is more than money!
When asked about the success of Westown Auto and Tire Service, Vince answered, "To me success means more than just money. Success to me is having long-term friendships and being able to provide for our technicians with all necessary tools to perform their jobs at the highest level. It's also about being an integral part of your neighbourhood, and giving back is the ultimate satisfaction for me!"
Vince advises us that attracting new business can present many challenges, but if done properly it will pay off in the long run. Some effective strategies are using advertising, such as Facebook and Instagram, and staying in contact with your clients through seasonal promotions, postcards and most importantly the AUTOPRO Network (that meets regularly to discuss best practices for the group). But if Vince was to pick the best form of advertising he would say that it's word-of-mouth!
"I have been in the automotive business for most of my life and have witnessed many changes over the years with the most difficult on the horizon. As business owners, we must deploy and utilize all the information and training at our disposal. I see a very bright future ahead of us. We must stay focused and follow a structure that will guide us to a prosperous future," Vince advises.
Sounds like Westown Auto and Tire Service has its business firmly in hand.